William Merritt Chase was born in Indiana in1849 passing in 1916. Chase was a proponent of Impressionism; a well-respected and loved art teacher. Chase exhibited his art in and around St. Louis and exhibited at the National Academy in 1871. A group of collectors in St. Louis paid for Chase to study art in Europe for 2 years, and help his collectors acquire works of art by European artists. Chase chose to study at the Academy of Fine Arts in Munich. Though Paris was a hub of European art at that time Chase felt Munich would not be so distracting.
As an art teacher Chase gained renown because of his tireless and enthusiastic encouragement of his students. He started an art school welcoming new artists such as Georgia O'Keefe and George Bellows. In his later years Chase did not paint but taught notables such as Edward Hopper, George Bellows and Georgia O'Keeffe. He taught art until 1914.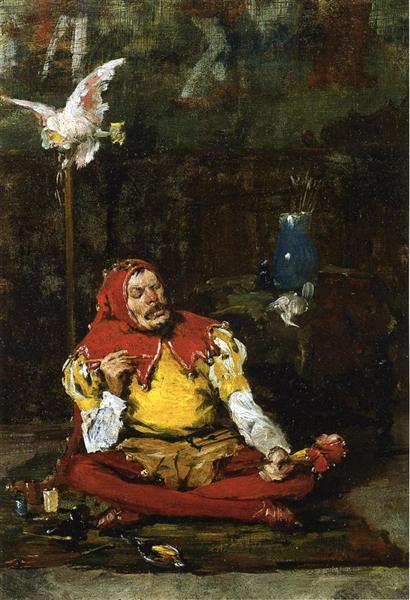 "The King's Jester" was painted in 1875. It is oil on canvas and resides in a private collection. We are welcomed into the world of a Jester who seems to be working out his next performance. Chase used so much color to invite our eye to travel around the entire canvas. I love the expression on the jester's face as he figures out where to draw laughs from his audience. I think the painting has a delightful weirdness to it. Throughout his career Chase used Impressionist style as well as portraiture with skilled technique from the masters of old. Chase was a highly successful painter.
"The Mandolin Player" was painted in 1879 and is oil on canvas. It resides in a private collection. The textures in this piece are amazing. Each element is a compliment to the figure. It seems a sublime and peaceful, yet sultry moment to me.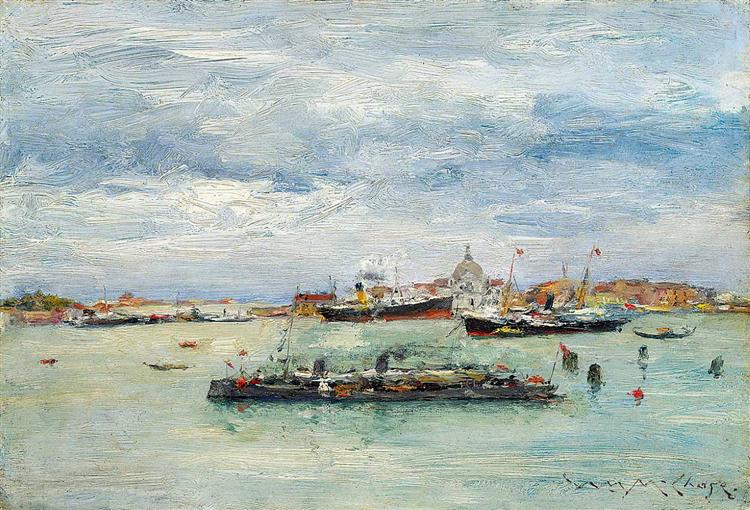 "Gray Day on the Lagoon" is oil on canvas. It is a passenger boat in Venice. Early in his art career Chase's talent elicited the interest of wealthy St. Louis collectors who arranged for him to visit Europe for two years, in exchange for paintings and Chase's help in securing European art for their collections. William Merritt Chase studied with the top art teachers of the era. In this painting we see the hustle and bustle of a lagoon with traffic but the mood is languid. We can almost hear the gentle movement through the water. The mood is established with brushstrokes and color.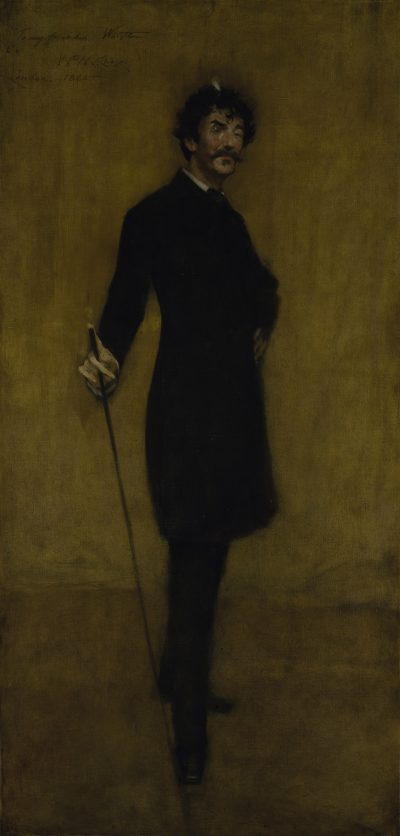 This 1885 portrait of James Whistler is oil on canvas and is in the permanent collection of the Museum of Fine Arts in Boston. If only paintings could talk. The two highly successful artists were friends and decided to paint one another's portraits. Whistler painted constantly so Chase wondered when his turn would finally arrive. When Chase's turn to paint arrived he produced this portrait of his friend. But the portrait caused a rift after a critique of the painting offended Whistler. The two became frenemies. Whistler and Chase both had a somewhat flamboyant persona. It is interesting to me Chase painted this in a somewhat Whistler style. Rather than use his pastel and bright colors he presents the figure on a subdued pallete. We see Whistler dressed in black on a gold and brown background. They were never friends again. Nevertheless this is a glorious painting of James Whistler, one of the artists I admire most in the world by one of the finest artists and art teachers in the world.
In addition to painting William Merritt Chase wanted to teach art. At first he took on private pupils and gained enormous momentum. He was persuaded to take over of an art-school at Shinnecock Hills, Long Island. He also opened the Chase School of Art also in Long Island. Chase taught art as much and as often as he could. He was and is the most influential teacher of American artists at the turn of the 20th century. William Merritt Chase as a teacher brought European art to the USA in recommending paintings to museums and collectors, but also in his art courses. Plein Air as a discipline was widely taught in Europe and Chase taught it to many upcoming painters. Plein Air painting is where the artist goes out in nature to paint. This is in contrast to studio painting, where all paintings are painted there. William Merritt Chase gave his art courses all over the world. He had the training and scope of the old masters along with spectacular Impressionism. He created a network of artists, collectors, museums and educators and cultivated extraordinary lifelong relationships.
I hope you enjoyed this newsletter. If you did like what you read I hope you will share it with your friends! I love referrals!
See you next time!
Christine Adams / www.artbycadams.com / artbycadams@gmail.com