www.artbycadams.com presents the Art of Tamara Lempicka
Tamara de Lempicka (whose birth name is Maria Gorska) was born on May 16, 1898 in Warsaw, Poland. She was exposed to the arts early on, and began painting when she was 10, at which point she created a portrait of her younger sister. After a brief time in boarding school in Lausanne, Switzerland, the young artist went to live with her grandmother in Italy, where she discovered the work of Italian Renaissance painters.
Tamara is known for her chic portraits of women in her unique, Art Deco style. The eyes in her work are chic, and soulful. Tamara was a rebel in her time. Her style was Bohemian. She was the "Baroness with a Brush."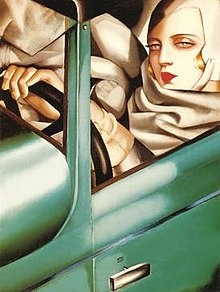 "Tamara in a Green Bugatti" was painted in 1929. It is oil on panel.
As one of the best-known examples of Art Deco portrait painting, Lempicka depicted herself at the wheel of a green Bugatti racing car, wearing a leather helmet, long white gloves, and wrapped in a silk scarf. In reality, the artist didn't own a Bugatti but a small yellow Renault. Nonetheless, the painting captures her beauty, fierce independence, and Avante Garde style.
Her artwork oozes feminine power and sensuality. Her work celebrates the independence and liberation of 1920s women. Lempicka once said, "I live life in the margins of society, and the rules of normal society don't apply to those who live on the fringe."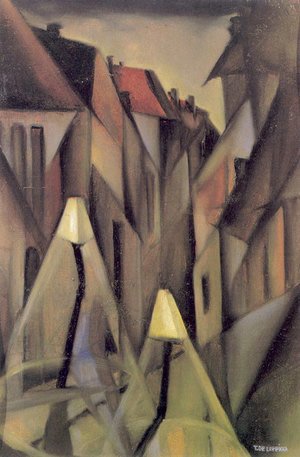 The Russian Revolution caused upheaval in 1917. Tamara and her husband escaped to Paris. Tamara exhibited her work and gained followers. "A Street at Night" was painted in 1923. It is oil on cardboard. We see the evolution of her soft cubism. I love the poetry of this painting.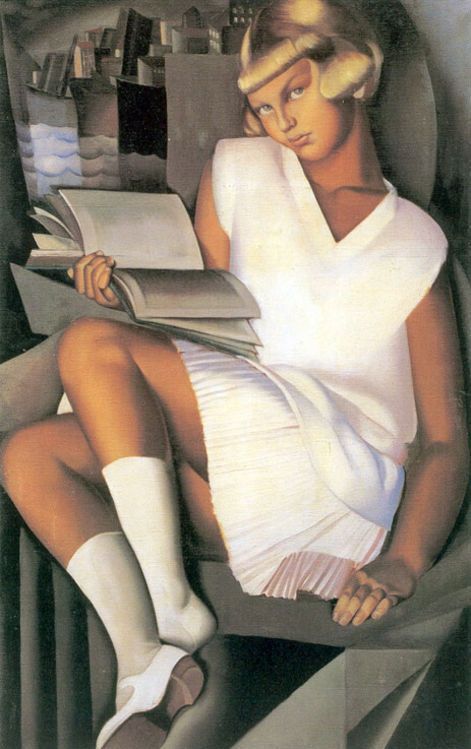 Tamara had a daughter, Kizette, who was often a model for her mother. "Kizette in Pink" was painted in 1926. To me this painting shows the distance between Mother and Daughter. Tamara rescued her first husband from a German prison by sleeping with officials. Her husband never forgave that, as well as her other indiscretions, so they divorced. It had to be difficult for both Mother and Daughter to have a relationship at all. But I love this piece. It is so very expressive. I think Tamara painted eyes that are direct, expressive, sultry, and languid all at once. Tamara hung out with many Impressionist artists during this time. It was the 1920's! Women felt empowered, and Tamara let her wild go!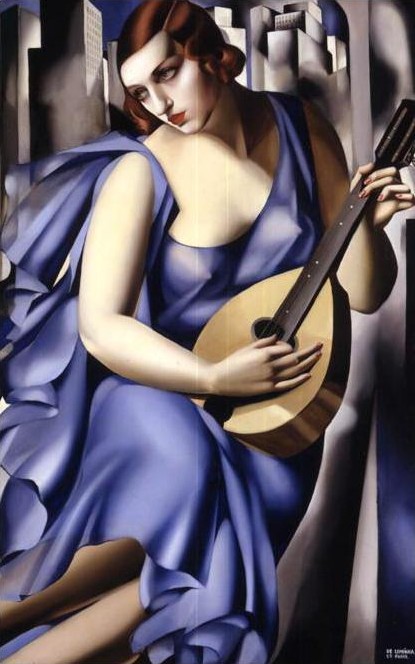 "Blue Woman with a Guitar" was painted in 1929. This is my personal favorite of Tamara's paintings. She is painted in exquisitely blended soft cubism. Tamara knew Pablo Picasso. Her strokes in this piece are gentle and provide contour. This musician is elegant, graceful and intense. Tamara did a show at the Carnegie Institute in Philadelphia and she did well. However the bank holding her money crashed in 1929. Tamara defined Avant Garde of her generation. She was known for her wild parties. Her art was directed toward the sultry side of the rich and famous.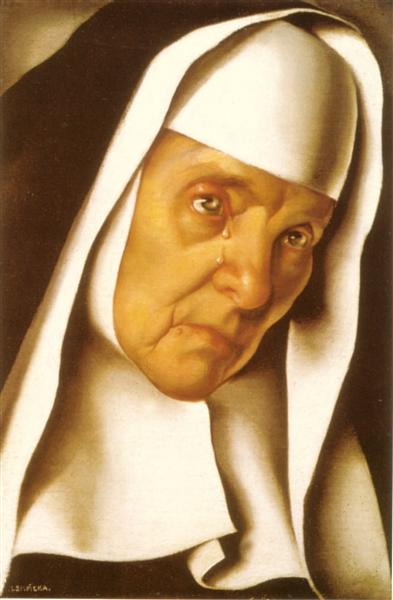 "The Mother Superior" was painted in 1935 during the Great Depression. It is oil on board. It currently resides at the Musée des Beaux-Arts Nantes, France. Doesn't she make you wonder what those deep eyes see to make her cry? I find this a moving portrait. We see her wisdom and her deep care for what is before her. The eyes are thoughtful and wise. She is superb. Tamara married Baron Raoul Kuffner. In 1939 Tamara and Baron moved to the United States. The public moved away from Art Deco. Tamara had difficult times gaining any followers. She did not stop painting.
Art sales suffered during those years. Tamara produced religious paintings that didn't sell well during that time either. Soon after, the market for her wonderful painting style melted away. Tamara had always been determined to make her own way and sell her art. There was a resurging interest in her during the 1970's and there is still demand today for her work. Celebrities purchased her work. Madonna featured Tamara's work in videos.
She is a woman lived through the Russian Revolution. She endured 2 world wars up close and personal. She survived the Great Depression and through it all she painted. Her work is instantly recognizable. She behaved like the independent woman she always was. Tamara lived her entire life loving to paint.
I hope you enjoyed this newsletter. If you did like what you read I hope you will share it with your friends! I love referrals!
See you next time!
Christine Adams / www.artbycadams.com / artbycadams@gmail.com