wwwartbycadams.com presents the Art of Norman Rockwell
Norman Percevel Rockwell was born in 1894 and passed away in 1978. From a very early age this artist paved his path toward art. Personally I love everything I see created by this most phenomenal man. He showed Americans our culture, our way of life and our strength of character with poignant and joyful illustrations. He took art courses to learn techniques that would keep him illustrating the cover of the Saturday Evening Post for 47 years.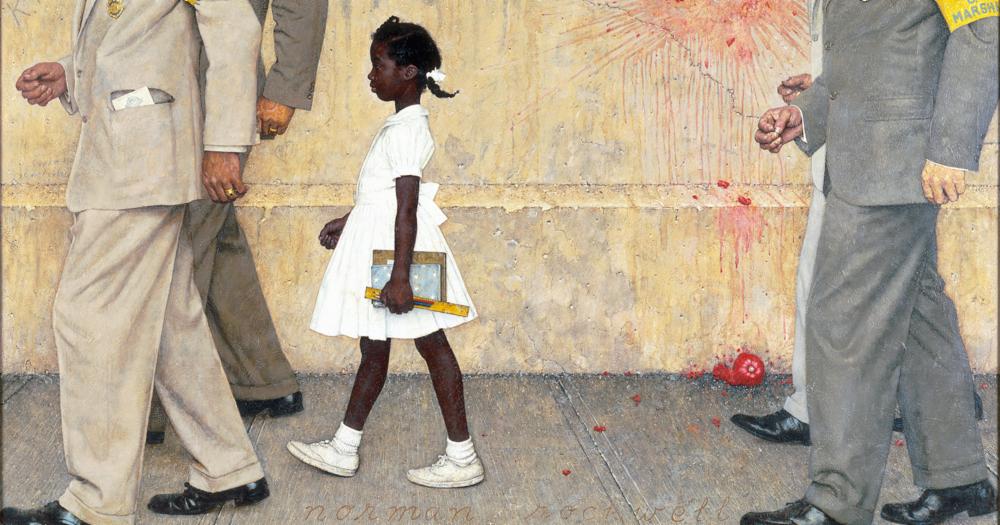 "The Problem We All Live With" appeared on the cover of Look on January 14, 1964. Inspired by 6-year-old Ruby Bridges' integration of New Orleans' William Frantz Public School in 1960, the work shows a small African American girl flanked by faceless U.S. marshals as she walks past a wall bearing the marks of a smashed tomato and a scrawled racial epithet. "The Problem We All Live With" generated hate mail for the artist known for depicting romanticized visions of American life, but it became one of the most important pieces of his career: It was the first painting acquired by the Norman Rockwell Museum in 1975, and later hung in the White House during President Barack Obama's first term. This painting was an enormous statement for the Civil Rights movement. I'm so proud of this vivid reminder that Americans come in many colors.
The first day of school Ruby thought the riotous crowd was a Mardi Gras type of celebration. She was not aware it was for her. Her father did not want his daughter to go to the closest school because he knew the danger it posed for Ruby. But Ruby's mother did want her to go to that school and she persisted until it was agreed upon. The entire year was difficult for this brave young girl with a single digit in her age. Her mother encouraged Ruby to be strong and pray. Ruby found her prayers drowned out the noise which accompanied her walk to school every day for most of that year. Ruby Bridges became an activist and founder of the Ruby Bridges Foundation. Ruby is truly an American Icon who I admire. I am grateful Norman Rockwell created this painting with her brave and incredible first day of school. It's very sad to me this awful racism still exists after all these years. For me this is a painting that has impacted my life immensely. I use this image in my internal library when I need to be strong, determined and brave.
In 1941 President Franklin Delano Roosevelt addressed Congress to communicate his vision of a post war world based on 4 human freedoms. They are freedom of speech, freedom of worship, freedom from want, and freedom from fear. The artist wrestled with how to depict a series of paintings to represent each freedom. It so happened he attended a town meeting during that time. A man stood and spoke, expressing an opinion that was not popular with his neighbors. Mr. Rockwell realized he could paint examples of President Roosevelt's defined freedoms using simple settings, such as the home town meeting he attended, from the perspective of his hometown citizens.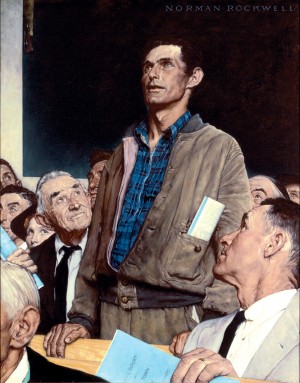 "Freedom of Speech" shows viewers this Norman's home town meeting. The speaker is all of us, ordinary people with a right to free speech. The thing I have always appreciated in Norman Rockwell's art is the expressions. It feels to me like a true and spontaneous moment. The moments he paints are glimmers of all of our lives. With a sense of humor he told us the stories of ourselves. They were reproduced in four consecutive issues of The Saturday Evening Post with essays by contemporary writers. Rockwell's interpretations of Freedom of Speech, Freedom to Worship, Freedom from Want, and Freedom from Fear proved to be enormously popular. The works toured the United States in an exhibition that was jointly sponsored by the Post and the U.S. Treasury Department and, through the sale of war bonds, raised more than $130 million for the war effort ($3.2 billion in 2018 dollars, when adjusted for inflation).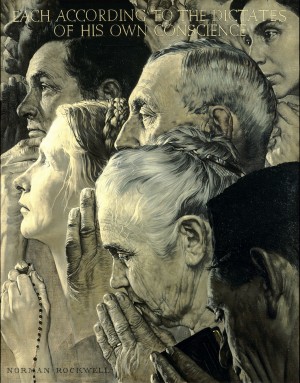 "Freedom of Worship" appeared on the cover of the Saturday Evening post on February 27, 1943. I find this art so poignant and beautifully intense.Magnificent light and shadow to enhance the art. It was the second in the series.
"Freedom From Want" shows a family ready to enjoy a holiday dinner together. It was published on the cover of the Saturday Evening Post on March March 13, 1943, the 3rd in Rockwell's Freedom paintings. I see poignant and tender devotion in each of these paintings. Surprisingly critics at the time did not consider Norman Rockwell an important artist. His paintings were called "kitsch" and scorned. Mr. Rockwell might have suffered the insults in silence or not, but he didn't paint for critics. He painted for us, we the people. He captured us and our values. He was awarded the Presidential Medal of Freedom in 1977 by President Gerald Ford for his "vivid and affectionate portraits of our country."
"Freedom From Fear" is the most moving to me because it represents the values of family and community around the world.
In his speech President Franklin D. Roosevelt formulated freedom from fear as "The fourth is freedom from fear, which, translated into world terms, means a world-wide reduction of armaments to such a point and in such a thorough fashion that no nation will be in a position to commit an act of physical aggression against any neighbor—anywhere in the world."[1]
The four freedoms of Roosevelt formed an important pillar of the Universal Declaration of Human Rights that were adopted on December 10, 1948, by the United Nations General Assembly.[2] The freedom from fear is mentioned in the preamble of the Declaration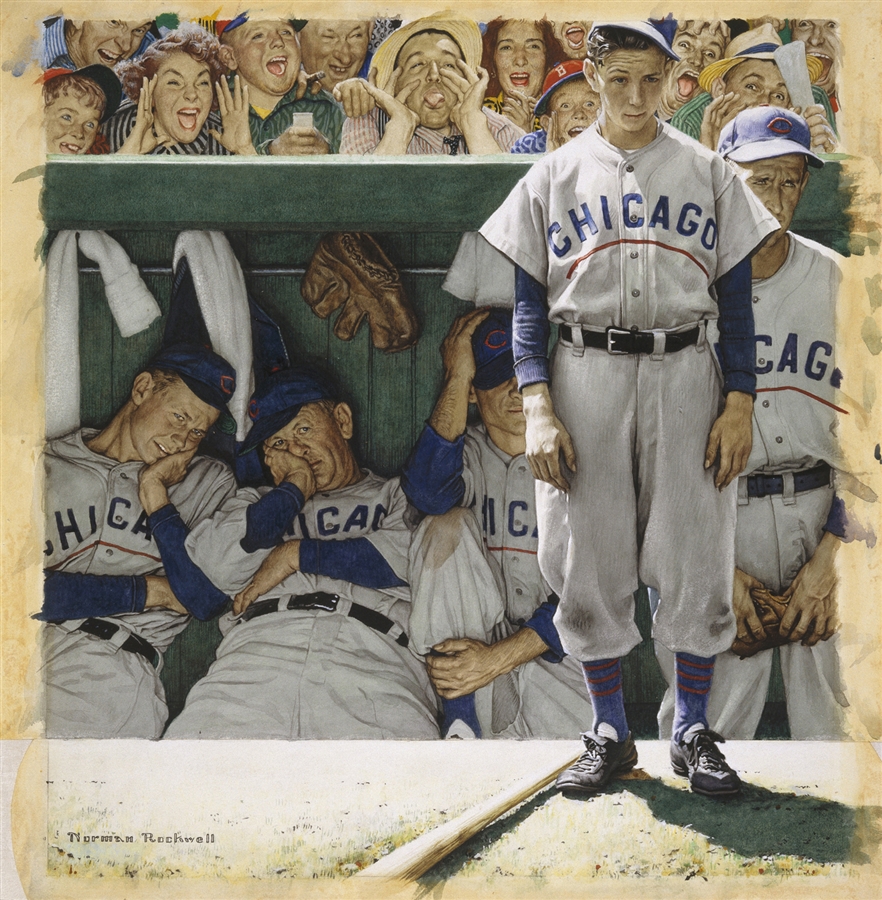 "The Dugout" is one of baseball's most iconic images as well as one of Norman Rockwell's best-known Saturday Evening Post covers. Many people think this great painting was what started the Cubs image as "The Lovable Losers." The image appeared on the cover of the Saturday Evening Post on September 4, 1948. The youth, Frank McNally, was actually a batboy for the Boston Braves, not the Cubs. He donned a Cubs uniform just for that occasion. Rockwell and Post art director Kenneth Stuart traveled to Braves Field to take photographs of him during a May 23, 1948 Boston-Chicago doubleheader (the Cubs lost both games). In an interview decades later, McNally remembered that they had to do a lot of work to get him to look sad: "Mr. Rockwell kept changing the tilt of my cap and doing facial expressions to demonstrate how he wanted me to look. He finally asked me if I had a dog. When I told him I did, he said, 'Try to think how you would feel if your dog died–that's the look I want!' The daughter of Rockwell's next-door neighbors, Ardis Edgerton, is the fan razzing the Cubs through her hands. She was a frequent Rockwell model. Charlie Grimm owned a charcoal draft of The Dugout, on which Rockwell had inscribed: "To Charles Grimm, a long suffering but wonderful manager, Norman Rockwell." Charlie once commented on the painting: "What an artist. But he wasn't really accurate. As bad as we were, the fans didn't really boo us. Maybe they should have. "
One of the works that best shows the relationship between Rockwell's 'mere illustration' art and the high art of museums is his triple self-portrait.
Attached to the frame of the canvas there are small reproductions of the self-portraits of the great artists of the past: Durer, Rembrandt, Picasso, and Van Gogh. Attached to the top of the easel there is an ancient helmet that Rockwell bought in Paris as if to affirm, together with the painters present, his relation to the art of the past.
Rockwell presents us with a triple image of himself: as the painter at work shown from behind, as a portrait on the canvass, and as a reflection in the mirror decorated with a large American eagle that holds the US flag in its claws. As if to say: my art is a reflection of America, and all of America is reflected in my illustrations.
The portrait on the canvas is a large, serene, likable face. The drawing is black and white like the first magazine covers Rockwell published on magazine covers, perhaps to honor the return to the beginning of his art. Norman Rockwell puts before our eyes what he has done his entire life. Toward the end of his artistic production he puts himself on the cover of the Saturday Evening Post. I think this painting is charming and fun. It is one of my very favorite paintings.
I wondered if Canadians are moved by the folksy, normal characters in Mr. Rockwell's art. I dug in to find out. I found several galleries and museums throughout Canada showing the work of Norman Rockwell. I feels good to know that. I do love Canada and Canadians within her borders.
Norman Rockwell's work is lively, fun and impacts my life. He shows our lives, and translates his love for his community with a special sense of humor. It takes me quite a long while to see a Norman Rockwell exhibit. I want to study each piece. I want to know why his particular pieces stop my feet from moving past all his art. His paintings and sketches are a glimpse into a moment of this brilliant and delightful artist of his community, our fellow citizens. Many artists affect me in that manner. I study the art by Norman Rockwell. I love the simple joy of viewing the art he created and I wish the same for you. Exhibits of his work pop up sometimes. If you wander amongst his works of art you step into his world. The experience is joyous!
I hope you enjoyed this newsletter. If you did like what you read I hope you will share it with your friends! I love referrals!
See you next time!
Christine Adams /
www.artbycadams.com
/
artbycadams@gmail.com