www.artbycadams.com presents the Art of Laurel Burch
Laurel Burch was an American artist, designer, and businesswoman born December 31, 1945 – September 13, 2007. Burch's bold, joyful renditions of fantastic felines, mythical animals, and imagined people have appeared on everything from mugs to enamel jewelry, fabrics and tote bags. Born Laurel Anne Harte in California's San Fernando Valley, Burch was a self-taught artist. At 14 years old, she left a chaotic home life with only a paper bag of clothing to her name. She cleaned houses and cared for children in exchange for room and board. When she was 19, she married jazz musician Robert Burch; within a few years, she was divorced and single mother to a son and daughter.
To supplement her income Burch began making jewelry at her kitchen table in the Haight-Ashbury district of San Francisco. It was the 1960s, in the thick of the counterculture movement, but Burch's focus was on survival and providing for her family. "For me, it wasn't about putting flowers in my hair," she told sfgate.com in 2000. "I was entrenched in trying to take care of my children when I had no skills, and trying to sell my work." At first, she sold her jewelry on the street from tackle boxes; eventually, local stores began stocking her creations. According to Forbes, an Indian businessman, Shashi Singapuri, spiked an interest and took samples to China. The Chinese were interested enough in turn to invite her to visit in 1971. It was in China that Burch discovered the glassy beauty of cloisonné. Inspired, she created 12 paintings and had the designs translated into enamel earrings. The colorful jewelry was the beginning of her trademark look. By 1979, she had started Laurel Burch Inc., with full control as president and chief designer.
Though she lived in constant physical pain the artist was determined to pass on a sense of joy through her art. In 2000, Laurel's son, Jay, said of his mother: "She finds more ways to have fun and celebrate life and love and happiness." And as Burch herself noted in a 30 Minutes feature, "I want to share things in the world that lift people. I think that's what my jewelry and my art and all the things that I do is about. I want it to convey hopefulness and brightness and goodness."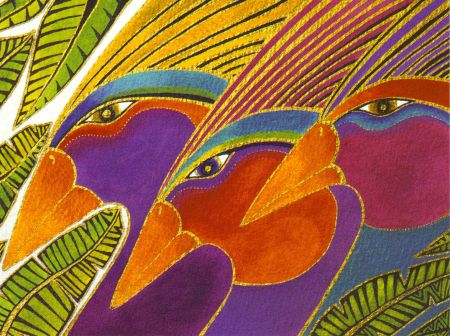 "Birds from the Rainbow Forest" is colorful and highly stylized. Due to her debilitating disease often Laurel Burch painted from her bed. This artist has always been inspiring to me, but she provided me with joy when I needed to search for it. "I live within the vivid colors of my imagination…soaring with rainbow feathered birds, racing the desert winds on horseback, wrapped in ancient tribal jewels, dancing with mythical tigers in steamy jungles."
Burch demonstrated to her kids the importance of recognizing one's own creative worth. If homework time was sometimes hit or miss, and recognizable tenets of domesticity were turned on their head (frying pans were used for making jewelry, rather than breakfast), the kids learned to embrace their own creative passions. Her son, Jay, was publishing a magazine at age 12, and her daughter, Aarin, grew up to run her own film production company. And if dinner was from a box (Rice-A-Roni was part of the regular dinner rotation), it was routinely served in an atmosphere of color and creativity: the table was often set with candles and flowers. "The emphasis was on things of beauty more than what we couldn't afford," Jay. Laurel's son, once told a reporter.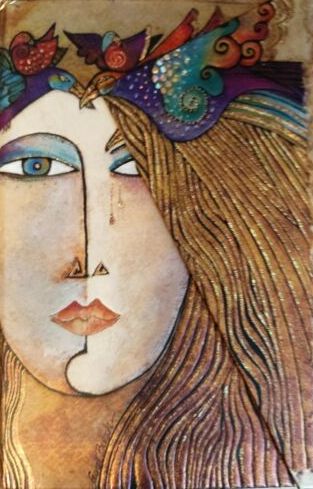 "Spirit of Womankind Soul and Tears" was a self-portrait of the artist. Her disease meant bones broke easily and frequently. When Laurel could not use her right hand she learned to paint with her left hand in 2005. However she never lost her love of painting. She propelled herself into her choice to create a joyful world to reside in. This painting to me says it is fine to cry, to be angry and rant. But womankind can and do pick themselves up and start once more, unbroken. Amid tears and the ripping apart of our souls we humans rise up better than before.
For her entire life, Burch suffered from osteopetrosis, a rare bone disease in which bones are abnormally dense and prone to fractures. When her daughter was born, she had to wear a brace to keep her pelvis from splintering. "I was scared to death, 18, on welfare," Burch said. "[Aarin's] father wasn't there. We were alone. That's how we came into the world together . . . [My daughter and I] knew from the beginning we've got to do this together." Laurel Burch was bedridden for long periods of time and yet she produced joyful art with spectacular color and expression.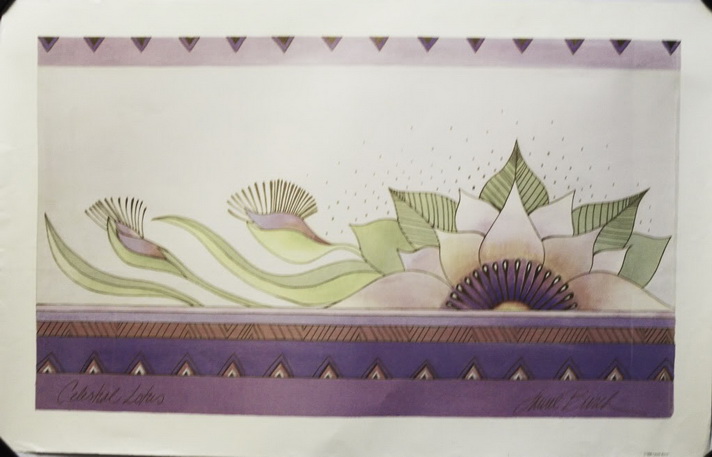 "Celestial Lotus" is a serene and soft image of the lotus at rest. Burch designs and artwork were marketed to hand-picked companies. The images appeared virtually everywhere for a long time. The colors of the images might change to help the look of the finished product, a shirt, skirt, handbag or coffee cup would carry a varied image of the same lotus. Burch was hugely successful with her business of selling whatever she created. Check it out at https://laurelburchstudios.com and prepare to be mesmerized.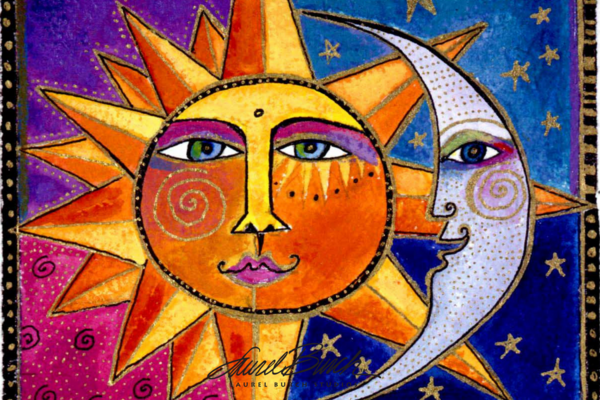 "Sister Sun, Brother Moon" captures the myths and magic of the celestial worlds in imagery of sun, moon and showers of shimmering stars. Laurel joyfully reminds us we all must let our orbits bump into one another. It is up to each of us to shine upon all beings who share our earth just as the sun and moon do.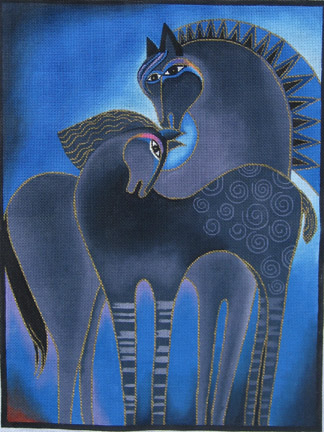 "Indigo Horses" is a soothing yet completely charming painting of horses. Animals were a constant source of dreams and creations by Laurel. For me, when I need to give myself an attitude adjustment I invite this image to my mind and the calming joy is instant. The image makes me happy.

"Dog Tails" is another of Laurel's charming animal art I love. Most dogs are so happy to see and be with their human they can't help but show the joy of companionship. That is exactly what this piece says to me and it is worth every moment I spend looking at it.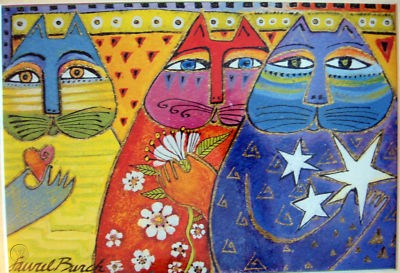 "Three Cats" shows Laurel Burch's affection for the fabulous felines. She painted lots of cats to the delight of all the cat people around the world. She told us each personality by design and color in her art.
Laurel Burch suffered at least 100 broken bones in her life, each one painful and just a little bit more debilitating as she aged. And yet Laurel raised her children, created a wildly successful business for herself and her children. More important to me is she overcame extreme odds to bring us joy. I have a great respect and admiration for Laurel Burch. Her art makes me grateful.
I hope you enjoyed this newsletter. If you did like what you read I hope you will share it with your friends! I love referrals!
See you next time!
Christine Adams www.artbycadams.com / artbycadams@gmail.com