www.artbycadams.com presents the Art of Joy
Little things make a difference to me. If you have enough little things go right your day becomes joyful. I love my view in my front yard. I watch sunrises and sunsets with this view as a frame. These 2 mulberry trees are around 65 years old. They cast incredible shade. There is a prevalent breeze from the north cruising right through them most of the time. It's wonderful. Sitting outside brings me great joy because of these trees!
Trees need care and these two needed work. So my husband hired Arnold's Tree Service to help the two icons of our yard live. For those who live in the Central Valley of California these guys are the best of the best. Check them out at www.arnoldstreeservice.net/. Or call them at 559-707-2550. You won't be disappointed! Personally, I do highly recommend them for tree service. They leave the property cleaner than it was when they arrived. They even vacuumed!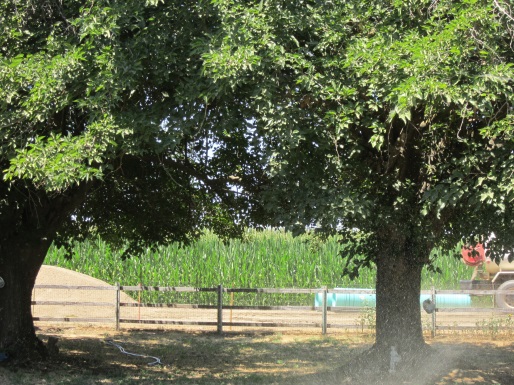 I love to promote small businesses and brag about them. Small and local businesses keep us grounded. When Arnold's Tree Service arrived my husband and I sat outside to enjoy the view. It was fun. It's interesting to watch people do their work. I like to see the teamwork.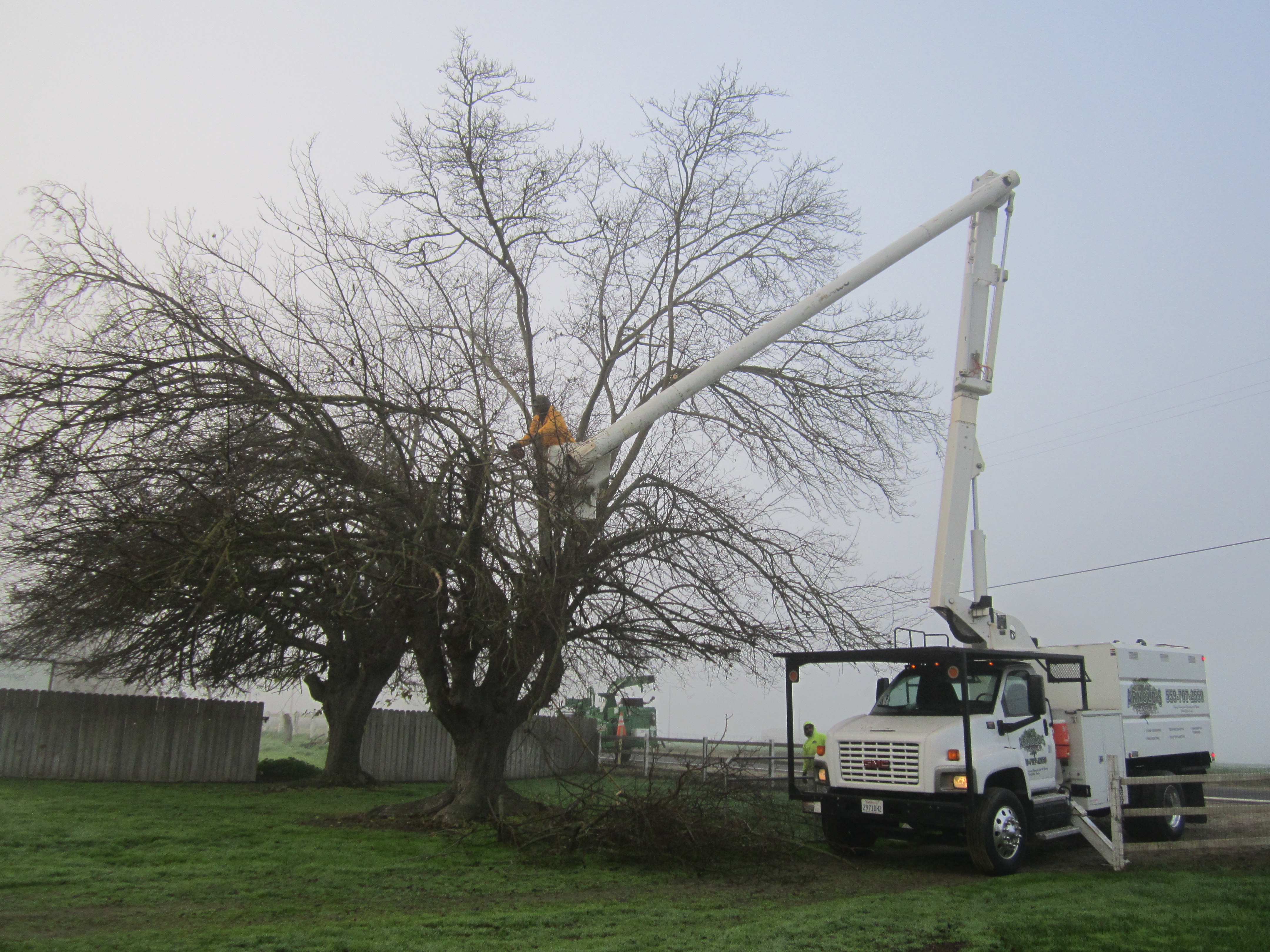 Arnold's Tree Service arrived early, and immediately set to work. The man in the bucket was amazing to watch. He guided the bucket, cut limbs, held limbs off the fence as he was cutting. He was exhausted after each trip into the trees.As tired as he was he cut and removed a dead tree we had not removed yet. He just did it because it needed to be done!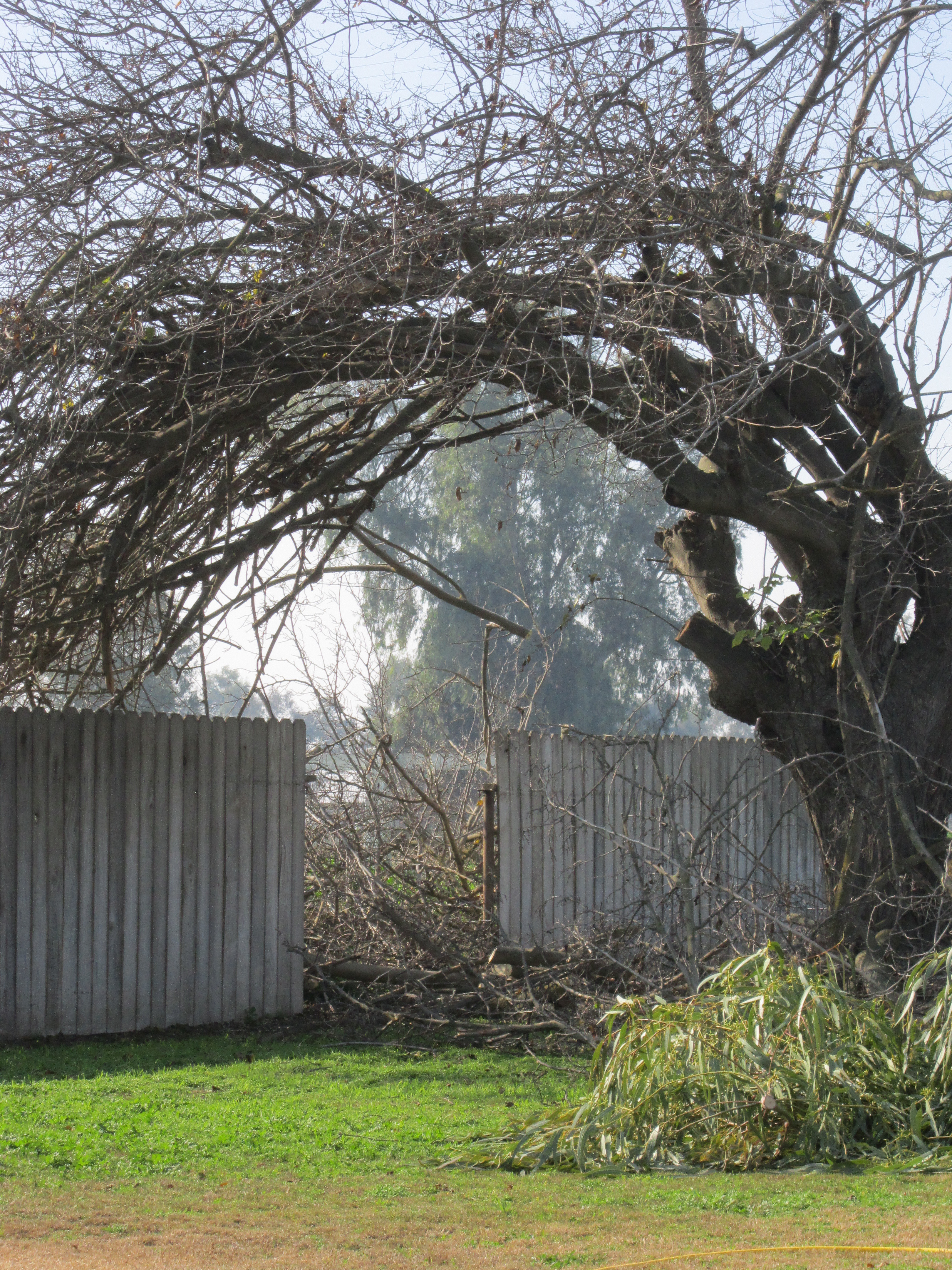 My husband removed a section of fence to gain access to our neighbor's side to cut and remove branches of the tree. Arnold's were so careful not to hit our fence. It was inspiring to watch how they were able to do that. I could almost hear the sigh of relief from the trees to have the dead weight of long, heavy branches drop away.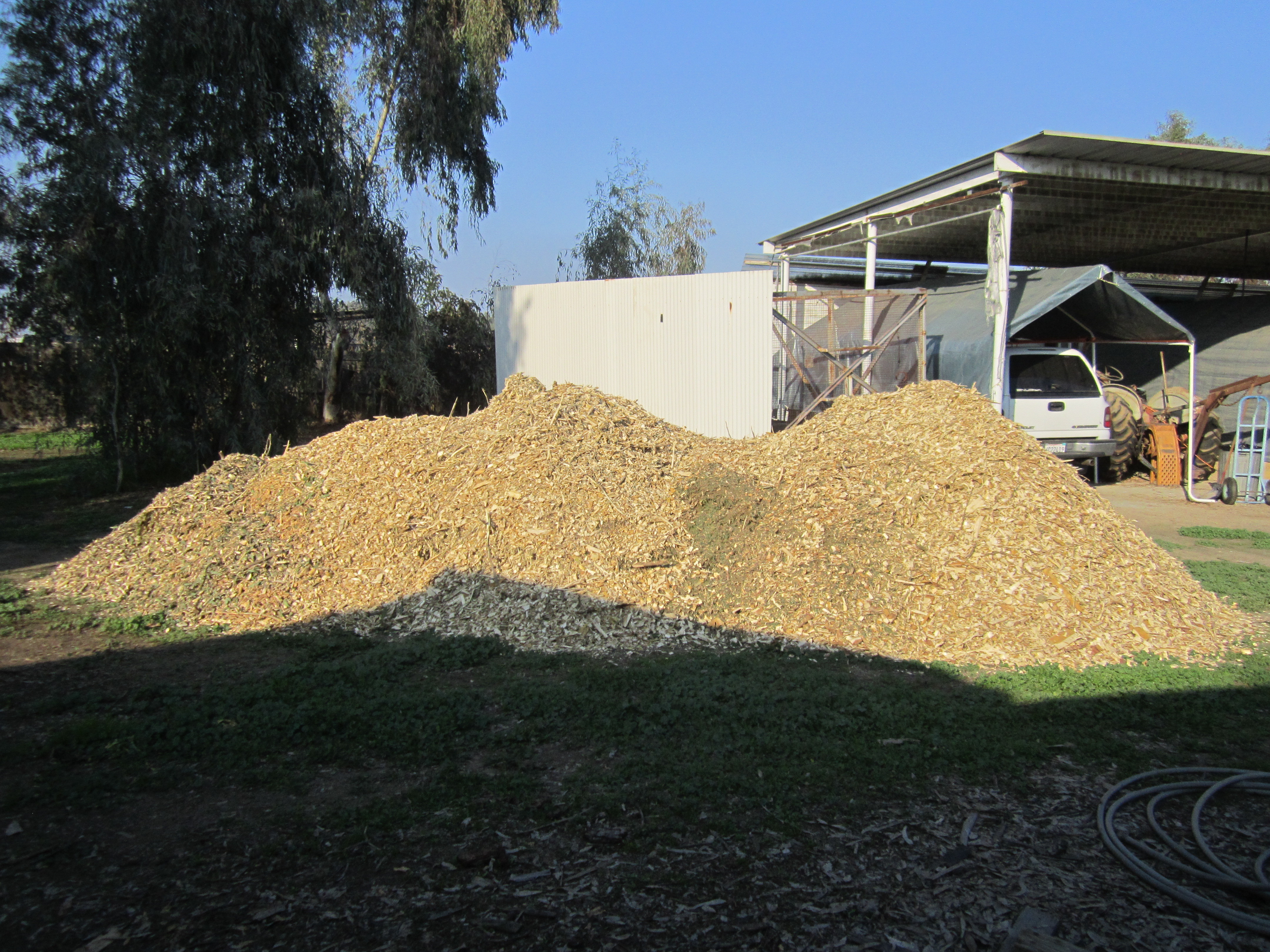 Arnold's Tree Service were happy to leave me with mulch. I was so happy to get it. I completely covered the dog pen with mulch. It keeps the dust down, and keeps us out of the slippery mud on the rare occasion we, in the West, actually get rain.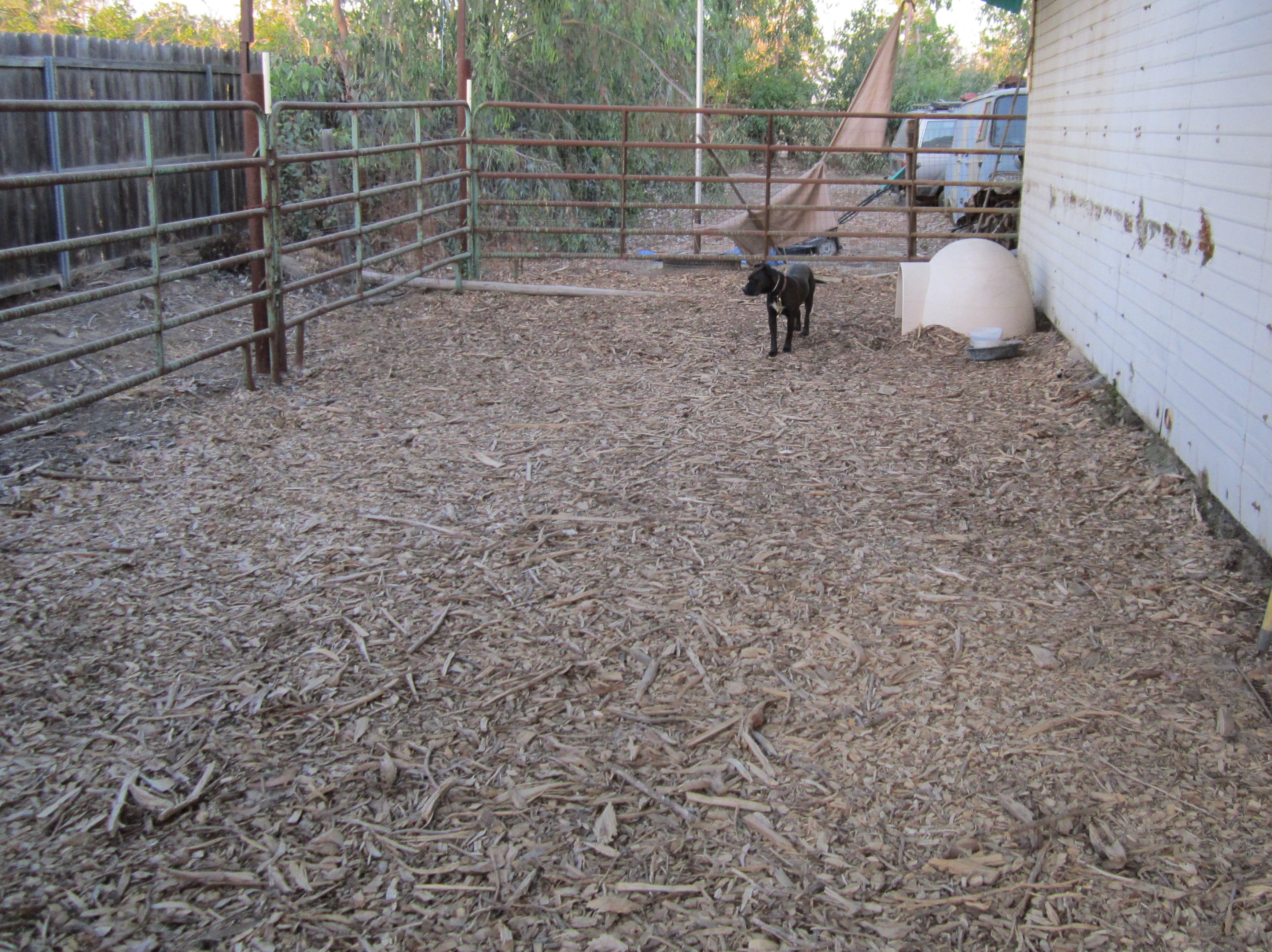 This is Bully in his new pen. I love this dog. He's happy and he loves us. He is a pill sometimes and creates a lot of dust. We have LOTS of dust. It's fine like powdered sugar, and it covers everything. Bully has a minor allergic reaction to the dust. So 8-10" of course-chopped mulberry tree will help Bully. It will last awhile. I have to say I'm proud of myself. It smells so great and is actually cooler in hot weather. I had to get it done quickly so it wouldn't combust from inside. There were a few hot spots that came up. Arnold's Tree Service also mulched some eucalyptus we trimmed from trees before. Arnold's Tree Service was very good to us!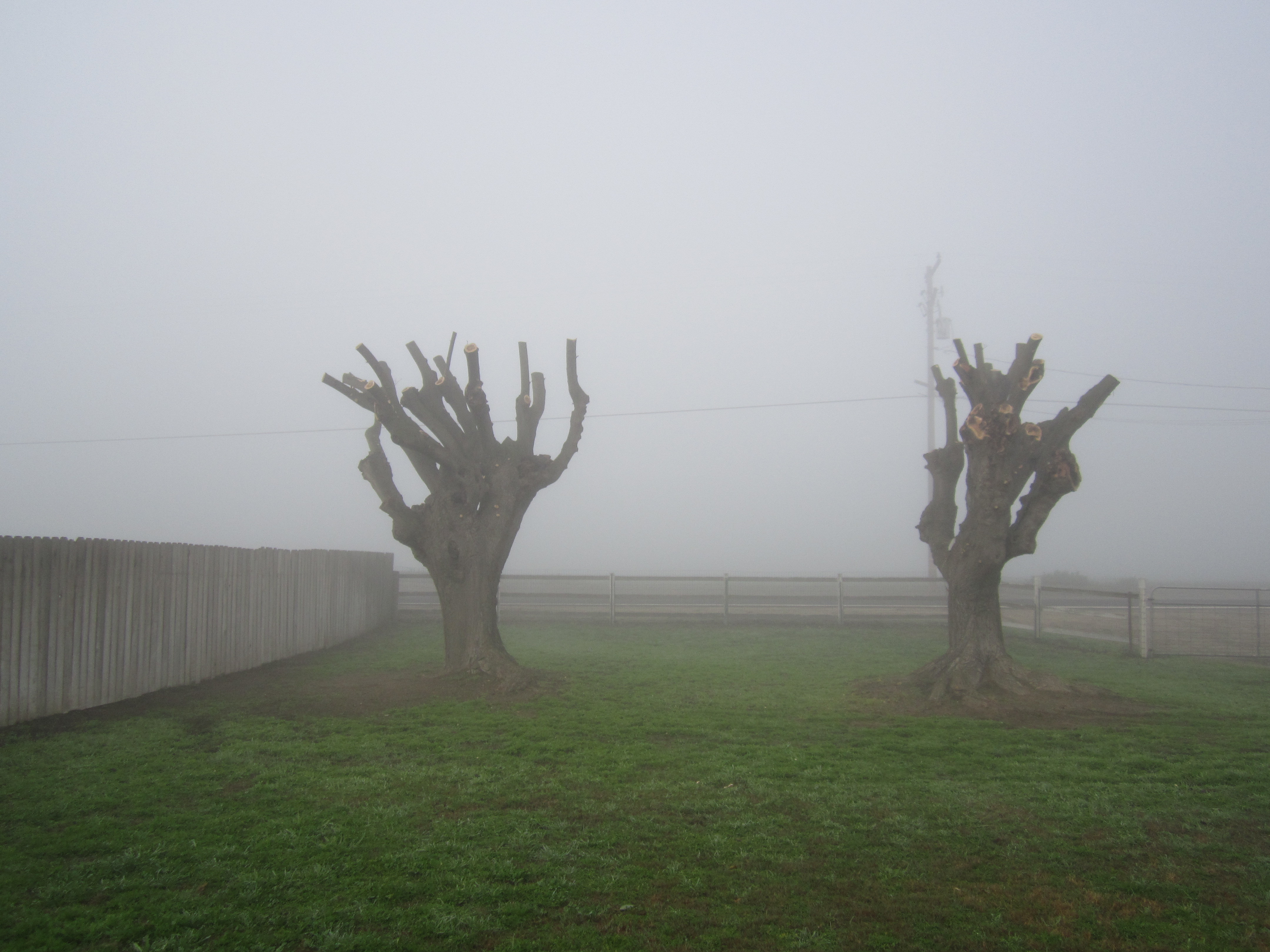 As we watched our shade drop to the ground we realized how we will miss the shade this summer. Mulberry trees grow very quickly so we understand our precious shade will return. Lots of birds live in these trees. This photo was taken the next morning. The two trees seemed happy to start all over again.
I hope you enjoyed this newsletter. If you did enjoy reading it please share it with your friends. I'm a small business and I appreciate all the help I receive. Give Arnold's Tree Service a call at 559-707-2550, or check their website at www.arnoldstreeservice.net/
See you next time! Have a joyous day!
Christine Adams / artbycadams@gmail.com / artbycadams.com