www.artbycadams.com presents the Art of Jackson Pollock
As a man, Jackson Pollock was described by his contemporaries as gentle and contemplative when sober, violent when drunk. These extremes found equilibriumJackson Pollock's work defined America's artistic coming of age. Born in Cody, Wyoming, he first studied art in 1925 in Los Angeles, where he developed an interest in sculpture. By of personal expression.1929, encouraged by his brother, he moved to New York to pursue painting at the Art Students League under Thomas Hart Benton, who remained a supporter throughout Pollock's life. During the thirties Pollock in his art. He was highly intelligent, widely read, and, when he chose, incisively articulate. He believed that art derived from the unconscious and saw himself as the essential subject of his painting. Pollock judged his work and that of others on its inherent authenticity.
1938 to 1940, he worked for the Works Progress Administration, creating representational murals. Pollock's marriage in 1945 to the artist Lee Krasner, a Perhaps more than any of his contemporaries, blended his Benton-derived brand of Regionalism with elements of Surrealism. From student of Hans Hofmann's, brought him into closer contact with the New York avant-garde.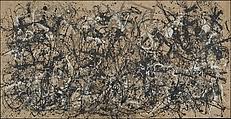 Pollock created his first "drip" painting in 1947. His approach to "pushing paint" was radical and new. With Autumn Rhythm in October of 1950 Jackson Pollock was at the height of his artistic influence. In this nonrepresentational painting thinned paint was applied to unprimed, unstretched canvas that lay flat on the floor rather than on an easel. The paint was poured, dripped, dribbled, flicked and splattered by the most unorthodox means. Pollock used sticks, trowels, knives, really anything outside what a traditional painter might use to build dense and lyrical compositions with intricate skeins of line. There is not a central point of focus, no hierarchy of elements in this composition. Every space in this huge canvas measuring 8'9" x 17'3" is equally significant. The artist worked the canvas flat on the floor and moved constantly all around it, while he applied paint from all 4 sides.
"I'm very representational some of the time, and a little all of the time. But when you're working out of your unconscious, figures are bound to emerge. Painting is a state of being. Painting is self-discovery. Every good artist paints what he is." Jackson Pollock.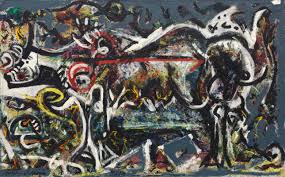 In the early 1940s Pollock, like many of his peers, explored primeval or mythological themes in his work. The wolf in this painting may allude to the animal that suckled the twin founders of Rome, Romulus and Remus, in the myth of the city's birth. But "She-Wolf came into existence because I had to paint it," Pollock said in 1944. In an attitude typical of his generation, he added, "Any attempt on my part to say something about it, to attempt explanation of the inexplicable, could only destroy it." The She-Wolf was featured in Pollock's first solo exhibition, at Art of This Century gallery in New York in 1943. Museum of Modern Art acquired the painting the following year, making it the first work by Pollock to enter a museum collection.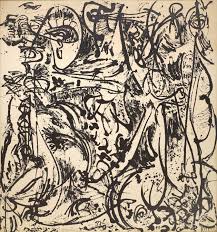 Echo: Number 25 was painted in 1951. The departure from Pollock's earlier "drip" paintings was radical. In contrast to the explosive energy and multidirectional force of other work by Jackson Pollock Echo has a lyrical economy. While Echo remains abstract it flirts with figuration. Pollock recognized this and wrote to a friend, "I've had a period of drawing on canvas in black-with some of my early images coming through- think the non-objectivists will find them disturbing-and the kids who think it simple to splash a Pollock out."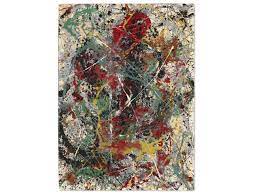 Pollock completed the work he titled Number 31, which stands at 31-by-22-inches, in 1949, during a formative time in his career when he produced a series of drip paintings. The works would make him a standard bearer of abstract expressionism.
Abstract expressionism is a post–World War II art movement in American painting, developed in New York City in the 1940s. It was the first specifically American movement to achieve international influence and put New York at the center of the Western art world, a role formerly filled by Paris. This style is often referred to as "action art". Pollock was at the forefront of new forms of abstract art without rules of composition. Jackson Pollock never reaped financial reward from his fame. He did not have time. He died in a car crash in the summer of 1956. He was 44. He was drunk and he was the driver.
Number 34 was painted in 1948. It's a personal favorite of mine. It is busy yet uncluttered, energetic but not frenetic. He used a mixture of oil and enamel paint. He used color to enhance boldness but not overtake the light and dark. I love how the prominent lines begin to dance the eye across this 22"x30" delightful art by Jackson Pollock. The thinner lines entwine and keep the eye dancing around each space of this canvas. There seems a certain rhythm to keep us enthralled.
It is very sad Jackson Pollock did not stay with us for a longer time. He was an icon. He did everything he could to paint himself into his work. He challenged norms and obliterated rules to create art instantly recognizable as Jackson Pollock's. He rejected convention to develop his own way to express himself. In fact, there is a painting that resurfaced. It's unclear if anyone knew it was gone. However it was published in a catalogue for one of Pollock's shows. Sounds like a film noire I know, but there it is. It was established the brother of the owner moved his sister's art collection after her death from New York to his garage in Arizona. She was a friend of Jackson Pollack and his wife. She was also a good friend of a New York art critic who often wrote about Jackson Pollack's art. It stayed where it was for many years.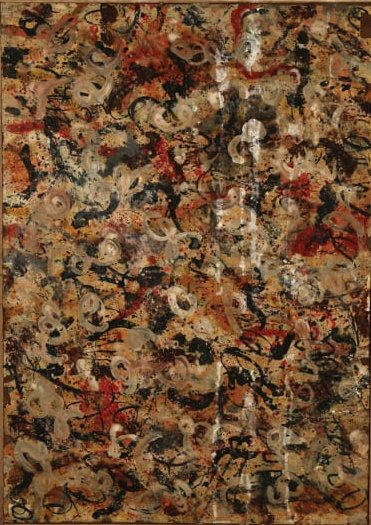 The untitled painting was found in a garage in Arizona. An appraiser was asked to provide insight into sports memorabilia after the death of the homeowner. After he did what he was hired to do he spied the suspected Pollock, and he instantly recognized the style. He spoke with the owner, did quite a lot of research to conclude the painting was likely one of Pollock's missing gouaches, a specific style of painting using water and a binding agent, from around 1945 to 1949. After years of research the appraiser was confident in the find. Experts would only confirm it was painted between 1945-1949. The piece was cleaned and damage was repaired. The man who found and first identified it was so enthused to be a part of such a process. How exciting it must have been. I want to see an image of the final restored piece one day. In this photo it hasn't been cleaned or restored. The colors will pop just with a cleaning and complete restoration will radically change the way it feels when we look at it. The painting has not yet been auctioned evidently. It is difficult to authenticate a painting from this artist and those who achieved his stature. It is almost a lifelong debate once an authentication is made because it is often contested. Each time it is contested it takes time and travel to litigate. It is a major commitment to the artwork itself.
I hope you enjoyed this newsletter. If you did like what you read I hope you will share it with your friends! I love referrals!
See you next time!
Christine Adams / www.artbycadams.com / artbycadams@gmail.com