www.artbycadams.com presents the Art of Fredric Remington
Fredric Remington was born in 1861 and passed away in 1909. He did attend art school at Yale University but found football and boxing more interesting. He spent his time camping and fishing rather than find gainful employment. He did carry pencils, ink or charcoal to draw various things he encountered. His father, a Colonel in the Civil War decided his son would be successful at something, but certainly not art. Colonel Remington passed away in 1879. At 19 Remington made his first trip out West, getting to Montana to spend his time.
In the Ol' West of 1881 he saw the vast prairies, the quickly shrinking buffalo herds, the still unfenced cattle, and the last major confrontations of U.S. Cavalry and native American tribes, scenes he had imagined since his childhood. Though the trip was undertaken as a lark, it gave Remington a more authentic view of the West than some of the later artists and writers who followed in his footsteps. From that first trip, Harper's Weekly published Remington's first commercial effort. It was a re-drawing of a quick sketch on wrapping paper he mailed back East.
He had modest success as an illustrator but rolled the dice to pursue his art career. Timing is truly everything. Newspapers rekindled an interest in the West so published Remington's drawings. Harper's commissioned Fredric Remington to go to Arizona to chronicle the war with Geronimo. He did not meet Geronimo but collected artifacts that he used in his powerful and emotive oil paintings. Remington received a commission to do 83 illustrations for a book by Theodore Roosevelt which resulted in a lifelong friendship. He also completed art school at the Art Students League of New York.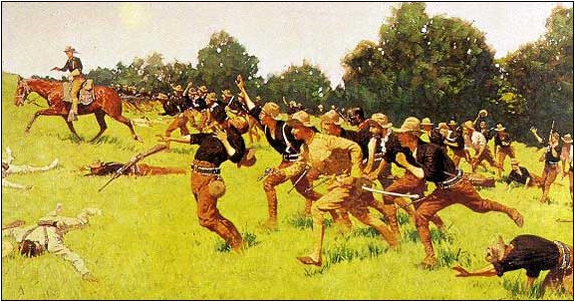 "The Charge up San Juan Hill" was painted in 1898. Theodore Roosevelt, on horseback, with his men running close behind him; some men are being shot while others lay dead in the grass. Remington gained much respect from soldiers with this painting to provide wonderful renderings and paintings of soldiers throughout his career. He was sent to chronicle the Spanish American War by the New York Journal. The actual horror and depravation of war greatly moved Remington.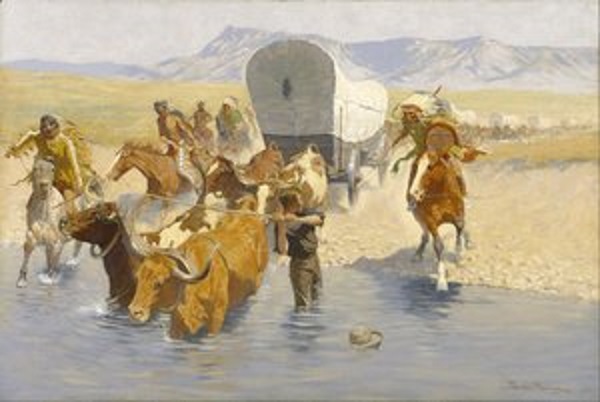 "The Emigrants" was painted in 1895. The painting depicts a line of covered wagons being surrounded by Native Americans on horseback. The Natives wear bright clothing and hold weapons, and approach the wagon at the top of the line. A man herding four oxen turns and makes eye-contact with one of the Natives, the switch in his hand raised as if to attack. Remington was recognized for his portrayal of the American Old West and included in his images figures of Native Americans and cowboys. We can feel that pungent sweat of intense fear from both the emigrants and the attackers in this painting.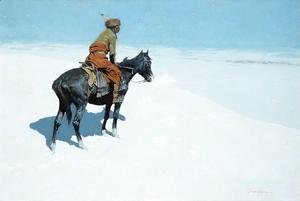 "The Scout – Friend or Foe" was painted between 19-2-1905. A solitary Blackfoot Indian leans forward on his horse, gazing across a snowy landscape at the lights of a distant encampment. The figure's pose, the horse's breath, and the glimmering sky create an almost palpable stillness and tension—the rider has no way of knowing if he would be welcome at the camp. The painting's somber mood reflects a shift in Remington's many images of the West and its increasingly isolated Native American population, indicating nostalgia for a way of life he felt was disappearing.
The Fredric Remington Art Museum https://fredericremington.org is located in Ogdensburg, New York. I used to visit it once or twice a year and enjoyed viewing art from all over the world when exhibits would be on tour. We can learn so much from folks who work at museums. They are most often happy to share the knowledge. I was certainly grateful to them on every visit. My husband bought me a gift that I absolutely love. It is called "The Mountain Man". Without the shared knowledge of the folks who work at this museum I would not know if I had a copy or not.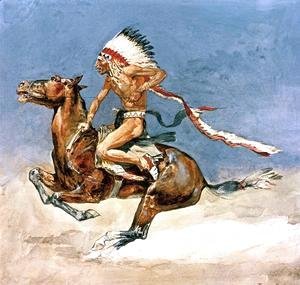 "Pony War Dance" is watercolor and gouache. It was painted in 1890-91. Fredric Remington traveled throughout the USA to chronicle the West lifestyle. In this painting I find a wild elegance to this man on this horse. It is a dance indeed. We see taut tension in both man and horse. We see the dust caused by the urged speed of the horse's hooves over the ground. We can very nearly smell the dust and sweat of effort.
The Mountain Man" is a bronze sculpture created in 1903. Equal parts trapper and explorer, the Rocky Mountain man played a central role in the North American fur trade, which reached its peak in the 1830s and 1840s. He assumed heroic stature as the quintessential Euro-American Westerner, later supplanted in the public imagination by the cowboy. "The Mountain Man" depicts a dramatic moment in the daily life of a buckskin-clad trapper in which he and his mount work together to descend a precarious slope, harmoniously prevailing over the wilderness. Cast by New York's Roman Bronze Works foundry in the lost-wax technique, the earliest "Mountain Man" statuettes are sharply delineated with a rich variety of textures, from the fringed buckskin garment to the animal's hairy coat to the rocklike base. The Metropolitan Museum purchased this statuette—and three others—from Remington in 1907. Many iconic bronze sculptures were copied and mass produced without the artist's permission. The Fredric Remington Art Museum gave me so much help. Mine was purchased in Ontario, Canada. I find it exciting to look at, and think about the lifestyle of these brave men, and the extraordinary partnership they had with their horses. If you get a chance I highly recommend visiting this museum located at 303 Washington St, Ogdensburg, NY 13669.
I hope you enjoyed this newsletter. If you did like what you read I hope you will share it with your friends! I love referrals!
See you next time!
Christine Adams / www.artbycadams.com / artbycadams@gmail.com