www.artbycadams.com presents the Art of Cecile W. Morgan
Cecile W. Morgan is an artist who takes us into simpler moments in time with her art. She uses color, shape and shadow to draw us in and she makes us feel like part of her tribe. Her father was a USAF pilot so the family lived many places in our world. Cecile taught art for many years while raising her children. Now she focuses on creating her art. Take in her charming paintings at https://www.dailypaintworks.com/artists/cecile-w-morgan. Follow her on Facebook at https://www.facebook.com/Cecile-W-Morgan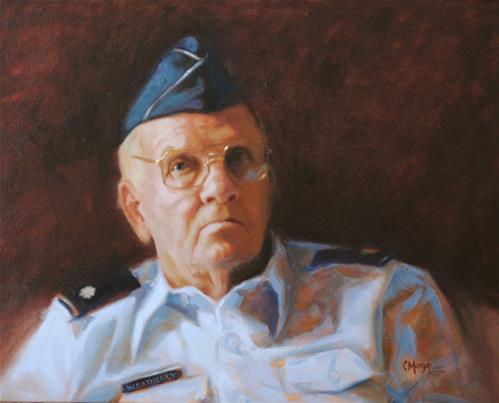 "Warbird" is an oil on canvas painting of Cecile's father. "This is a portrait of my father, a WWII and Korea veteran. He flew B29's in the Pacific arena during WWII."
"A couple of years before he died, my Dad allowed me to paint his portrait. He didn't have his original uniforms anymore, so a friend helped me acquire a contemporary equivalent. I just wanted to post this in honor of the veterans who have so faithfully served our country. Thank you".
I see a handsome man proud to wear the uniform. Viewing this poignant painting fills my soul with gratitude. Even as he relaxes this Veteran exudes determination. It feels that when he put on that uniform he would do it all over again for his country.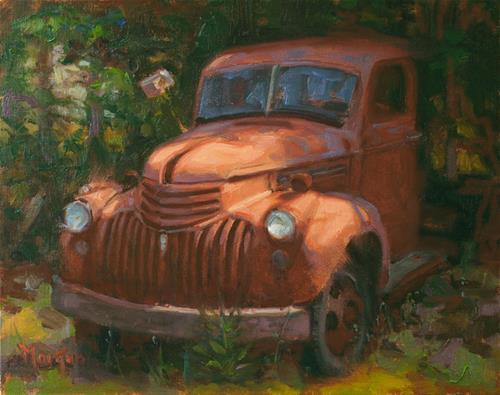 "I know there are people out there who know exactly what make this fine old truck is. I was just taken by the way it lost itself into the shadows of the trees and the play of the blues and purples skittering around in the dappled shade across its faded red paint. I loved interpreting the image with juicy paint strokes. "Juicy" is something I have to be intentional with, and I am pleased with the results on this piece".
This is an 8x10 oil on canvas titled "Shadowy Past".
I always explore old cars and trucks left out in a field. I think many leave them in a field or in bushes because they can't bear to see them go down the road with someone else. This painting brings memories of us playing amongst the shadows and light at the best toys ever!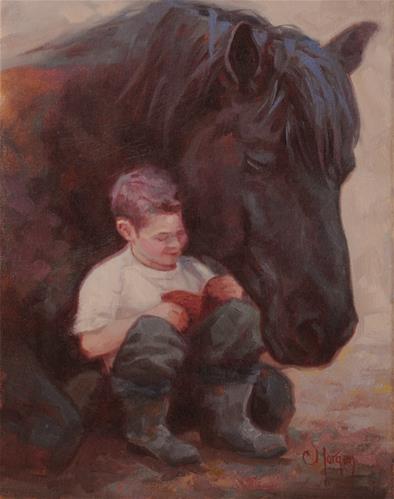 "Storytime" is 11x14 oil on canvas
"I was completely arrested by this photo as I was scrolling through my feed. The main reason being that I was incredibly impressed by this fine horse and the quiet enjoyment both obviously had in each other's presence. I tracked down the owner of the photo and she graciously granted permission for me to paint her image. Painting a black horse (really, any very shiny, black hair) is always a challenge. I fight to keep the dark paint lively and not some dark hole in the canvas. I think this one was a success in that area".
As a child I had freedom to roam and explore with special girlfriends. We were wild girls who spent our time with our horses. We got in trouble but our horses didn't mind. We were thrown but got up and dusted ourselves off. Our horses were our best friends and we kids who spent time with them were all friends. It was a magical childhood. I got a bake set for Christmas one year. So I mixed all the mixes up and made treats for my special mare, my very best friend.
"The Matriarch" is 16x20 oil on canvas.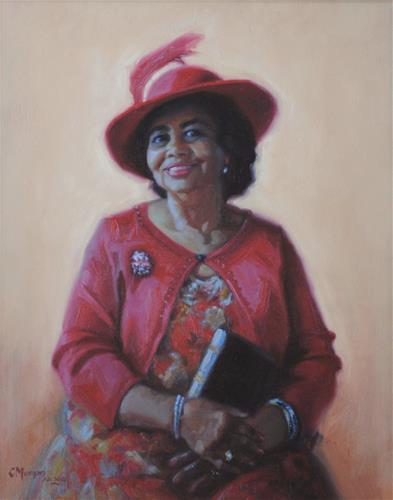 "This is a dear lady from my church who would wear these fabulous hats every Sunday. Gorgeous hats! She graciously sat for me to be included into my "Hatitude" series. She now owns the painting".
This painting stopped me in my tracks! Her gaze is inviting, elegant and kind. This woman would be a pleasure to know. I love hats. I admire the way Cecile gently guides our eye with color. I think this painting is beautiful!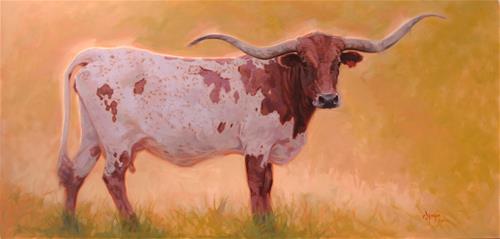 "Good Morning Sunshine is 24'x48" oil on canvas. I love the way the light bounces all around this piece. I saw a man loading a Longhorn bull into his horse trailer. Given the incredible span of his horns I was curious how he would load and ride in the trailer. The farmer came over to the fence to see what I wanted so I told him I why I stopped to watch. He told me I was going to see something very special. From the fence he told the animal to "Get up in there!" The bull turned his head to the side. I thought it was to give us a look. He then stepped on the trailer with his horns lengthwise and his head to the side. The farmer loves the animal it is clear. I think about this experience every time I drive past the field, and when I stop the wise bull ambles to the fence to greet me. The farmer said it didn't take long to teach this bull to load like that. They don't go for long trips, and they don't always go anywhere. But he practices so that if he has to move the bull he will load. I think it's brilliant and I love this painting. It gave me a very sweet memory.
There is a quiet yet powerful presence in Cecile's paintings. They are poignant and dance in a gentle light. The reason I love art is how it makes me feel. Looking through Cecile W. Morgan's paintings gave me an opportunity to explore the feelings and make sure I appreciated how fortunate I am to see Cecile's work. I do encourage you to take a stroll through her online gallery. I had a wonderful childhood in a small town. Many of my memories came up during my tour of Cecile's gallery. It gave me joy. I hope it gives you a wonderful feeling too!
I hope you enjoyed this newsletter. If you did like what you read please share it with your friends! I love referrals!
See you next time!
Christine Adams / www.artbycadams.com / artbycadams@gmail.com