www.artbycadams.com presents the Art of LeRoy Neiman
LeRoy Neiman was born in Saint Paul, Minnesota, on June 8, 1921. When LeRoy was five years old, his father abandoned the family. Taking the last name of his mother's second husband, John Neiman, LeRoy grew up in Saint Paul's hardscrabble, blue-collar neighborhood of Frog Town. He showed an early knack for drawing—and selling. Creating posters for local merchants to advertise their store sales, LeRoy peddled his work for a nickel apiece. He picked up extra change by drawing ink tattoos on the forearms of his schoolmates.
In 1954 while doing fashion illustrations for retailer Carson Pirie Scott, he met not only his future bride Janet Byrne, but also Hugh Hefner, a copywriter for the department store chain who had also just launched a new men's magazine. This magazine, called Playboy, featured nearly nude women, serious journalism, and fiction. Hefner commissioned an illustration from Neiman for a short story—which turned out to win the Chicago Art Directors Award. In 1957, the same year Neiman married Janet, he created what became an enduring iconic logo for Playboy: the Femlin. This was a mischievous-looking, saucy, sexy female sprite, or gremlin, clothed only in opera gloves, stockings, and high heels. She was, ironically, a champion of women's rights.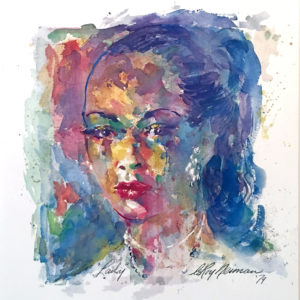 One of LeRoy's first forays into art was creating posters for local merchants at a young age to advertise their store sales. Later, as an established artist, he often made posters to commemorate and promote special sporting and cultural events. Neiman's posters remain a tribute to his vibrant work and life. "Newport Jazz Festival, New York – Billie Holiday was created in 1979. Billie Holiday passed in 1959. LeRoy Neiman won huge by using this incredible painting of the iconic Billie Holiday for the jazz festival 20 years after her passing. LeRoy was an original in creativity and strategy. I love the mood of this poster art. It is dramatic and striking, yet quietly moving.
"Muhammed Ali-Athlete of the Century" was created in 2001. Through the decades, LeRoy painted countless major figures in the arts, politics, and sports. One of his most famous sports subjects, Muhammad Ali, became a lifelong friend. Neiman became the athletic world's most renowned artist as he took his brush to capture the throbbing competition in basketball, boxing, hockey, gymnastics, swimming, cycling, shotput, billiards, and more. This piece totally rocks. I see the passion of the fight, and the determination to win.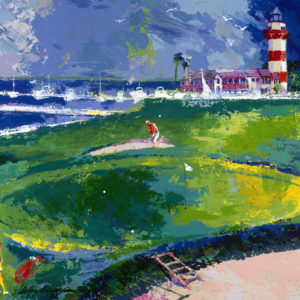 "18th at Harbor town" was created in 1999. Neiman portrayed life as a series of epic moments, alive with palpable drama, and enacted on a world stage by the greatest athletes and entertainers. We can feel the drama in this shot at Harbortown. We become excited to see if the golfer can make the shot. I love the tension in the sky. To me it looks like rain is coming and it adds drama to the golf game.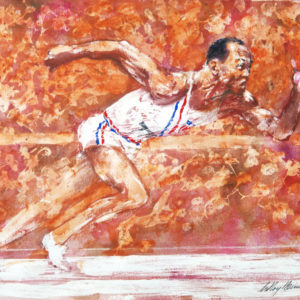 "Jesse Owens" was created in 1983. The moments are arguably the most historic moments of sports. 1936 Jesse Owens competed and won many competitions in the Berlin Olympics attended by the leaders of the Nazi Party. In this moment we are gripped by Jesse's monumental and powerful effort, determination and focus. This art was my introduction to LeRoy Neiman's powerful works of art. I have loved it for many years. To me this painting represents the most courageous American in sports.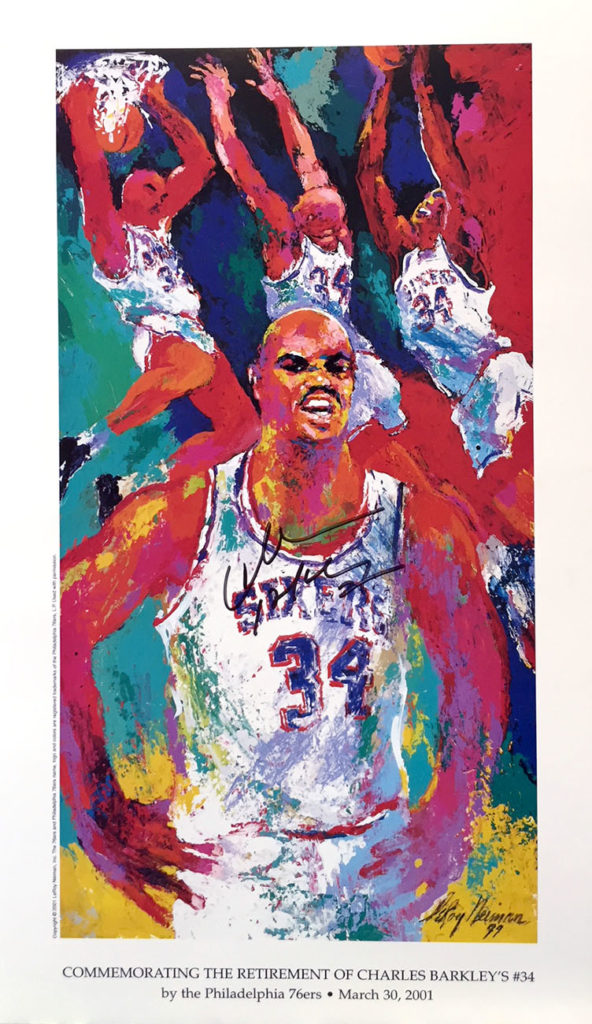 "Commemorating the Retirement of Charles Barkley' #34" was created in 2001. In 2000, he retired as the fourth player in NBA history to achieve 20,000 points, 10,000 rebounds and 4,000 assists. We watched Charles Barkley play basketball with passion, aggressive play action and accurate shots to the net. We watched him on and off the court and we still do. I love his jeering stance hurling insults at his opponent. This man always played hard and smart.
Neiman owed his increasing worldwide renown to television. He not only made art available to the masses via TV he demystified his art for everyone who saw it.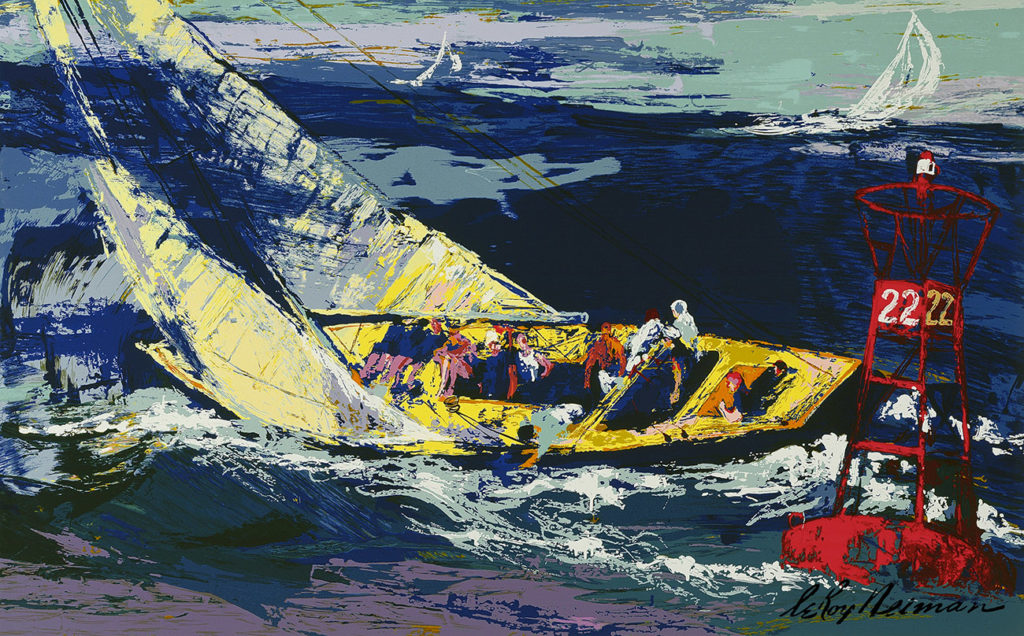 "America's Cup, Intrepid vs. Gretel II" was created in 2007. The 1970 America's Cup was held in September, 1970 at Newport, Rhode Island. The US defender, Intrepid, skippered by Bill Ficker, defeated the Australian challenger, Gretel II, skippered by James Hardy, four races to one. ... Gretel II had beaten France to become the challenger. We see active and rough seas. We feel the tension of navigating past the buoy. We see other boats and we cheer on the crew of the Intrepid. We see movement, tension, excitement and strategic activity. I love this piece. I think it is an uplifting moment in time.
LeRoy Neiman created a market for sports paintings by capturing the moments of triumph. He created art we all could participate with. This artist created sports art that spoke to all of us, sometimes many years after the event. Check out his website at https://www.leroyneiman.com to see some of the most iconic images in sports ever.
"For an artist, watching a Namath throw a football, or a Willie Mays hit a baseball is an experience far more overpowering than painting a beautiful woman or leading political figure" – LeRoy Neiman said in 1972. Neiman had his gig with Playboy for 50 years. He worked on the promotion of his own art during his life. He traveled extensively to portray sports art and art that would sell magazines for Playboy. He painted many contests at Olympic Games throughout his long career.
I hope you enjoyed this newsletter. If you did like what you read I hope you will share it with your friends! I love referrals!
See you next time!
Christine Adams / www.artbycadams.com / artbycadams@gmail.com