The Art of N.C. Wyeth
When you were a child did you read Treasure Island? Did you notice the illustrations? The art is by Newell Convers Wyeth. N.C. Wyeth was born on October 22, 1882, in Needham, Massachusetts. Wyeth is an iconic name in American art. I did read books as a kid, but I focused on the books illustrated by this incredible artist because I loved the art. Among the books Wyeth illustrated are Treasure Island, Rip Van Winkle, Kidnapped, Robinson Crusoe, The Mysterious Stranger, The Boy's King Arthur and Robin Hood. I loved the adventure, the action and the art. It transported me to a magical place as a child. NC Wyeth certainly did not limit himself to illustration art. He created fine art that resonated around America and still moves me. One day I will visit the art museums where the NC Wyeth works reside.
N C Wyeth is the father of Andrew Wyeth and grandfather of Jamie Wyeth. He built his home and studio in 1911 with the proceeds of illustration artwork done for Scribner's. He was a pupil of the great illustrator Howard Pyle, who kept a studio and school in nearby Wilmington, Delaware. Wyeth joined him at age 20 and within a year was selling his work to publishers. Pyle's school was free — he picked and chose his students. Many were to become the godfathers of American illustration.
"The Dusty Bottle" is an oil on canvas painted in 1924. It currently resides at the Brandywine Museum of Art. N.C. Wyeth believed an artist must "love an object for its own sake... simply because it is an object of form and substance revealed by the wonder of light..."When this was exhibited in 1926 viewers approached it with the intention of dusting the bottle, and then realized the dust was painted on. This painting is one that stays in the quiet part of my mind. I use it when I need to think simple composition. This is 3 similar yet very different objects. The reflections are vivid. It is said NC painted this in 3 hours, yet it is not a quick study piece. To me it is a very planned piece. It reminds me of quiet spaces in my grandmother's attic.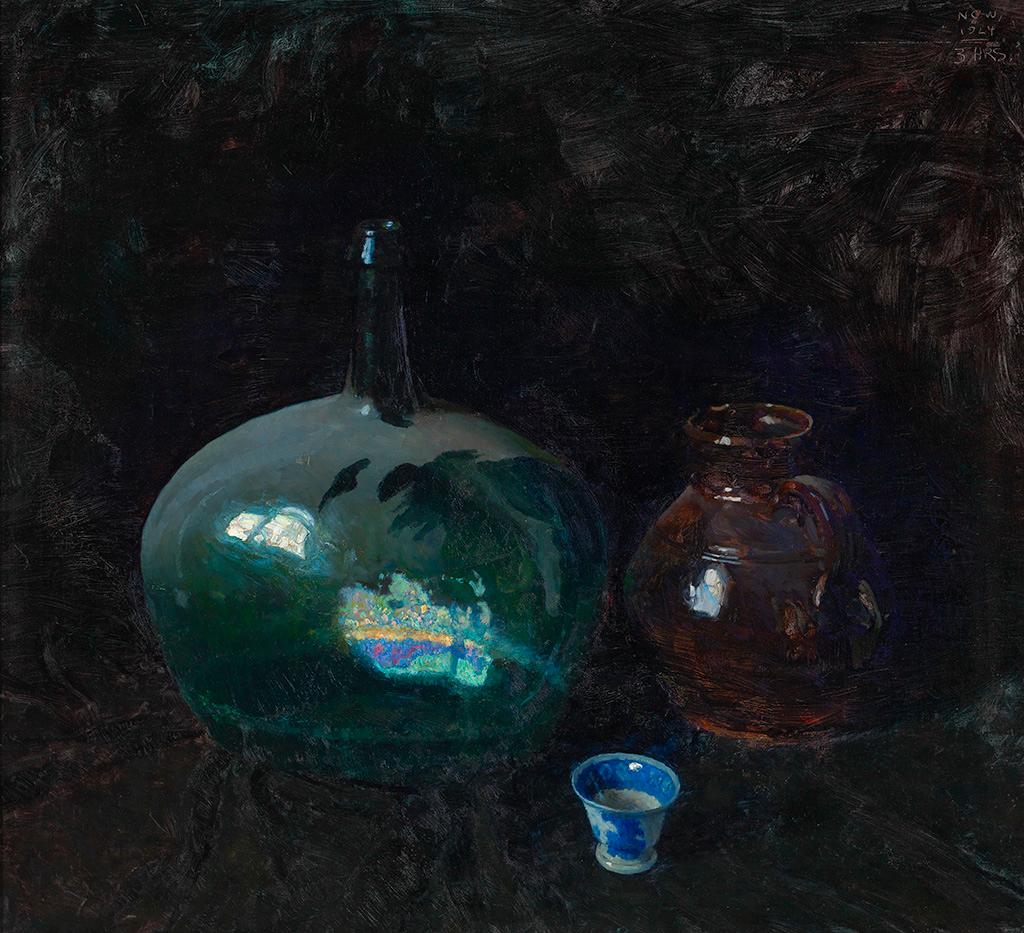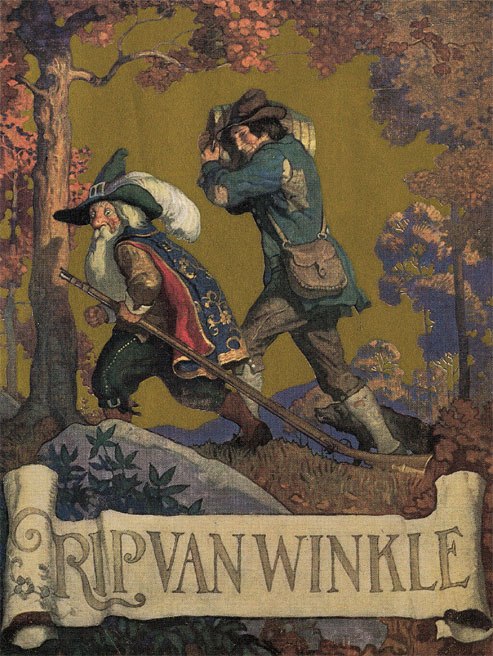 Cover illustration for the book Rip Van Winkle, 1921. "Rip Van Winkle" is a short story by Washington Irving, first published in 1819. It follows a Dutch-American villager in colonial America named Rip Van Winkle who falls asleep in the Catskill Mountains and wakes up 20 years later, having missed the American Revolution. I think I read all books illustrated by NC Wyeth. I often go back to the art to let it speak for itself. Illustration art is how NC fed his family. I love the books for the stories, but he pulls me into the story by the incredible illustrations. This cover shows us Rip's trek up the hill with the keg. This is the image that comes to my mind whenever I hear thunder. The men in the mountains must be playing nine-pins.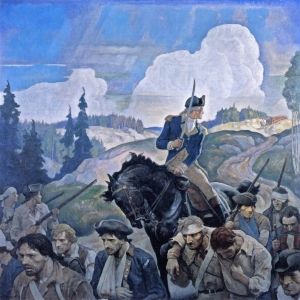 "Benedict Arnold and Men" was painted in 1933 and is oil on canvas. It is at the Hood Museum of Art at Dartmouth College. The painting was used as the original dust jacket illustration of the book "Rabble in Arms A Chronicle of Arundel and the Burgoyne Invasion" by Kenneth Roberts. Benedict Arnold was an American military officer who served as a general during the American Revolutionary War, fighting for the American Continental Army before defecting to the British in 1780. George Washington had given him his fullest trust and placed him in command of the fortifications at West Point, New York. Arnold planned to surrender the fort to British forces, but the plot was discovered in September 1780 and he fled to the British. His name quickly became a byword in the United States for treason and betrayal because he led the British army in battle against the very men whom he had once commanded. In this depiction Benedict Arnold is looking behind. His men are defeated and lost. They probably realize now they followed the wrong general.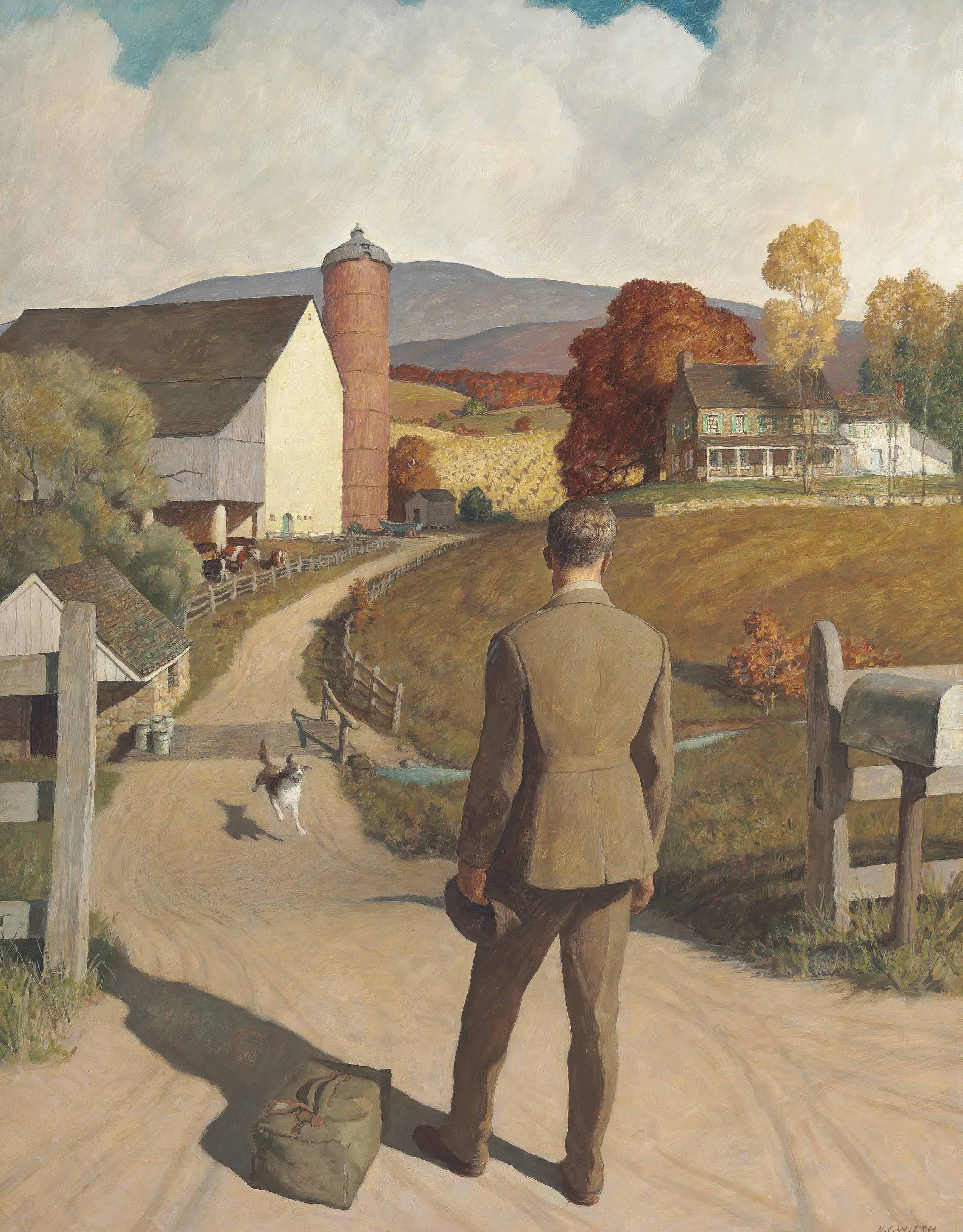 "The Homecoming" was painted in 1945. It is in a private collection. I get a chill when I look at it. A little dog joyfully greets a returning soldier. The young warrior savors a view he thought he might never see again. He doesn't return as the same person he was when he left. I am moved beyond words when I see this painting. Welcome home. I thank you for your service. It is an awesome wave of emotion to welcome our soldiers' home. We should never pass up that chance to thank soldiers for what they and their families do for us. My bet is the owner of this painting celebrates soldiers every day.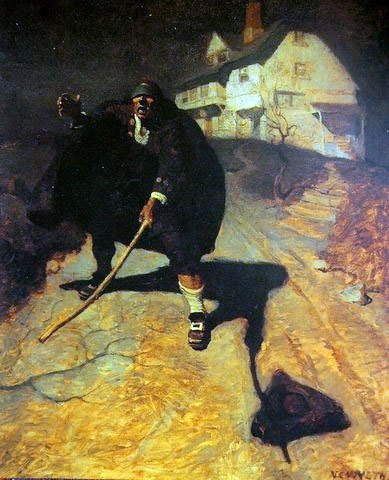 "Blind Man Pew" was painted in 1911 as an illustration for Treasure Island. Blind Pew is a vicious, deadly, and sinister blind beggar who, despite his blindness, proves to be a dangerous fighter and can even be considered a ringleader among his fellow crewmen. NC Wyeth communicates the Blind Man Pew's character so dramatically in this illustration. The mouth is open, the balance of the figure seems precarious as he searches for his path with his stick. The building in the background seems to push Pew deeper into the darkness as we follow the shadows Wyeth lays down. These extraordinary works of art are stunning, vibrant, and tell the stories. I am so delighted they exist, and I am happy to revisit them.
As a child I went to a small school. Mr. Johnson was the librarian at the elementary school I attended. Mr. Johnson was a gentle and astute educator. He paid attention to our interests and he led me to the books that would ignite a love of reading, adventure, and art. I have admired the art of the entire Wyeth family largely because Mr. Johnson introduced me to these wonderful books thought to be adventure stories for boys. I am grateful this wonderful man did everything he could to expand my imagination. I dedicate this piece to Mr. Johnson with my utmost gratitude.