I suppose it wouldn't surprise anyone I have many favorite artists. Gustav Klimt is toward the top of my favorite artist list. I have always admired the art of Gustav Klimt. The adornment of his models is astonishing. Klimt was born in 1862. He studied at the Vienna School of Decorative Arts. Gustav Klimt became known for the highly decorative style of his work. Klimt celebrated women in his art. He made them beautiful and powerful. "All art is erotic" is a quote from Gustav Klimt. His paintings are wonderfully erotic.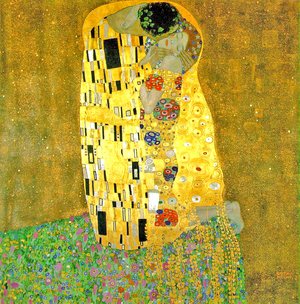 "The Kiss" was painted in 1907-1908. It is one of the most famous of Klimt's work. It depicts love-making and was not well received when it was created. Klimt used gold leaf to enhance this painting. His appreciation for Byzantine art is clearly represented in this piece. He also uses the decorative excitement of the times, a huge break from most of his peers. The Belvedere Museum in Vienna purchased "The Kiss" for 25,000 crowns (the equivalent of about $240,000 in today's dollars) on the day it was first exhibited 103 years ago. I love the surprise the gold gives the viewer. It is erotic, eloquent and it holds a viewer's gaze with splendid gold leaf.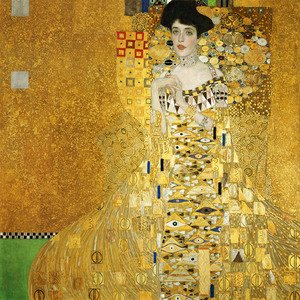 Portrait of Adele Bloch-Bauer I is a painting Gustav Klimt completed between 1903 and 1907. The portrait was commissioned by the model's husband, Ferdinand Bloch-Bauer, a Jewish banker and sugar producer. A movie was made about this painting called "Woman in Gold". This painting is glorious to me. I would love to see it in person just to enjoy the splendor of Adele. Intricate patterns cascade from her, harmonious and lavish. I love her choker necklace. I think she is exquisite. I love how she dominates the entire piece. Adele's elegance is enhanced by every element in this painting.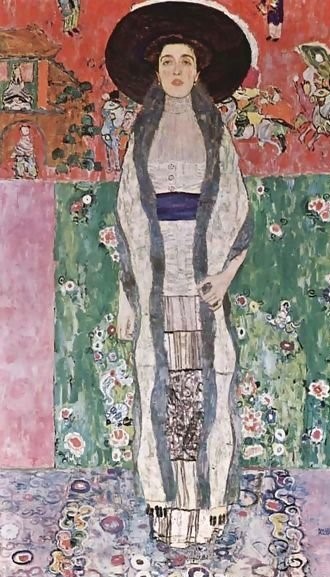 Portrait of Adele Bloch-Bauer II was painted in 1912. Adele was the only woman who Klimt painted twice. Adele's husband commissioned both paintings. How honored Adele must have felt to have her husband appreciate her that much! The painting is now part of a private collection. The amazing Oprah Winfrey purchased it in an auction. Oprah loaned the painting to the Museum of Modern Art in New York so that it could be seen by many. I love the generosity Oprah showed. I wish I could have seen this piece. Oprah owned the painting about 10 years and then sold it to a private collector. At that time it was the most expensive painting ever sold. Both portraits of Adele hung in the Bloch-Bauer family home until they were stolen by the Nazis just prior to WWII. The museum where both portraits resided since they were recovered were reluctant to return them to the family. Maria Altmann sued the museum and she did recover both portraits as well as other paintings the family owned before World War II. Maria is a Warrior Woman and I so appreciate her prolonged and difficult fight.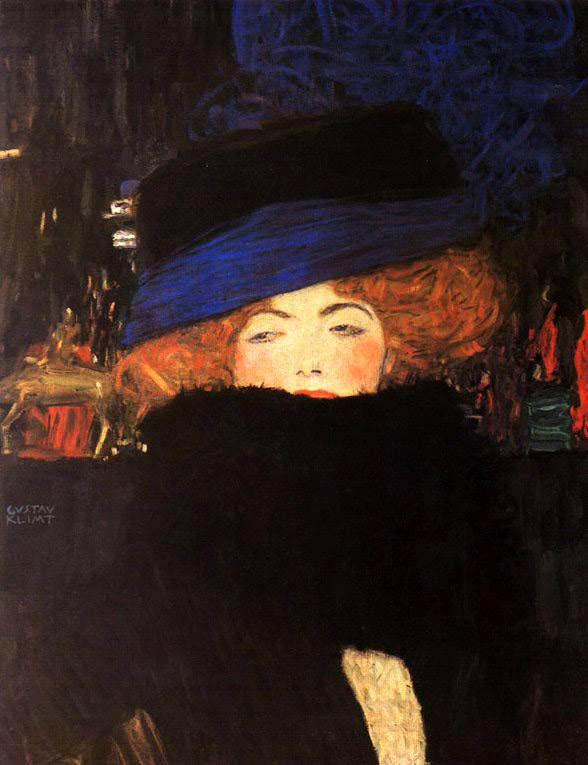 Lady With Hat and Feather Boa was painted in 1909 by Gustav Klimt. I imagine the pure pleasure of Klimt's experimentation with this painting. It's pure fun to play with warm or cool blacks, discover how to mix black without using black. He brings subtle and soft aura to her lips with the feather boa just allowing us a peak at her upper lip. It is thrilling eroticism to only suggest her mouth. The bright band of color amidst the soft blacks and blues are directive and bold but still soft, like the woman we see. The strokes are relaxed and loose in this painting and I bet it was restful, less disciplined for Gustav Klimt. She is strikingly sensual, and yet we don't know her.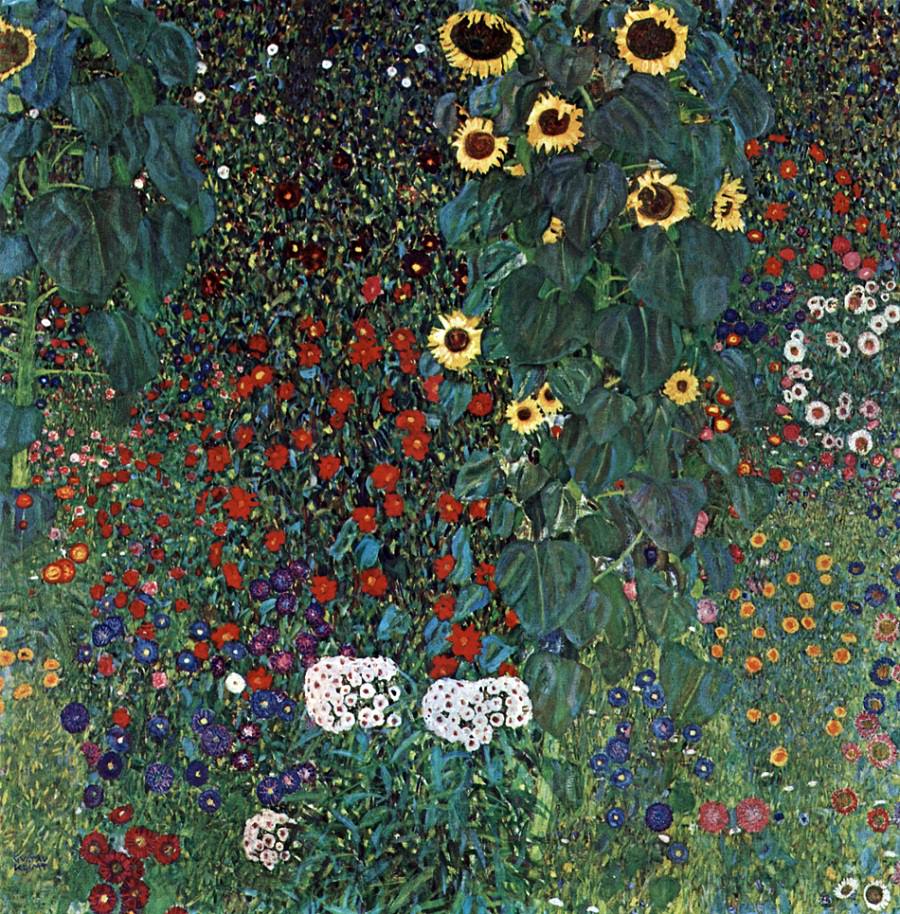 Farm Garden with Sunflowers was painted in 1913 by Klimt. He uses the diagonal to connect the foreground with the background. Klimt did study Vincent Van Gogh and radically used techniques to guide the eye of the viewer. Each flower is luminous in color, considered in composition and set off with the green meadow to amplify the flower colors. It is exquisite, precise, but cheerful under the impeccable hand of Gustav Klimt.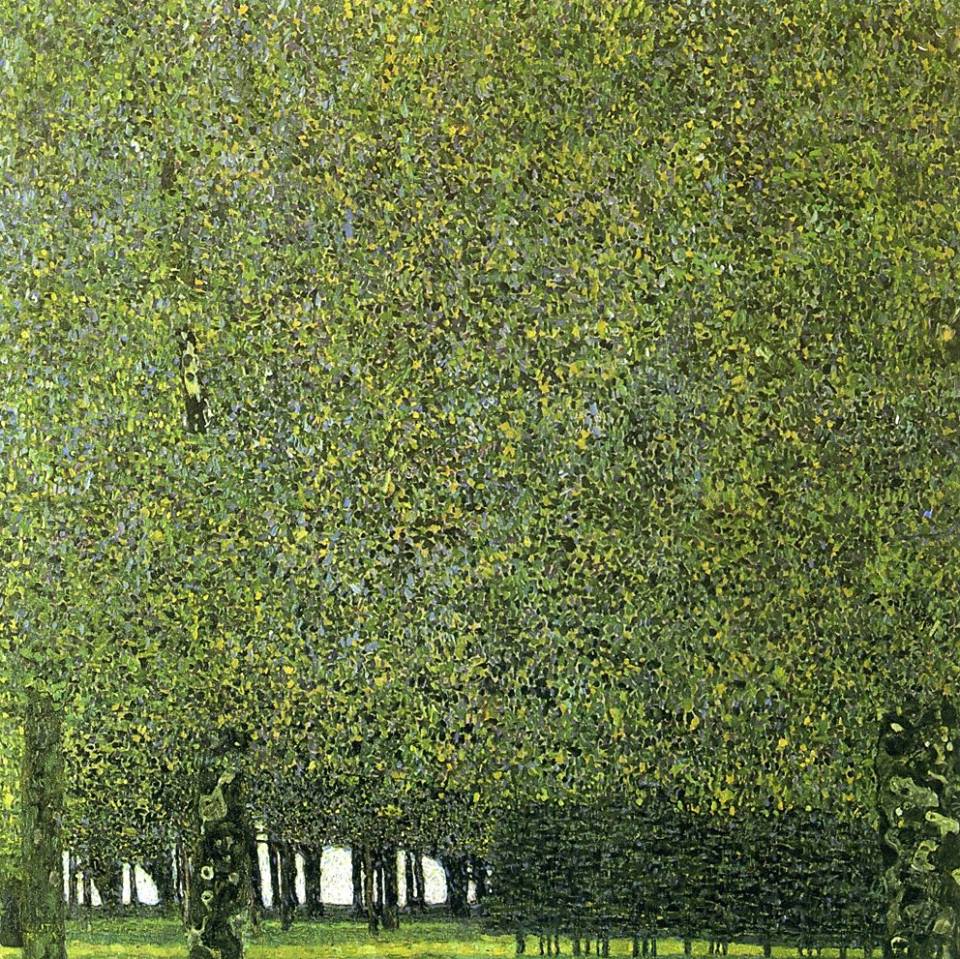 The Park was painted around 1910. Pointillism influenced this work in a symphony of yellows, blues and greens. Most of this painting is foliage. If not for the sky peeking through the tree trunks and the sunlit strip of grass this would be an abstract piece. Klimt did wonderful paintings like this throughout his life, but they were never as celebrated as his portraits of women. I find a serene peace exploring this painting.

Klimt created Silhouette I & II in 1912.
For the time the style was revolutionary. The presentation is two women placed to reflect one another. They hold the same silhouette but are colored in very different patterns and colors. The influence of Japanese art is clear, with Art Deco bold patterns and colors.
Each of the women hold their hands close to their bodies and illustrate they are 2 different women. Near the heads of both women we see the swirling mosaic. Coupled with the geometrics of the clothing we all see Klimt's classic features amplified by the creamy white space. The calligraphy feel we get with this piece is like a delightful surprise.
Gustav Klimt's artwork cultivates an array of styles through his broad range of technique. As the artist shifts through the different styles, similar and opposite of his contemporaries, his soft technique remains the same against each canvas and paper. Klimt's draftsmanship and attention to detail is the primary focal point of the artist within each piece.
I do love the art of Gustav Klimt. If you haven't seen it already see "Woman in Gold". It is a stunning movie to see what greed does to some, and how it affects art.