www.artbycadams.com presents The Art of Andrew Wyeth
Childhood is a time of discovery. We are sponges who soak up stuff. Some we keep, some we don't. I discovered a family of artists at a young age, the Wyeth Family. Andrew Wyeth was born in 1917. He was the son of NC Wyeth. Due to health issues Andrew was home schooled. He learned to paint because his father, NC Wyeth taught him. I suppose it felt somewhat like a prison to a youngster but Andrew Wyeth learned to paint. In my opinion he became one of the most important artists in history, certainly one of the most well-known American artists.
If you want to treat yourself to a wonderful experience go to www,andrewwyeth.com/gallery. Sit back and relax. Andrew Wyeth painted his life, his friends, and his experiences. He is a storyteller with masterful brushstrokes and paint. He used watercolor and tempura. Tempura was used primarily before 1500 when oil based paint became more popular. But tempura is said to be very long-lasting.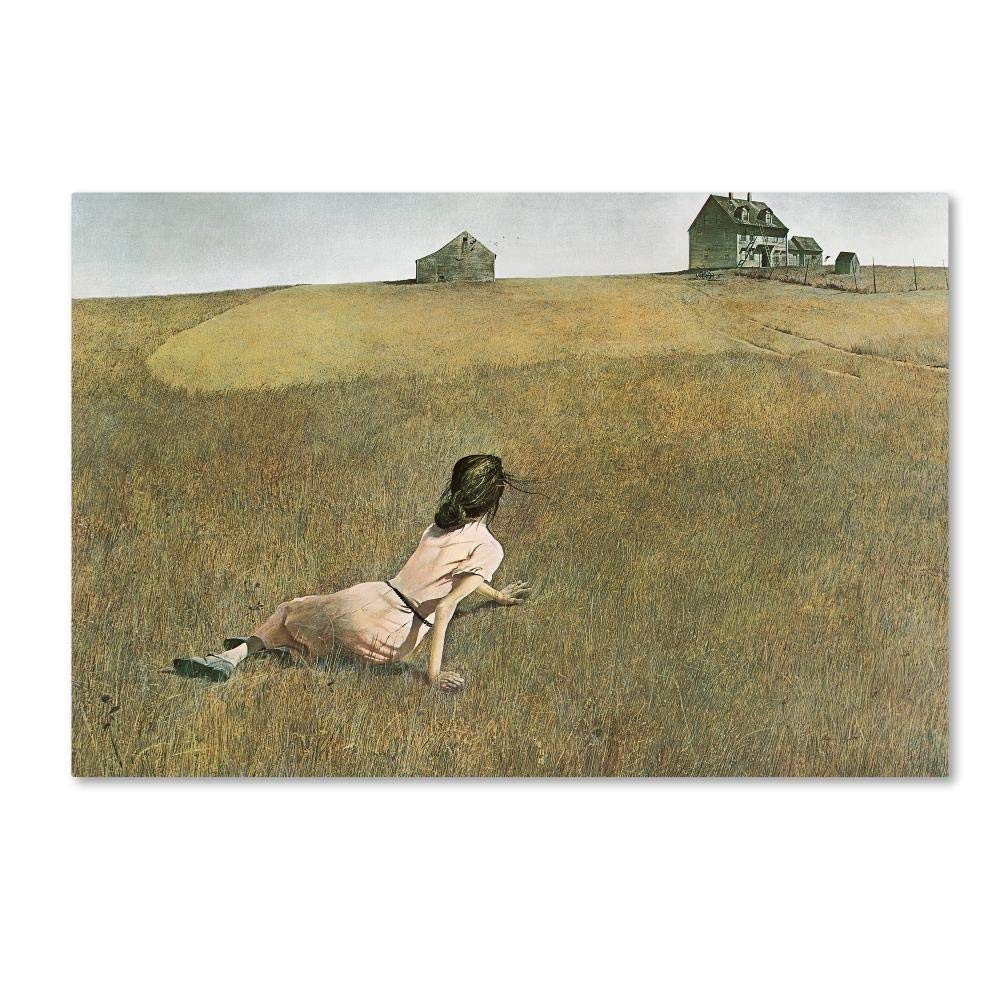 "Christina's World", painted in 1948, wasn't the first Andrew Wyeth painting I ever saw but it was certainly the most profound. Christina Olson did not have the use of her legs and she traveled her family farm by pulling herself with her hands. Years ago I was strolling through a store and there she was, in a frame! I studied this piece in an art class in college. She now resides on my wall. She reminds me to rise up when things don't go so right. The story told to me by this artist is Christina is intelligent, and determined to be no more and no less herself, on her terms. To me she is unstoppable.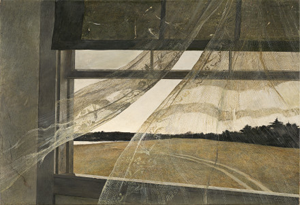 "Wind from the Sea" was painted in 1947. Andrew presents a breezy day gently wafting thin curtains around us. This painting has always reminded me of reading a book in my grandparents' house. Wyeth shows us his world; we know how his landscape looks. The atmosphere is calm and uncluttered. The curtain is painted as feathery window covering but with so much detail we can see the pattern in the thin fabric. I can almost hear the whisper of the wind.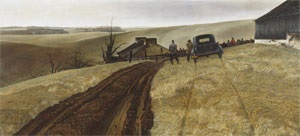 "Public Sale" was painted in 1943. It is currently in the Philadelphia Museum of Art. It depicts a heartbreaking public sale of the farm after the farmer's wife passed away. We see 2 men standing by a truck and people at the barn witnessing or participating in the forced sale. The story is clear; the empathy for the family who must endure this event is devastating.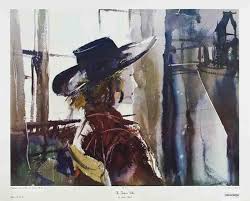 "The Fortune Teller" has always been a favorite Wyeth painting of mine. We see texture, with light and shadow leaking from the window. We see the fortune teller gather herself, quiet her mind so she may listen. The colors are bold and true. I see a quiet yet flamboyant personality who is focused on a place I cannot see.
Andrew Wyeth is one of the most influential artists for me. There is controversy that surrounds famous people, including Andrew Wyeth. I choose to admire the art and the man who produced it. I always feel
bad when someone has controversy swirling around them. It seems unnecessary to me. However it does get that person in the headlines.
Andrew Wyeth mastered two completely opposite mediums which is something I love about this artist. Watercolor is quick and sure. Tempura is slow, painstaking and detailed. He weaves his story to us in these two mediums masterfully and I do consider Andrew Wyeth one of the most influential artists in America. One day I will go to the Brandywine region and tour the art galleries there. It is on my bucket list. I also think Andrew Wyeth was a quietly delightful man who laughed often and deeply. I find humanity, social conscience and humility in his art. I think I own most of the books about him. I would love to see the art in person! I have studied it long and hard at different times of my life.
It would be great if you would share my blog. I love referrals! Personal referrals are everything to small businesses. If you would like to contact me my email address is artbycadams@gmail.com. I hope you enjoyed this article.