www.artbycadams.com presents the Art of Alice Joy Murphy
The universe gave me a little nudge toward a delightful artist so I reached out to her. Her name is Alice Joy Murphy and she is predominantly a dry media artist who specializes in highly expressive and detailed portraits of her clients' pets. She does accept commissions as well as producing outstanding works of art. Her website is www.alicejoymurphyart.com. We can also follow Alice on Instagram @animal.artist.alice. Believe me, you will enjoy wandering through her work!
Alice has been juried into the wonderful Gallery Los Olivos in Los Olivos, California. Alice's work is available to purchase through the gallery and at Ranch N Back Boutique in Santa Ynez, California and The Outpost Trading Company in Santa Ynez.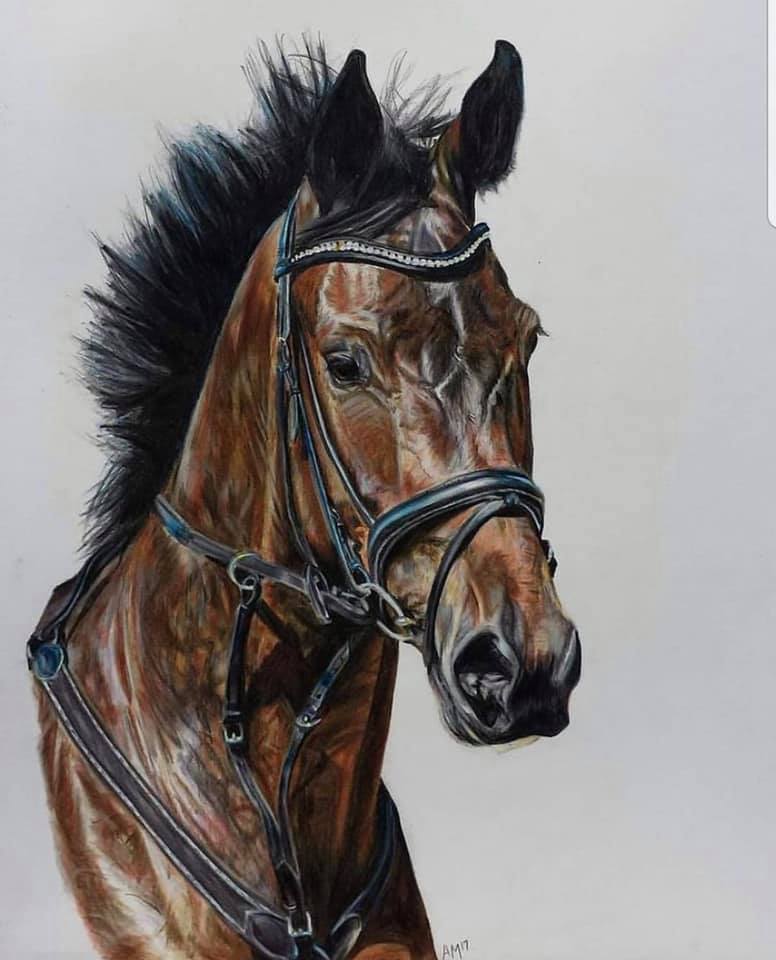 "Dimpy" is a show-jumper who lives in England. He knows he is competing. Alice shows viewers Dimpy's focus. He is tense with anticipation of the joy of doing his job. He is at his peak today, along with his rider. Best of luck! This piece resides with Dimpy and his owner in England. Alice brings Dimpy's intensity to this piece. She portrays him in a way we viewers learn quite a bit about Dimpy's intelligence and partnership. We see his athleticism and we know he cannot wait to begin. He will be brilliant.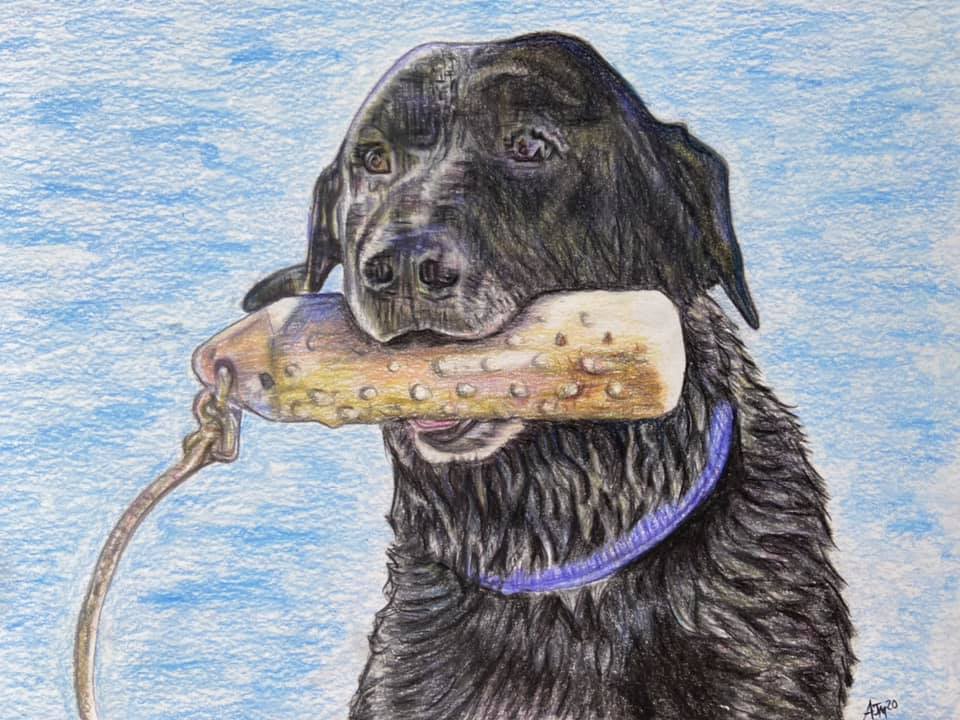 Ruger was a cherished companion dog who passed away. The piece was commissioned by a wife as a Christmas present for her husband who trained Ruger with water toys. The love in the eyes, knowing his fetching this toy pleased his person is magnificent.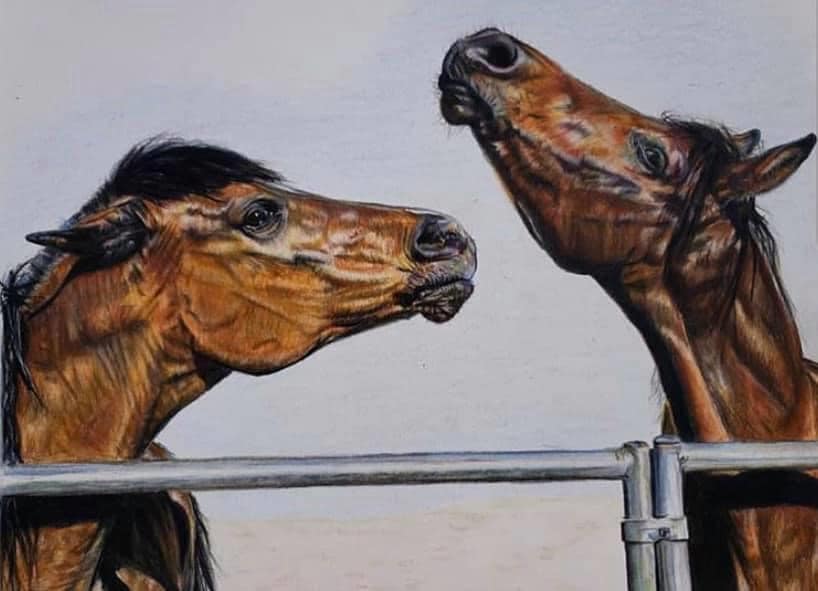 "Face Time" Alice took the reference photo for this delightful image of 2 horses playing over a fence. "Face Time spent time exhibiting at Gallery Los Olivos in California. It now resides with a private collector in Arizona. It is enlightening to watch horses play together. This piece shows the character of each horse. Color and magnificent detailing brings this piece to life. Horses create so much joy in their moments as partners do!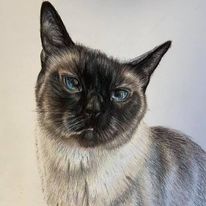 The cat's name was Samuel. The piece was commissioned by a Mother for her Daughter. I love cats. I enjoy my world with cats, dogs, horses and birds. Cats cuddle. I see Samuel as a cat whose purr is calming for his human. I see the love of being in his owner's lap. What a lovely gift to give to one who has lost a beloved pet.
I reached out to Alice Joy Murphy when she courageously told her story. She escaped an abusive relationship. Alice took a leap of faith on a day she won't forget. She shared her story and I saw a Warrior Woman who believes in herself. Inside a milestone moment Alice Murphy changed her entire life. She began her art career with commitment to herself. It's not easy, so please, share her story. You might know someone who wants a commission work with a beloved pet as the subject. Alice certainly delivers on her promise to bring life and personality to her portraits!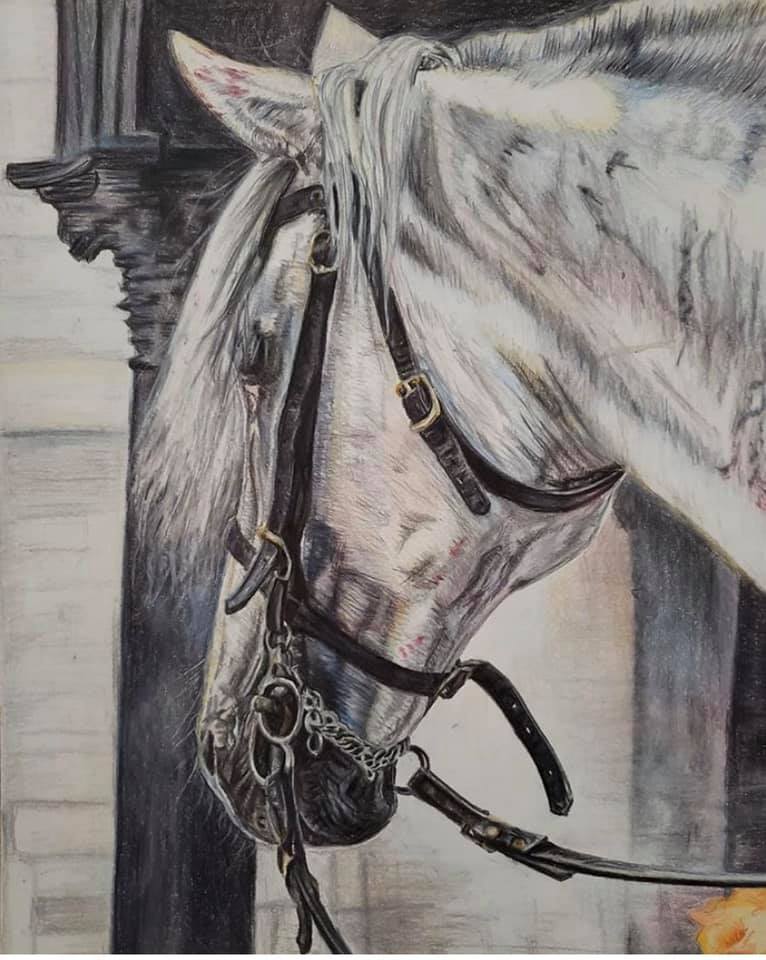 Alice created "The Pale Horse" based on a horse she admired on "Game of Thrones." Stunning, authentic high end digitized giclee prints are available directly through https://www.alicejoymurphyart.com. Alice completes most of her portraits using artist grade color pencils of museum quality and resistant to UV fading. Portraits are on Bristol Vellum surface, an acid free card suitable for the type of pencils she uses. Recent developments in the technology behind color pencils bring them to the forefront as a medium preferred by many professional artists for use in portraiture. The ability to capture texture and detail using rich, vibrant colors they produce.
Alice's commission pieces are unframed so that client's custom frame according to individual taste and home décor.
I hope you enjoyed this newsletter. If you did like what you read I hope you will share it with your friends! I love referrals!
See you next time!
Christine Adams / www.artbycadams.com / artbycadams@gmail.com