I know it will sound cliché but some of us are emotional. Sometimes our art comes from an emotional place. I try to create joy. You know that moment babies have when they see you? A thrill runs through their bodies only because they see you. I want to create a moment to enjoy, to feel joy. As I do that I sometimes live in that emotional place and am often criticized for it. I'm not going to apologize, it is just me feeling everything.
With that said, say hello to Vincent Willem Van Gogh. He was born March 30, 1853, Zundert, Netherlands. He died July 29, 1890. Before he became an artist he worked for an art dealer with his uncle. He developed an appreciation for Rembrandt as well as other Dutch masters. He also developed an appreciation for French artists Jean-François Millet and Camile Carot, who influenced the art of Vincent Van Gogh throughout his life.
It was not an easy road for Vincent to become an artist. His road was tortured. He discovered in his art a new self-confidence. During a short ten years Vincent Van Gogh produced numberous iconic paintings with a presence that moves through the generations.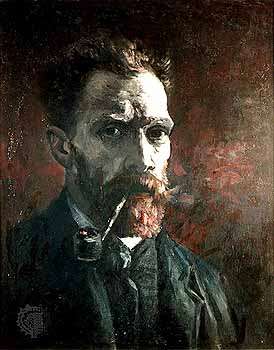 Self Portrait With Pipe was painted in 1886. It currently resides at the Van Gogh Art Museum in Amsterdam. Van Gogh was always a student of art and produced many self-portraits. He practiced on himself and experimented with expressions and color. He developed relationships with other artists and learned from each. The pale tones of his face in this painting stand out starkly against the warm dark red background. He applied the paint thick, with clarity and a sure brushstroke. The expression is direct and dignified. I think it is outstanding.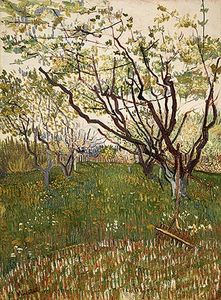 The Flowering Orchard was painted in 1888 and now resides at the Metropolitan Museum of Art in New York. Vincent took lessons from other artists to develop his own style. He tired of being in cities and decided he needed to get back to the country. He created art from the beautiful music of nature. Within 12 months he created a body of work that included wonderful orchards, stark landscapes and art depicting the people who lived and worked to take care of it. I can fully understand the joy of being in the middle of an orchard in full bloom, and the people who nurture that growth.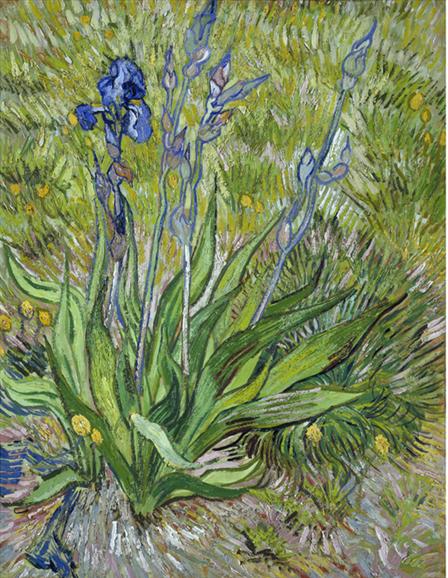 Vincent van Gogh, Iris (1889), oil on thinned cardboard, mounted on canvas. This painting resides in the National Gallery of Canada. In 1889 Vincent went into an asylum due to illness. During bouts of his illness he was not able to paint. Between bouts he did paint in the garden. His brushstrokes became bolder. I used to visit this painting several times every year. I marvel at his command of color and brushwork while trying to heal from a debilitating condition. It seemed to confirm to me we don't have to be happy to experience intense joy. We have to make ourselves find joy even from the depth of intense sorrow. We must decide, choose to be joyful.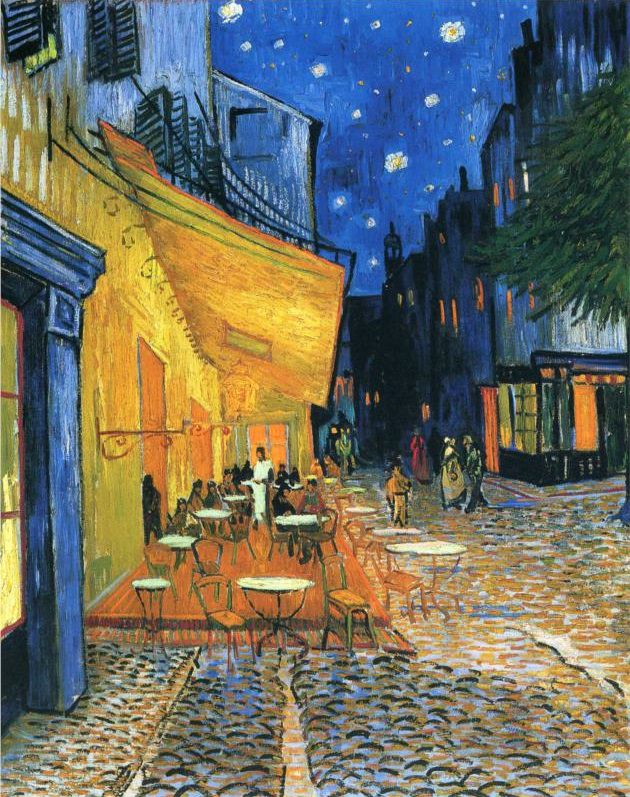 One of my favorite paintings is Café Terrace at Night painted by Vincent Van Gogh in 1888. I can see myself enjoying a glass of wine with friends under the stars. Or I can listen to the laughter of those who are enjoying the night air. I think Vincent would love the endless discussions about his technique, shadows, light; how he guides your eye in this painting. To me, it stops me in my tracks and takes away my breath. It brings me joy.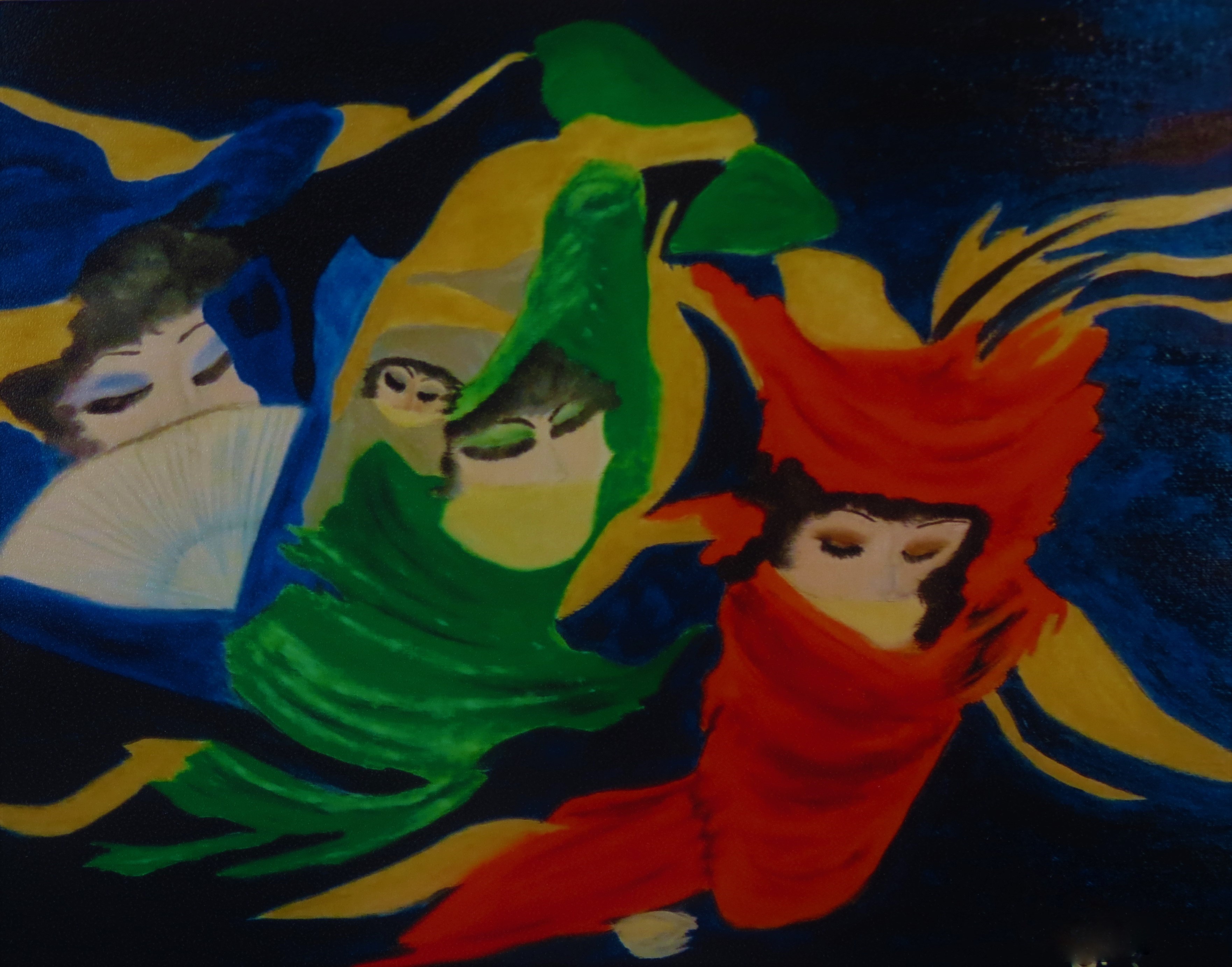 Dreamscape is an oil painting by me, Christine Adams. My influence in creating this piece was Vincent Van Gogh. My mother told me it looked like a dream, so I named it Dreamscape. I wanted to challenge myself to be able to guide a viewers eye across this piece. I want to present the details, but I also want the details to communicate across the whole canvas. I wanted to use intense colors with variations in hue to do that. Does your eye dance across this canvas?
I do hope you enjoyed this. I enjoyed researching and writing it, I enjoyed presenting it because I do love the art of Vincent Van Gogh. I love the place his art takes me. Art enriches me. It gives me something outstanding to think about, to be outside of myself and think about something better than I am in a positive and creative way. It makes me feel, perhaps sometimes too much. It's a place I go to release myself, let something else take over my soul. Vincent's life was not easy. He worked hard to substantiate himself. And yet, his paintings have had a monumental effect worldwide. It is an incredible achievement. I like to thank him for bringing joy to the world. I do get a twinkle of joy when I see the art of Vincent Van Gogh.