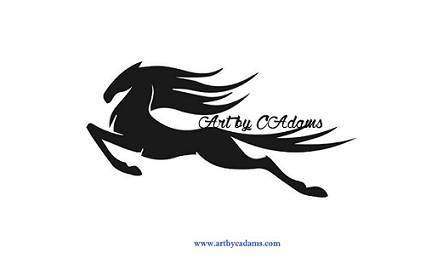 I have an awesomely talented sister. She and I both like Project Runway and we talk about it during the seasons. Margaret is an artist with sewing. She makes the most incredible works of art. Years ago Margaret made Mum a pant suit, a vest and pants. When I put the suit on it fit like a glove. It washes and can go in the dryer and come out perfect so it's good for me!
My husband agreed to take photos of me. I have self-isolated since February 1st. I have an autoimmune disorder so with the powerful contagion of the Corona Virus I have to stay away or I will almost certainly get it. I want to stay joyful during this time and decided I would do just that. I want to be the best I can be all the time. So, this is me sharing my little bit of fun with you. Welcome to my slightly askew Project Runway!
Here is the suit! The tree is a Rose of Sharon Mum started for me from her "mama tree". The tree branches spread out as they grow, but this one was planted where you see it last year. When it blooms it will have beautiful big flowers on most of the branches. I was thrilled with the new leaf growth this year. But the suit fits, and is versatile. It has always been challenging for me to find pants I like to wear. These days it's worse. I am a jeans person. But I like pants to be breathable, and not have a lot of stretchy stuff because it's very hot where I live. That stretchy stuff doesn't breathe and irritates my skin. This suit is perfect! The closure is 2 buttons on the waistband. At the closure there is a pocket. Very cool suit and the fit is awesome! It is comfortable to wear.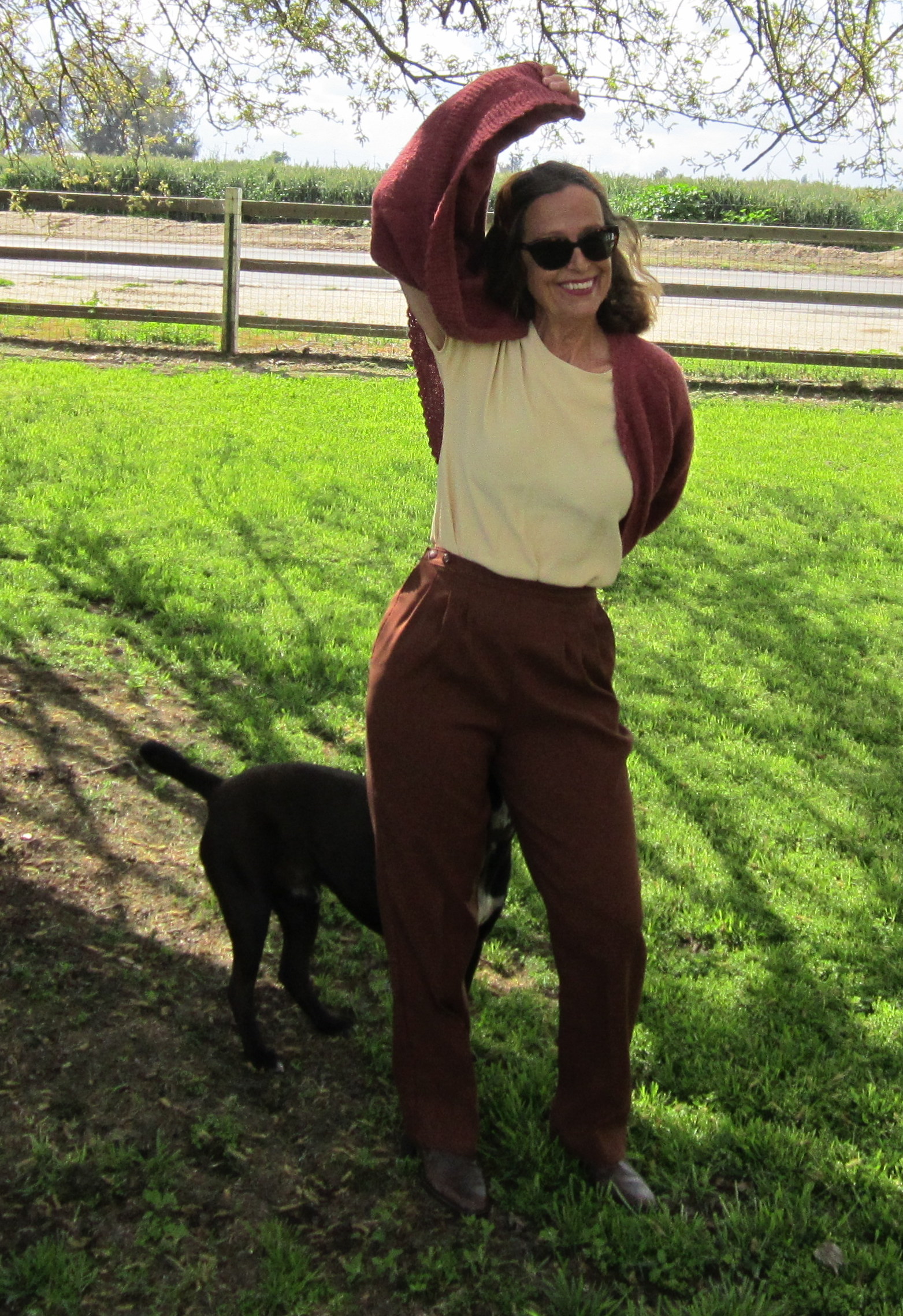 They say it's all about the angles! My dog Bully is trying to trip me! Here are my pants with a cozy cardigan I was playing with.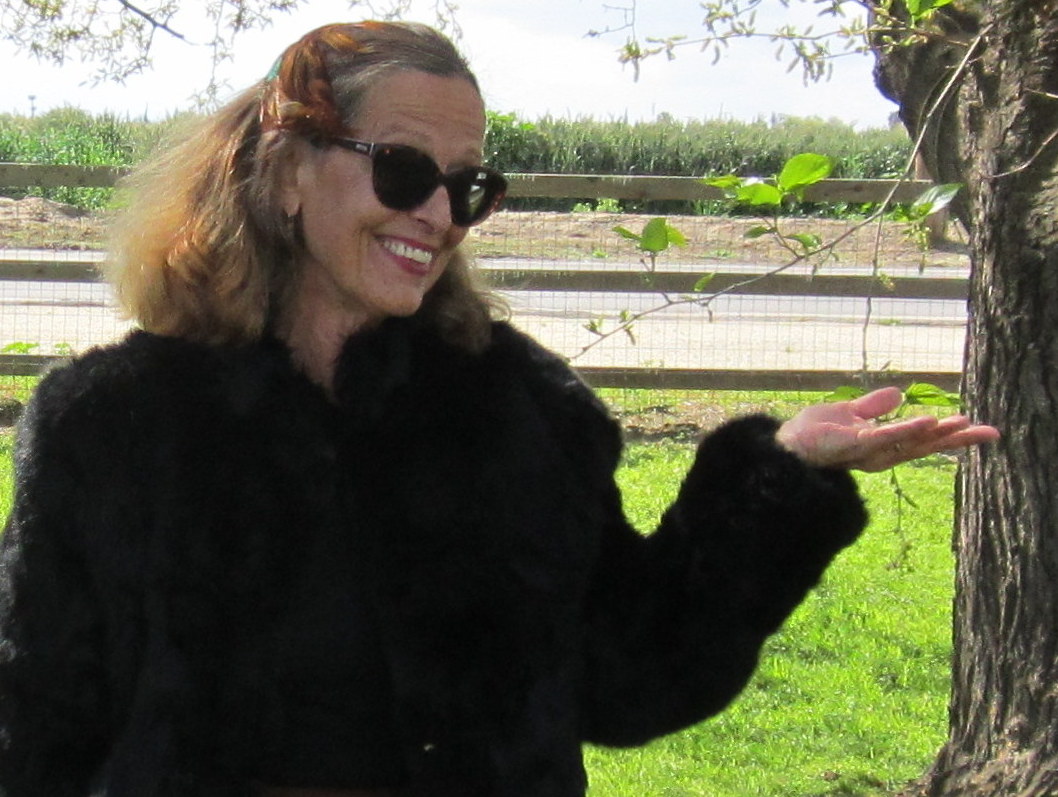 For today's fun I did do makeup. Not much could be done with hair. But I do have a lovely and very old hair band with pheasant feathers my grandmother gave me years ago. It does give me a headache after a while so I hardly ever wear it. This is a shaved rabbit fur jacket, the warmest coat I own and I love it.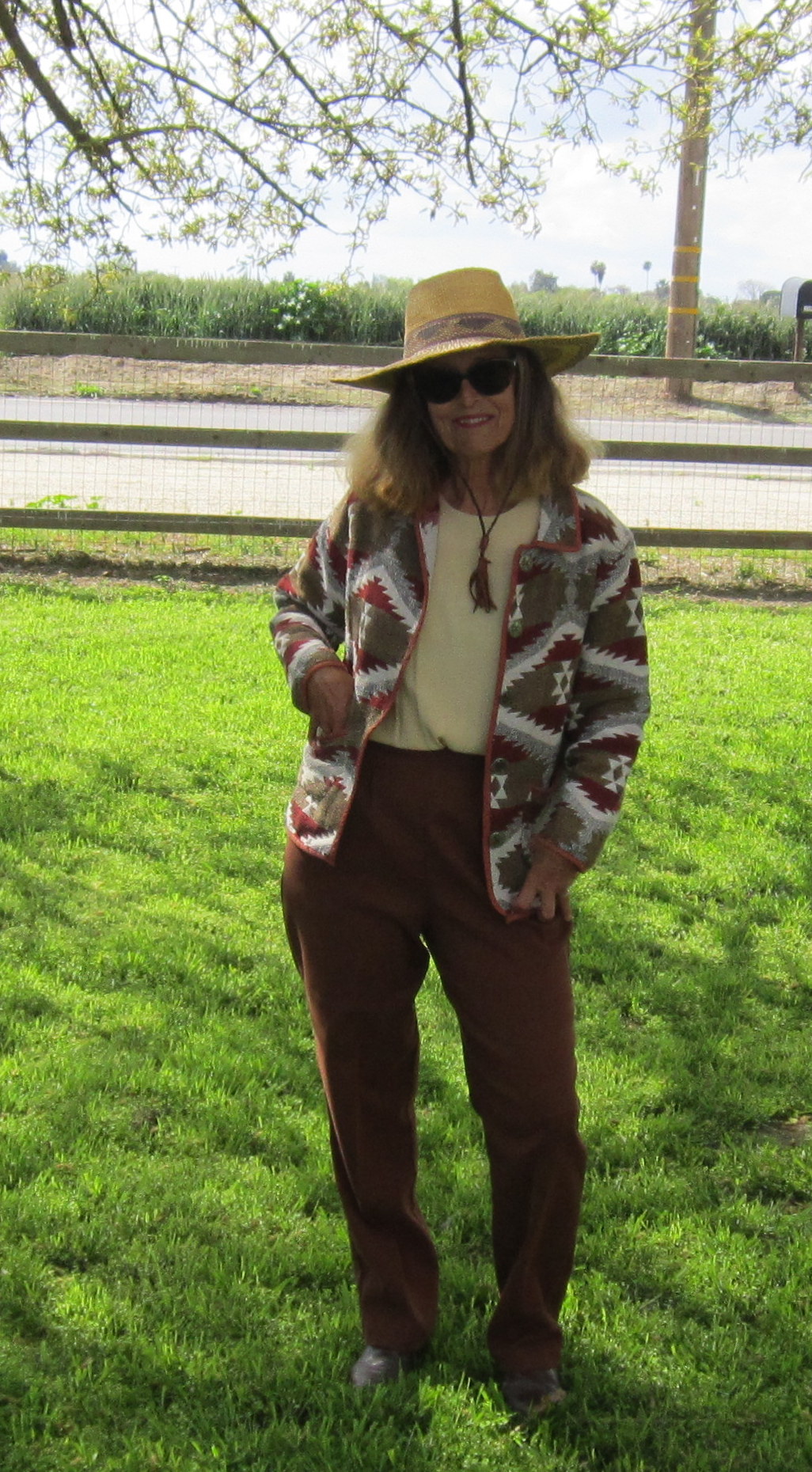 Here are the pants Margaret made with a crop jacket I gave Mum for Christmas many years ago. I have a hat on made of elephant grass. You wet these hats and shape them however you want. They are tough and in our hot summers I wear hats.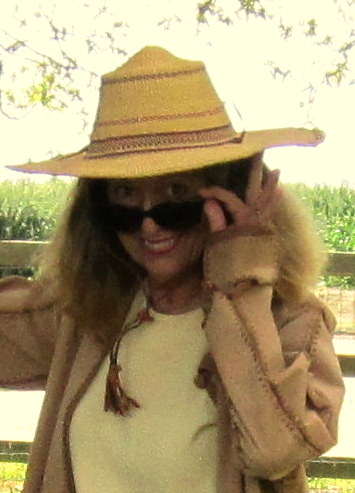 Mum and I have always been the closest of friends. We went somewhere to find our elephant grass hats and we each bought one for the other, so I picked hers, she picked mine. I paired up the pants my sister made with my hat and a leather/crochet jacket I have. This is me being a ham just because I want to smile and I want to bring a little smile to whoever reads this. So, please, indulge me and give me a little chuckle for being just a little bit silly!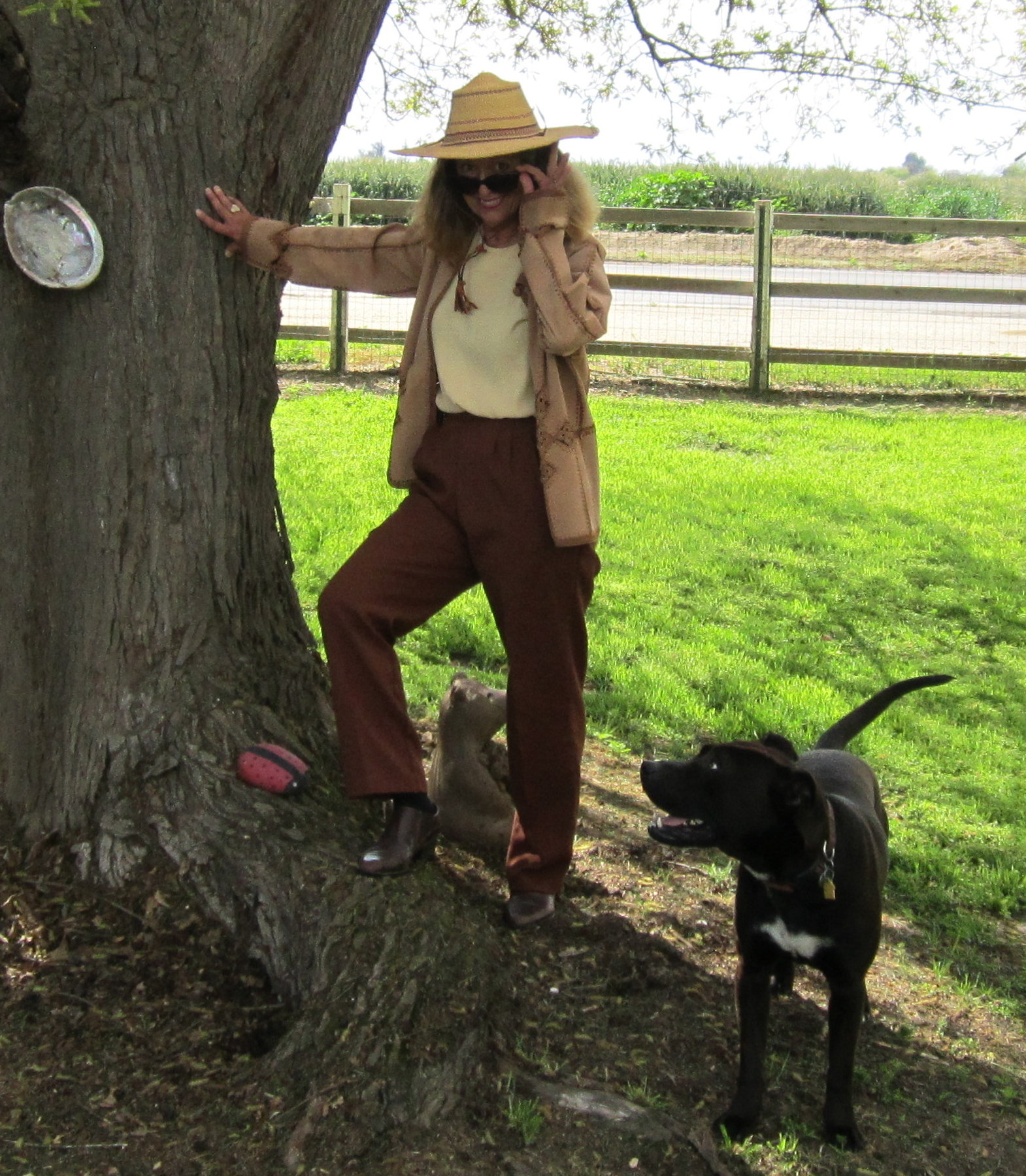 Here is the leather jacket with the pants. I like the Southwestern vibe and love the hat. But I am especially grateful for my Bully pup just hanging out with me and not jumping on my new favorite pants!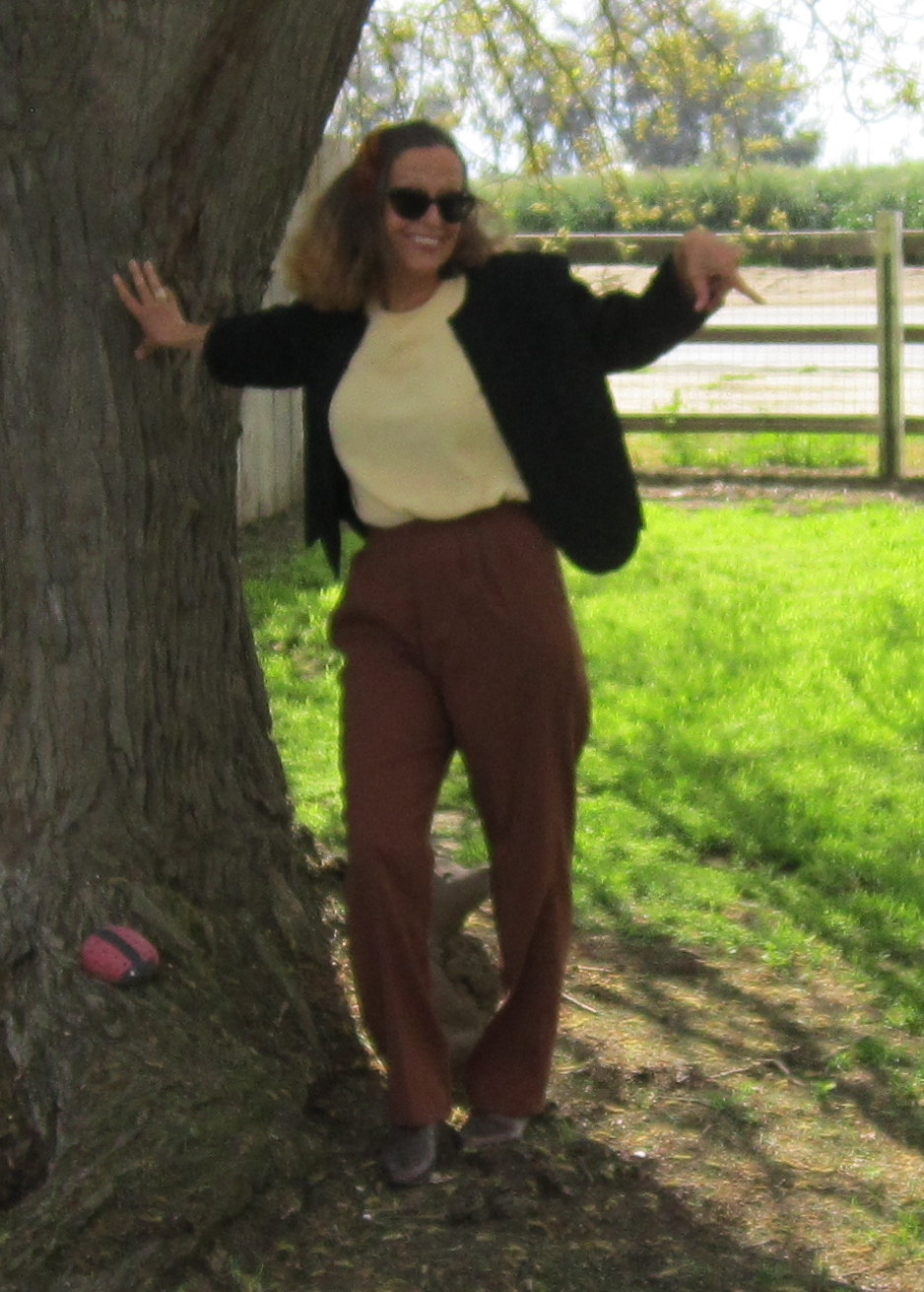 Here are my new favorite pants paired with a black crop jacket with ¾ length sleeves. This jacket is light, but warm and is circa 1940's. My Grampa owned Gilroy Hardware. My grandparents went to hardware conventions every year and my grandmother would dress up for them. They were annual events. The jacket is from that era. She gave lots of the clothes she wore to those conventions many years ago and I have cared for them ever since. I do wear them. They are fun and different and retro!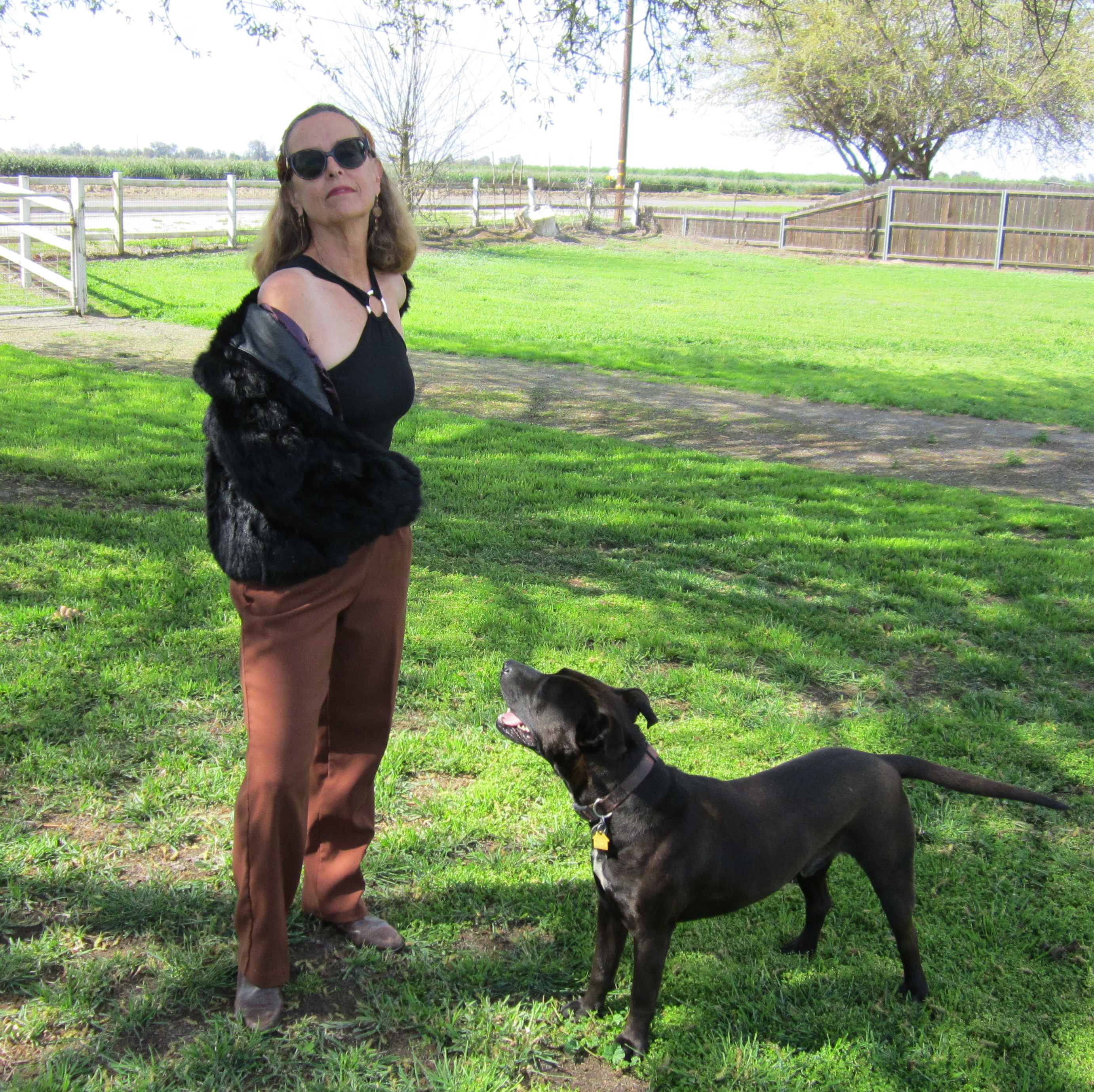 Here I am vamping just because I love my Bully dog. I love my life. I love the peeps who take the time to call me sometimes just to see how things are! I am so grateful and joyful, even during one of the most dangerous times I have ever seen. This is self-Isolation for me. But I have my husband, my family and my friends whom I love with all my heart. So let's all be safe and have a little bit of fun along the way!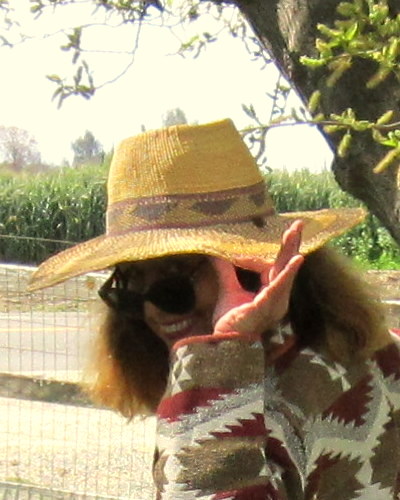 Sometimes we need to take a moment to smile, to be grateful you have today and you are present today, right this minute! This is me being in the moment and being grateful I'm still standing in my new favorite pants flirting with my husband who is holding the camera!
I know how hard it is to stay home. I know we all are uneasy. But let's remember to respect each other and keep our distance. Please don't add to the spread of this virus. This virus does not care what your race is, who you voted for, where you go to worship or what gender you are. To it, you are a host available to spread it's awful existence to anyone else. Don't be that person who infects anyone else. The one thing to keep close is if your loved ones go to a hospital you cannot visit! Your loved ones die or survive in a hospital with medical staff who work so hard to keep them alive. But remember that, let that sink in. At the toughest time of anyone's life you cannot be with them. Be smart! We all know what we have to do to get through this thing. So let's get it done! Please!
God Bless!
Christine Adams
Artbycadams.com