I have new art! It is always such a thrill to think that and say it. Like most other artists I have many pieces in different stages of completion. Sometimes it's the things we think of as "mistakes" that we fret over the most. It might or not be a mistake but it started out as something and became something else.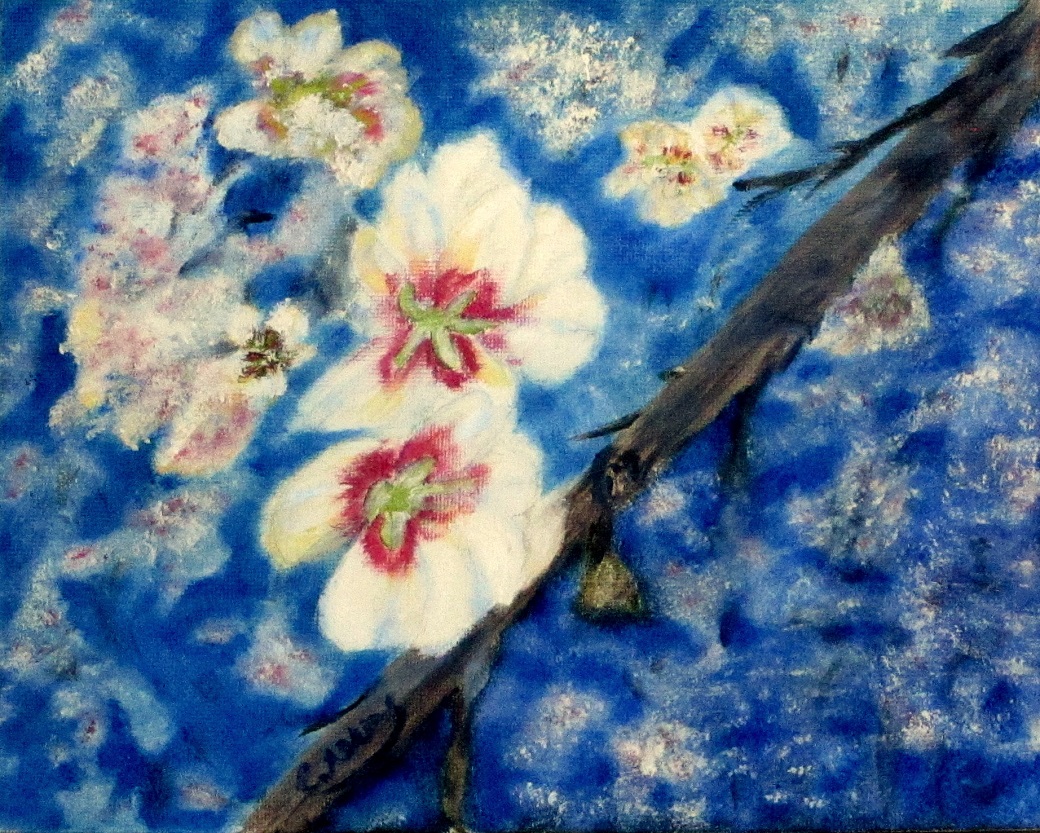 "My Almond Joy". I went on a journey to find my joy. I was stressed, depressed and not really the person I aspire to be. So my decision was to change myself. In February I found this incredibly joyous place in the middle of 2 almond orchards in full bloom. It was my magical path to walk twice a day. Bees pollinated but it felt like fairies buzzed around. The smell was magical. I did think of Vincent Van Gogh and his almond paintings. I also wanted to see if I could paint the feeling of joyousness. I didn't have a plan except keeping JOYOUS in my head as I pushed paint around a canvas. I felt I needed an image I could train myself to go to instantly. I wanted to be in a joyous place instantly if I became stressed. It worked for my own self. This is a piece I carefully considered since it is very different for me. I always try to create a feeling in my art. But my goal with this painting is JOY and used most of my senses to do that. I haven't thought about an Almond Joy candy bar for many years but suddenly I found myself craving one. Dark chocolate and coconut who can say "no"? Not me.
My Almond Joy is offered on Gallery Wrapped Canvas Prints of original oil paintings by Christine Adams and are ready to hang. Available In Sizes 16 X 20, 11 X 14, And 8 X 10. I also offer this one as a small print that you frame yourself. This print is of the highest quality. The matte finish is no-glare, and the smooth surface produces an ultra sharp image using vibrant Canon inks. The paper is acid free and will not fade. The print is unframed but it has a neutral white to make it easy to frame as you wish. These photographic prints will bring a spectacular vibrancy to your walls.
In February I plan to take my wonderful Mother for a walk in this enchanted orchard when the trees are in full bloom. I feel the need to share that special place with her. My mother is in a transition in her life. She has to make changes and live with it. One day I will be her neighbor because she will not recognize me as her daughter. No matter what or who I am I want to share my special image of joy with my mother so she has it too. The farmer who grows this wonderful place keeps it like a park! It is mowed, the trees trimmed. Walking inside this orchard is like walking on plush carpet. He grinds up the waste and spreads it throughout the entire orchard. He is very kind to me. He lets me know when I need to stay out. He tells me what is going on with the trees, when he sprays waters, stages of growth and the two different types of almonds he grows. It's like being in a secret club. Do you get joy from this painting? I am trying to spread it around.
"Jenna" certainly makes it into the Girlfriend Collection. This is for my daughter in law. At the time I was on my Journey with Joy I was headed into the happiest events of my entire life. I was enthralled by going to my son's wedding as he married the woman of his dreams. I got to meet my grandson who stole my heart without even waking up from a nap. A gift of love is given by this special woman. There are always things I learn from my Girlfriends. Girlfriends are those friends who will always have your back. They will tell you what they think in a kind way. They don't hurt you deliberately. I value the friendship of women. The friendships are unique, precious and important to me. Jenna calmly takes things in stride. She might be frustrated or tense but it doesn't show. She lights up a room when she enters and she isn't aware that all eyes are on her as she sparkles through the space. I asked Jenna what her favorite fashion era was. She likes clothes that accentuate the curves of a woman. I asked Jenna what her favorite color is. Pastel pink. This is a bit more than a "pastel" pink but I had to have some contrast.
"Jenna" is added to my web store at www.artbycadams.com. I offer custom prints of my original oil paintings. The prints are on gallery wrapped canvas and ready to hang. The available sizes for "Jenna" are 12"x36" and 8"x24".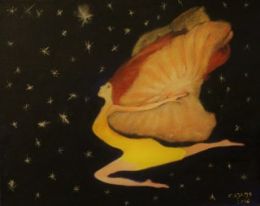 Nova" is the Warrior Fairy of the night sky. She is inspired by my own dreams as a child. She is fierce. Stars explode as she passes them by. She is sleek, powerful, gentle and feminine all at the sane tune.The stars multiply just as flora comes back after a devastating fire. Canvas wall art print of an original oil painting by me, Christine Adams, presented on gallery wrapped canvas and ready to hang. Available in sizes 16x20, 11x14 and8x10.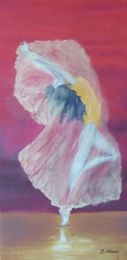 "Dancer in Red and Gold" is inspired by Misty Copeland. I have great admiration for people who overcome circumstances to achieve their goals. Misty Copeland is one of those people I admire most. Misty Copeland is the first African American to be a Principal Dancer in the American Ballet Theatre. She was told she was too muscular, and therefore she could not be graceful. I saw Misty Copeland dance. She is enthralling, graceful, athletic and exquisitely talented. She did not have a lot of support around her when she began her journey. She persevered and she achieved her dream. I have utmost respect and admiration for her and her ability to transform herself during her performances.
Each canvas art print is highest quality. If you are in the USA your print is made in America. If you are in Canada your print is made in Canada. Each art piece is shipped to you via UPS. I am passionate about quality of service and quality of product. I believe in using manufacturers in either the USA or Canada, depending on where my customer lives. I found manufacturers who deliver the highest quality of products and service. The ink used in my product doesn't fade. The canvas won't come apart and won't fade or split open. I researched many and found one in Canada and one in the United States who impressed me with the care they take with their work. I use UPS because they are dependable, and polite professionals. The cost of shipping is included in the price you pay. I like easy. Easy works for me. My hope is easy works for you too.
Visit www.artbycadams.com to see my art. And spread the word to your friends. I love referrals!