Welcome to Maurice Sapiro. Some of you might know his art. I share it a lot because I so admire his unique style and his wonderful paintings. Maurice lives in Connecticut. Maurice is represented by Mahlstedt Gallery415 Huguenot StreetNew Rochelle, New York 10801
Phone: (914) 246-0526;Email: For Inquiries please email Mahlstedt Gallery (ART@JAM415.COM)http://jam415.com/https://www.facebook.com
Most of us love art and we follow artists we love. Maurice is one artist I admire. His unique and recognizable style take my breath away.
The first painting is called "Her Favorite Hat". There is a unique elegance to her with her quirky and colorful hat. You get a sense of her with her steady stare of curiosity. I know this woman lives her life on her terms. Maurice Sapiro suggests her features with grace, style and color. He seems to want you to define this woman for yourself, interpret who you believe her to be. I like to create a story for her. I like she is only herself and while slightly shy, still an extrovert. She is someone who will charm you with her gaze because you know she is listening.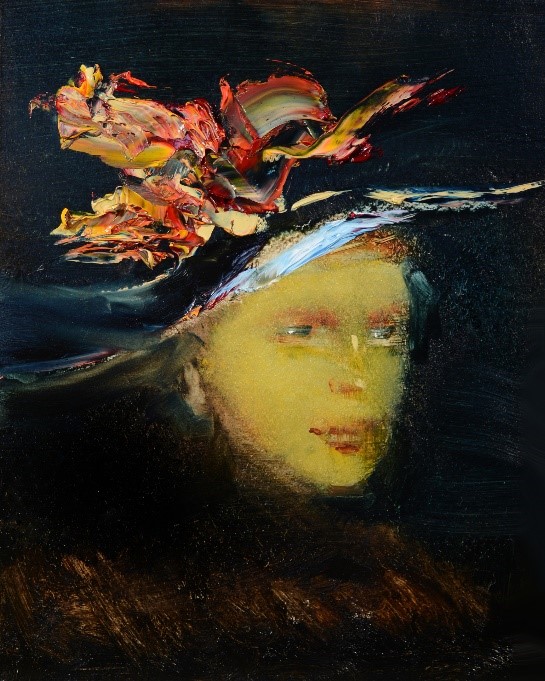 "Across the Bay" seems like a dance between Light and Dark, similar to a conversation with a lover at the end of the day. This is the magic I admire most of the art by Maurice Sapiro. He achieves that relationship between Dark and Light because he treats them with respect and appreciates it is always a different discussion.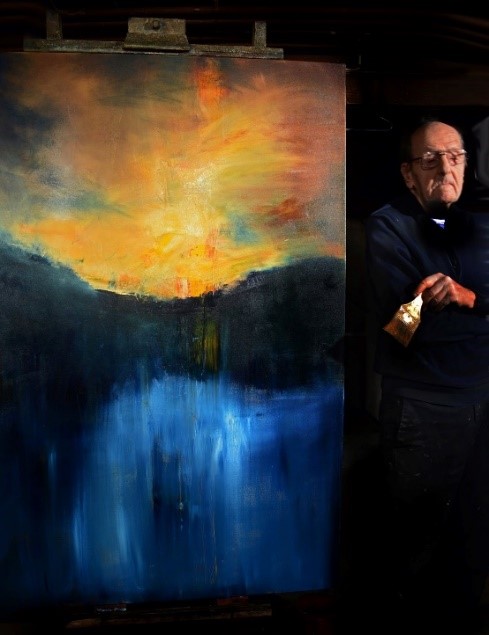 The Third painting is "Hudson River". To me this is abstract gone wild. You know what the subject is. Everything is suggested with color and style. You know what is reflected in the water and you know the form of the bushes but they blend, shadow and hold their own form. You can almost feel the breeze, smell the life. I instantly relax and breathe.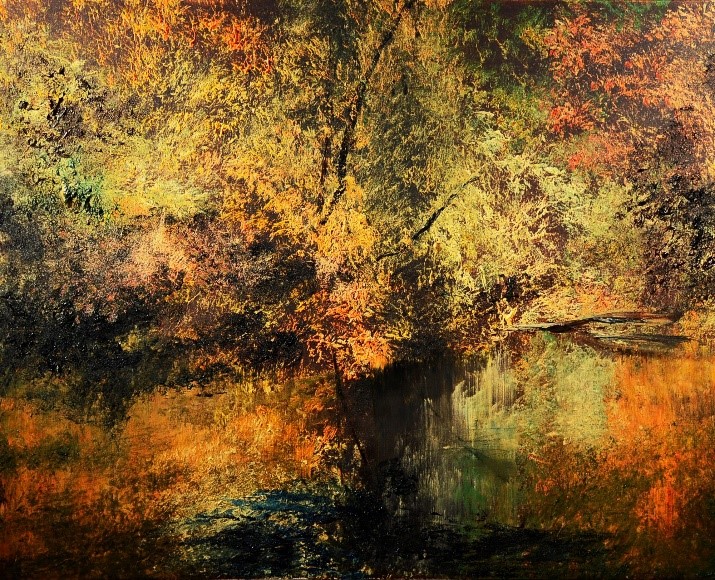 The Pond. I think this was the first painting I saw from Maurice. I could not stop staring at it when I saw it. It brought me quiet joy. To see this serenity was calming and delightful all at the same time. I love the movement of the flowering plants, and how they frame the pond. I admire the peeks of light that makes your eye dance around the entire painting and then draws you in. The stillness of the water captivates my soul.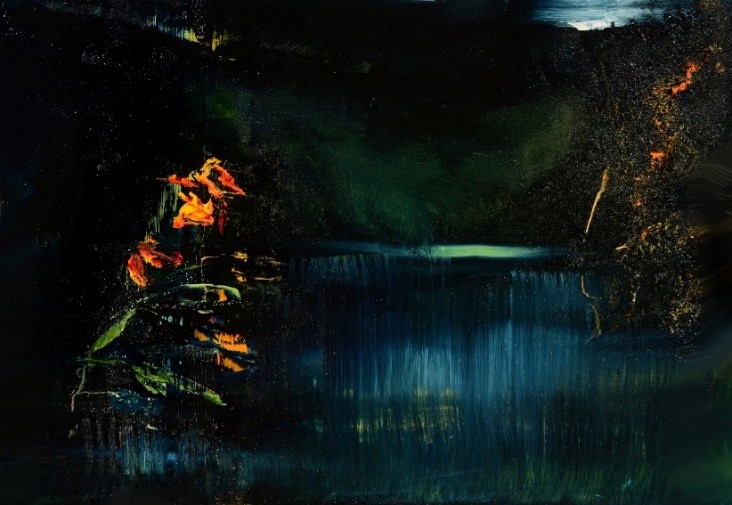 There is much to admire about Maurice Sapiro and his art. His paintings make me stop and look. Maurice's work is innovative, he thinks outside the box. He makes my eyes dance when I look to see his work. I am excited when Maurice creates a new painting. They make me feel by taking me to a place I might not have gone.
The last image is of my painting called "Estelle". This was the first thing I did because I follow Maurice Sapiro. I wanted Estelle's gaze to be steady, direct, but I wanted her to be sheltered too. One stroke across the canvas made that brim. Just one single stroke. It might have ruined hours of work but Maurice Sapiro inspired me to the challenge. I think it paid off. I like the effect and I am happy I took the chance. I have evolved as an artist and that single fact is worth the risk.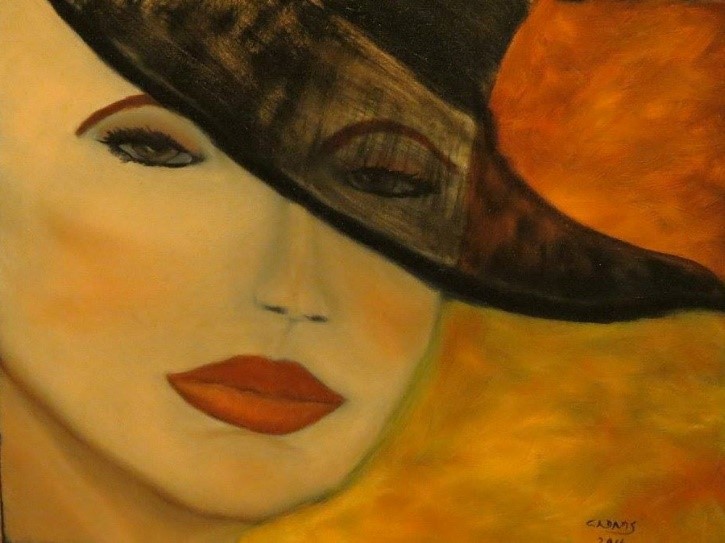 I truly hope you enjoyed reading this and seeing my Wonderful Friend Maurice Sapiro! Have yourself a joyful day!