artbycadams.com presents The Art of William Harrison
I watched the result of Mathilda the hawk help a town inundated with crows. The crows were so destructive the town suffered for many years. Mathilda flew high over downtown Hanford and chased those crows away. All she had to do is fly. She is trained not to kill them. She flies frequently. I saw the sky black with crows as they migrated out of town. As the weeks went by I saw the number of crows in our sky decrease. The crows found new homes, sadly in the orchards operated by farmers.
I was fascinated the crow population decrease over months. I could pick out the leaders and watch them fly away from stealing bread at an outdoor restaurant to hunting almonds and pistachios. I found Bill Harrison because I noticed the crows and I found ravens in his art.
If you ask Bill Harrison to describe himself "Bill Harrison is a fat, balding, bearded and incredibly handsome artist of international repute. As every schoolchild knows, his seminal 1912 work "Nude Descending Staircase with Cheeseburger" is credited with starting both the Cubist movement and modern-day advertising. williamharrisonartist.com.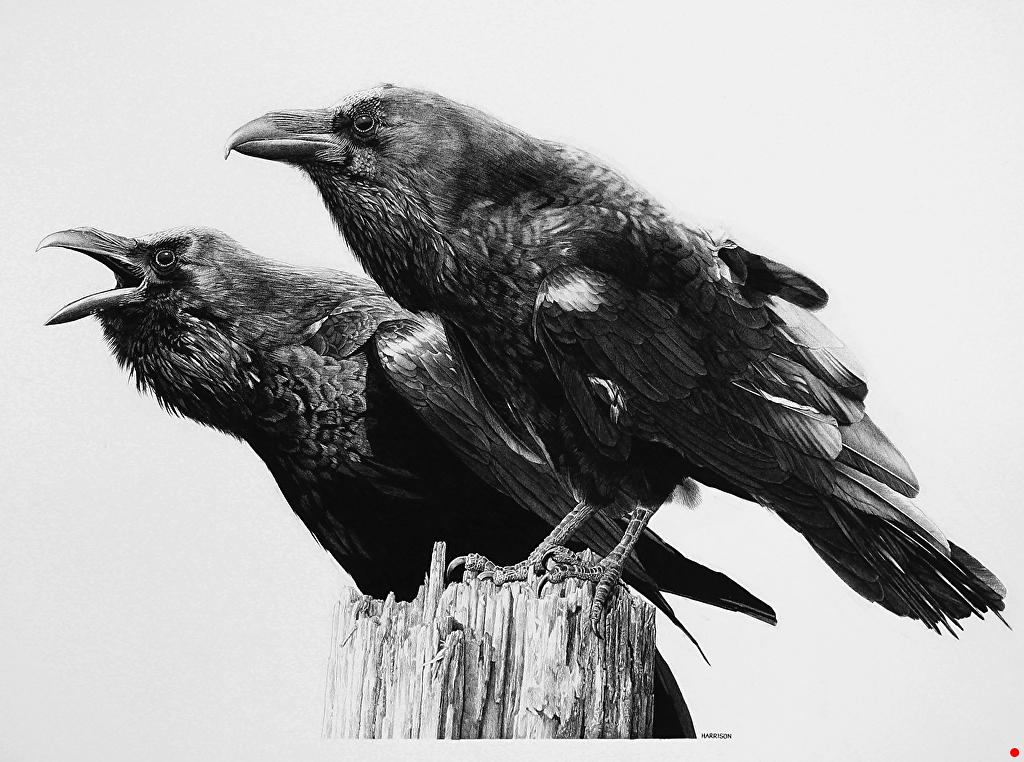 "Thought and Memory" is" 24"x30 drawn with a Wolff Carbon Pencil. This was the first piece I saw by William Harrison and was enthralled. Ravens are smart and creative. The glossy black is glossy sass. I see a discussion between these two ravens. As I studied this wonderfully expressive piece I appreciated the conversation. Bill offers this story of the ravens. "The title of this drawing comes from Norse mythology. Odin, the Allfather of the gods and ruler of Asgard, had two ravens. Every day he sent them into the world of men to watch and listen, and every evening they returned to Odin to relate everything they saw and heard, and in that way Odin kept informed on the affairs men. The ravens were named Huginn and Muninn, which means Thought and Memory". I find this charming and full of brash!
"Apache Rose" is 29.5 x41 Wolff carbon Pencil on Fabriano Artistico 300 pound paper. It is an entirely different conversation of determination and will. I love the action of both the horse and the cowboy. It covers the entire paper in form and action so much I can almost feel the air move around it. The story it tells is immediate and changes in a nanosecond.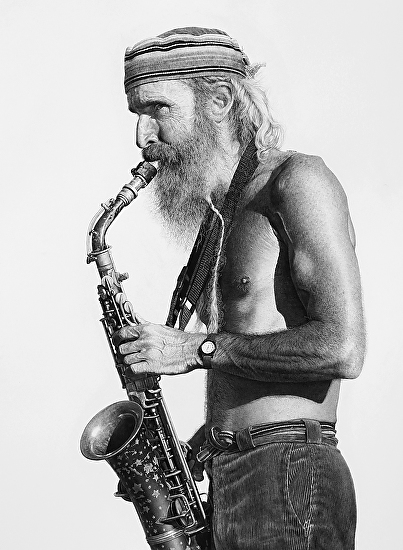 "Deacon Blues" is a Wolff carbon Pencil on Fabriano Artistico 300 pound paper. It measures 40"x29.5". It is a street musician in Montreal. The sacrifices we make for our art! I see a way of life with music. This is a man who lives and dies by his music. He reminds me of the busker fairs I've been to. I have great admiration for this piece. Art keeps us humble and yet proud that we do it. We are committed and we remind ourselves it is our joy in the art just because we are devoted.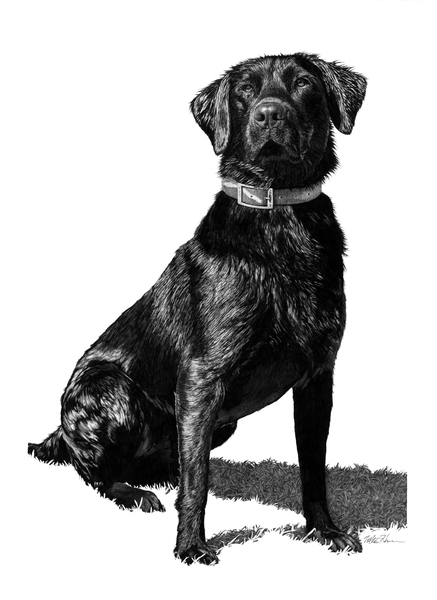 "TY" is Wolff carbon Pencil on Fabriano Artistico 300 pound paper. It measures 30"x22". It humbles me when I watch working dogs work for their people. They are full of try and they stay focused throughout the day. They wait for a command or they react lightening fast to a situation. I watched 9 dogs and riders herd an enormous herd of cattle and just could not believe every single breathing mammal on the team were moving in unison. It was like being inside my favorite poem. The expression on Ty's face make me realize he would go flat out into water barely above freezing just to retrieve for the hunter. There is a relaxed tension in his posture as he waits for his command. I think it is astounding.
William Harrison is featured in several galleries. CAVALIER GALLERIES; Greenwich, CT, Nantucket, MA New York, NY, JEAN ALBANO GALLERY; ; Chicago, IL PADEREWSKI FINE ART, Beaver Creek, CO; SPORTSMANS GALLERY, Charleston SC.
I do recommend you take a tour of his website. The art is incredible, the stories he tells us is crystal clear. When you are there don't forget to read his biography. It, too is William Harrison. Enjoy your chuckles when you read it!
Please feel free to share this article with your friends! It helps. We are small businesses and we are always grateful for your referrals and recommendations!