artbycadams.com presents The Art of Peter Hurd
Peter Hurd was born in 1904 and was an American painter. He passed away in 1984 in Roswell, New Mexico. He began his adult career in the military and realized he loved to paint. He withdrew from West Point and graduated from the Pennsylvania School of Fine Art. He studied art with NC Wyeth, assumed a job as NC's assistant, and married Henriette Wyeth in 1929. Peter and Henriette Hurd moved to San Patricio, New Mexico and lived on a farm where the two of them found all the material they needed to create incredible paintings.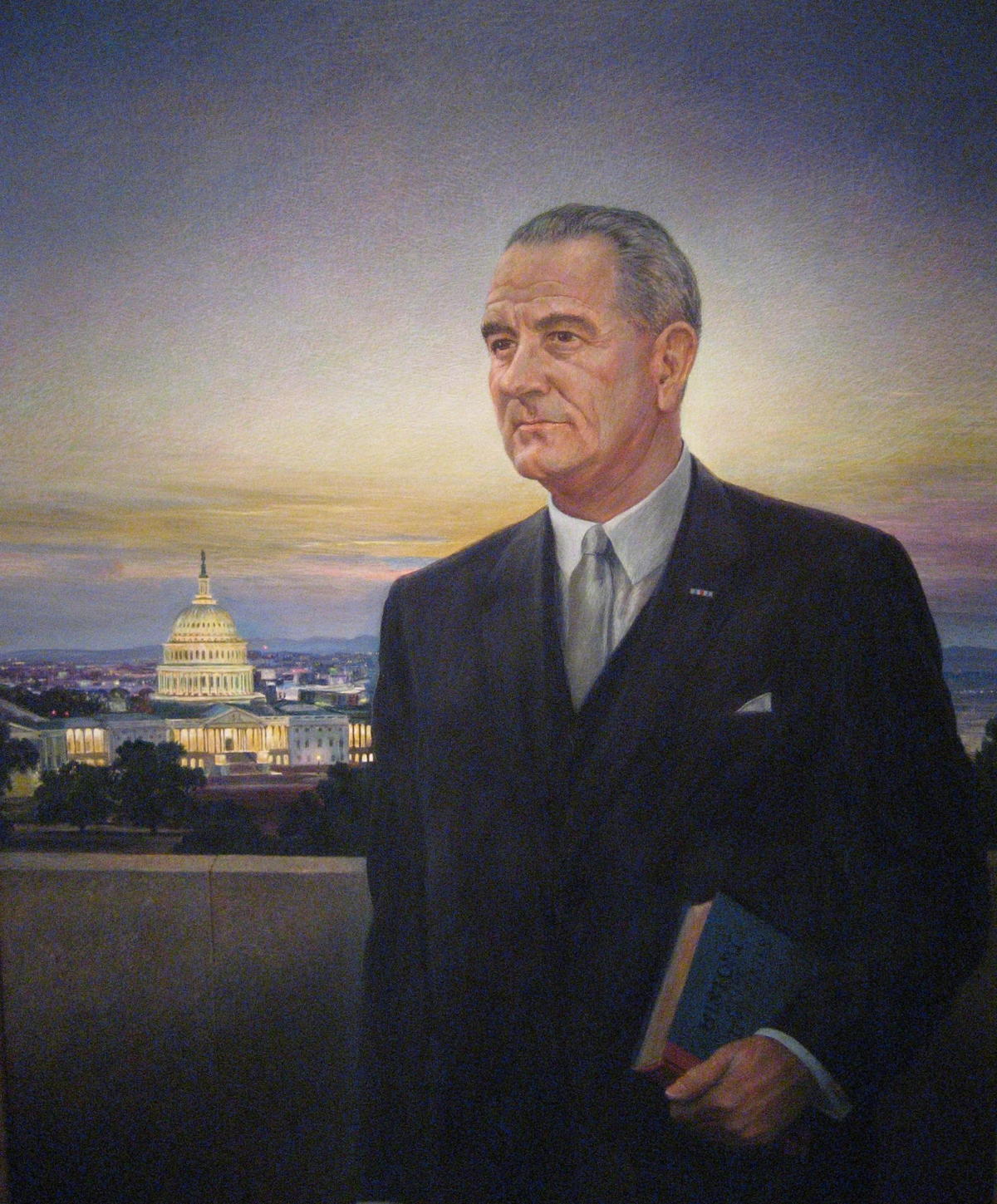 In 1967 Peter Hurd unveiled his portrait of Lyndon B. Johnson. The problem with installing the painting in the White House is that both President Johnson and the First Lady disliked the portrait. This portrait now resides in the Smithsonian National Portrait Gallery. President Johnson was notoriously uncooperative to sit for any portraiture. When Peter Hurd presented LBJ with another portrait LBJ rejected it as well, preferring a portrait painted by Norman Rockwell in 1964. LBJ re-gifted Norman Rockwell's portrait of him in 1966.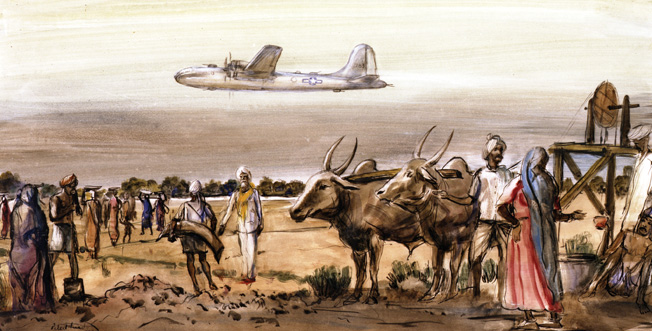 During World War II, the New Mexico native worked as a correspondent for Life Magazine, where he had the opportunity to travel the world. Hurd received the European Theater Medal for his service overseas in 1947. He created the above painting while in the field in the China-Burma-India theater of operation.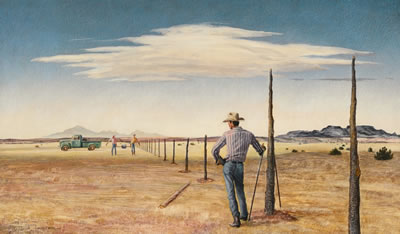 Peter Hurd painted what he knew. "The Fencebuilders" is a quiet and peaceful painting that tells the story of a hard-working man. The story is easy to see and understand, and Peter Hurd told it simply and beautifully.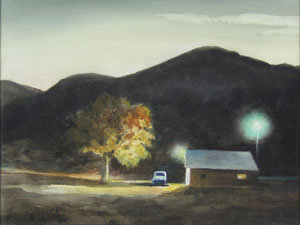 "Dusk Near Hondo" is a watercolor by Peter Hurd. To some I think this piece must look barren. But Peter Hurd makes it cozy and comfortable. I can see a tired working soul winding down with a cold beer, dog beside him until work begins tomorrow. It is as it should be in this household.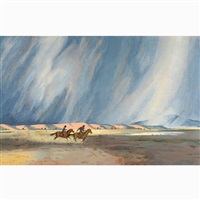 I remember the first time I saw "Running Before The Storm". I ride horses. I have ridden a flat out gallop many times throughout my life. There is a wild freedom of riding a horse at a full gallop to outrun a storm. It is glorious, exhilarating and just plain fun to do. For my wonderful friends who were out there with me – isn't it JOYOUS?!
Peter Hurd created realism in a poetic way. His style was known as "Regional Realism". Very often artists have a social comment to make with their work. Art makes us feel, and even think sometimes. Fine art exists because someone created it. To me Peter Hurd's art is a statement about a simple, uncrowded life by a man who had adventure throughout his life. He was an illustrator, print-maker, correspondent and working artist.