I became curious about the art of Marlene Dumas because she is one of the most prominent painters working today. She creates intense psychologically charged works exploring currently relevant themes of sexuality, love, violence, tenderness death and shame. She has been a working artist for 40 years. Secondhand images can generate first-hand emotions." she said.
Marlene was born in 1953 in Cape Town, South Africa. In 1976 she moved to Amsterdam where she lives and works. Her paintings are in galleries and private collections all over the world. Marlene Dumas has written many books as well.

"Evil is Banal" was painted in 1984. It is a portrait of the artist contemplating her life. At the time she painted this she commented about this piece. "I have not come to propagate freedom. I have come to show the disease symptoms of my time. I am a good example of everything that is wrong with my time." At the time this was painted apartheid was at it's height. The artist joined with the artist community and spoke out against the oppression. In this portrait she draws a clear parallel between the Nazi Regime and apartheid. In the portrait she looks behind her putting her, a white person, squarely and with humility that she could be a perpetrator of evil acts. She glances behind her saying it could have been me, it could have been you.

"The Visitor" was painting in 1995. We see the backs of 4 young girls staring ahead to a bright door. Not knowing what they will see beyond the door we do see interesting plays of shadow and light. It heightens our internal alarms when we look at this. We are all on the brink of a new life every single day. We are accountable for our words. We can all enter the same room at the same time and we all have very different experiences in that room because we all have a different perspective. So before we bestow our experience isn't it more interesting to learn what our friends or strangers are feeling about the room we enter?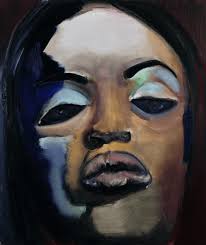 "Naomi" was painted in 1995. It is currently on view at the Stedelijk Museum in Amsterdam. I am fascinated by this portrait because of the very different perspective. I see Naomi's fierce and determined demeanor. I get her and I admire the strength in her expression. I am interested in who she is. I may not know her story but she demands my attention.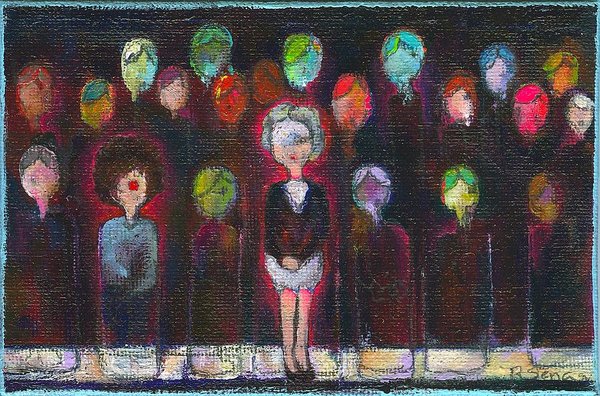 I have been looking through the many photographs of my family. My mother saved every one of our school photos. She has one of these for every year of school for each of her 5 children. Dumas painted "The Teacher Sub" in 1987 while South Africa was still under the rules of apartheid. We see no expression or individuality of students nor the teacher. For that is the way of the apartheid oppression.
I admire people who paint their viewpoints. It is a wonderful self-expression. I like to paint joy instead since I'm trying to stay joyful. Marlene Dumas does the opposite. There is a profound statement to each piece Dumas creates. The one thing you can be sure of if you go to one of her exhibitions. It is not a barrel of laughs. But it will make you think. It will make you feel. That is the way of art sometimes. Occasionally the images we see stays forever with us. I can imagine how difficult it was for Marlene Dumas to leave her home due to the political situation in South Africa at the time.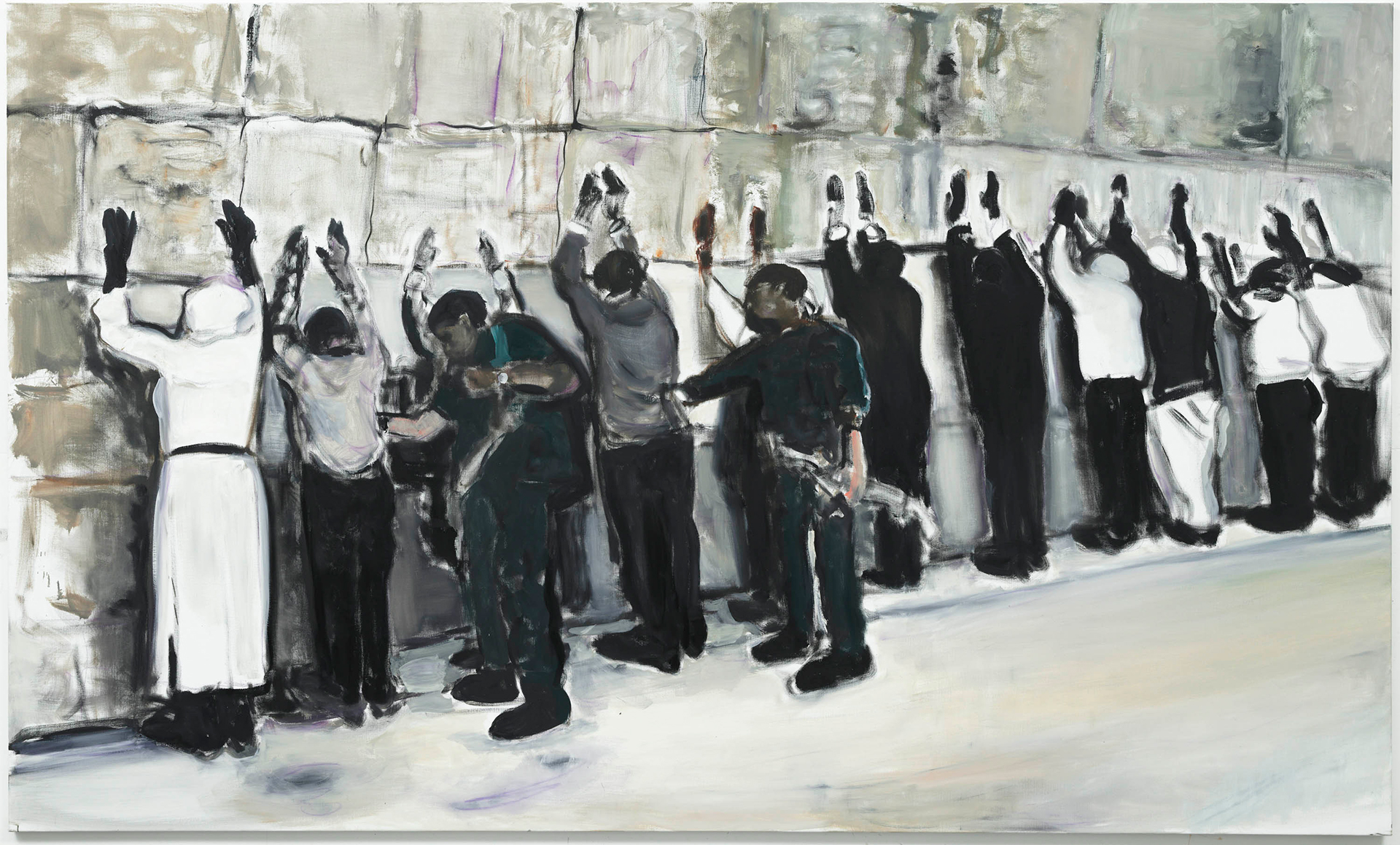 "Wall Wailing" was painted in 2009 and I'm leaving you with this poignant image. Marlene Dumas collects newspaper photos and articles. The idea for this painting came from the Israel – Palestine conflict but she applied it in this painting to South Africa. Interviewed by Art Observer Dumas explained she uses her collected images like preliminary drawings "to get a bit of composition and then I let it go and run with it." Dumas explores the tension between the photographic documentation of reality and the constructed, imaginary space of painting.
"