www.artbycadams.com presents the Art of Marla Olmstead
Marla Olmstead was born in 2000. Her parents encouraged her to paint from the age of 2. She produced outstanding paintings. She is an abstract artist. Abstract art does not attempt to represent an accurate depiction of a visual reality. Instead the artist uses shapes, colors, form and gestural marks to achieve effect. As a toddler Marla did not know what the story of the painting was. She went into that wonderful private place she has to create the moment as she saw it. Many of her paintings are not titled. Check out her website at marlaolmstead.com.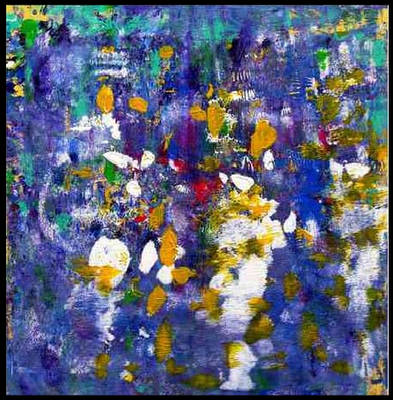 This painting is titled "At the Lake". It is my favorite of Marla's so far. This painting is soothing, yet lively. It feels like a quick breeze across my face. It reminds me of the best 2 weeks of my year when I walk through the almond orchards throughout the blooming period. But perhaps Marla is painting the intense sparkle of the lake as the light bounces around the water. The beauty of loving art is the viewer gets to interpret art the way they see it.
At 4 years old Marla got a gallery show. Her paintings sold out in one night. Marla was on her way. Her parents did not force anything on their children. Marla would paint when she wanted to paint. She painted what she wanted to paint, used colors she chose to use. When Marla's paintings started selling very well 60 Minutes and Charlie Rose convinced the Olmstead parents to grant an interview, to allow cameras to film Marla as she painted, then misrepresented that Marla was helped or coached on where to place paint. It was devastating and evil of 60 Minutes to malign a child as they did. It was shameful to Marla, the Olmstead Family, and to those who purchased her paintings. But Marla did not stop painting. Her paintings sparkle in a memorable way across our vision. They are uplifting and happy. She must be an outstanding young woman, someone I would love to know.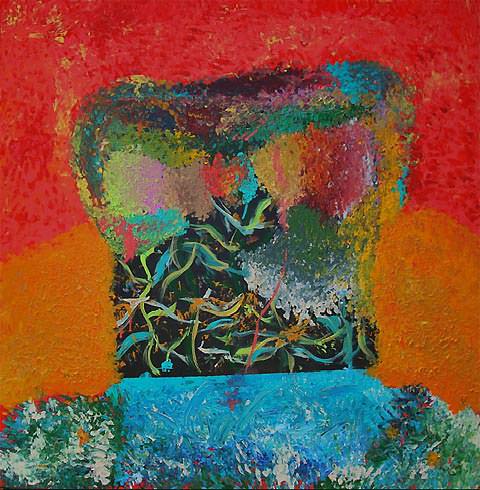 I read Marla painted this in 2006. This artist is a master at combining color. Painting is a private place. Personally I listen to loud music to go into my own happy place to paint. It helps keep out the world and acquire my rhythm for pushing paint. I love the colors Marla used in this. I like the form and the life brought to the canvas. My Kid Could Paint That is a 2007 documentary film by director Amir Bar-Lev. The documentary follows the early artistic career of Marla Olmstead. Marla was considered a prodigy at 4 years of age. The definition of prodigy is a "person, especially a young one, endowed with exceptional qualities or abilities." There is a large expectation and excitement around one who is labelled as a prodigy. The child often is over-faced with clamor. Marla's parents did a fantastic job of navigating this wonderful opportunity for Marla. The film is delightful to watch because of the easy rhythm of this family.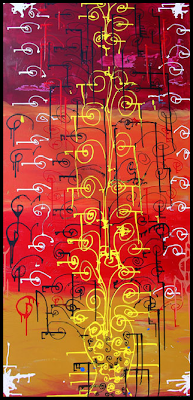 This painting to me feels like being inside a favorite song. Perhaps for Marla her Dad was using a ladder, or maybe her brother was bounding down the staircase as children do. It is so charming to me. The truth is that most of us couldn't produce this art at 4, 6, or 21. Either we like it or we don't. For me the art is there for us to react to. I want art to make me feel something. Even in the documentary film Marla's parents are asked to film Marla painting. Her mother did film Marla painting a wonderful painting called "Ocean". When cameras invaded Marla's painting space she was unwilling or unable to ignore them. 60 Minutes did not respect a 4 year old child enough to behave themselves. Painting is a private place for many. Some artists thrive when there is a crowd around them. Some do not. Invading that space and inserting negativity to a child is simply wrong. A child psychologist was engaged to spout opinions. She didn't interview Marla, not once. And yet this person and 60 Minutes spouted on and on about how this child produced art. I do recommend My Kid Could Paint That because watching Marla and this family is fascinating and provokes thoughtfulness. Marla's journey so far is extraordinary.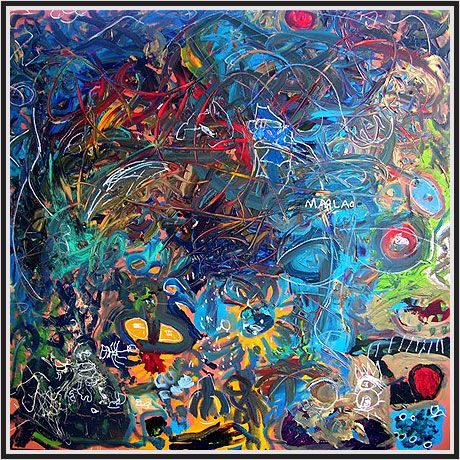 "Sun Queen with Baby" by Marla Olmstead explodes with color, action and delightful movement. Personally I don't care what age Marla was when she painted it. Do you? It's full of life and it is interesting to look at. It is art that collects our attention.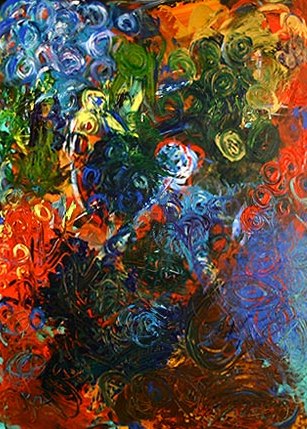 "Lollipop House" by Marla Olmstead. This is such a sophisticated painting! It is challenging to mix colors but mood is created in this painting so that contrast and depth are within. I think it is wonderful. It astonished me to understand Marla was 4 when she painted it. It is happy, lively with little stumbles of delight thrown in!
Creative space is precious. It's a place humans develop with a language all its own. It is where humans work out life's mysteries, and seek the joys of life. Marla created her own 4 year old joyful places. I feel for her parents. Of course they have been highly criticized for selling Marla's work and getting her exposed to the public through an art gallery. The Olmsteads did tread very carefully with their talented daughter. I think it is just wrong for an organization like 60 Minutes to create drama where there isn't any. It seemed to me Charlie Rose and 60 Minutes expected a 4 year old to respond to questions as an adult would; with the plan for the painting, and the story behind it. 4 year olds don't always make up stories, they are read or told stories by parents, teachers or others but rarely do they plan the story and then create a painting around it. 4 year old children don't define their feelings; they feel and express their feelings in all their experiences.
Abstract art is a style that I either love or dislike. Marla's paintings are abstract expressionism with active color, bold brushwork, and strong form. She sings her emotions all over the canvas with sure and glorious abandon. Marla's parents never intimated Marla was a "prodigy". Media did that and then created a swirl of drama around a child with a single digit in her age. I suppose my heart is on my sleeve but it was harsh, unhelpful and totally unnecessary. I do recommend watching the film. Marla seems not to pay attention to any of the controversy, and she still paints. Marla doesn't do media anymore. She is pursuing her education in art, thankfully didn't lose her love of it.
I hope you enjoyed this newsletter. If you did like what you read I hope you will share it with your friends! I love referrals!
See you next time!
Christine Adams / www.artbycadams.com / artbycadams@gmail.com