Part of the fun in being an artist is meeting other artists. They stimulate me, and are always interesting. Karrie Evenson is absolutely refreshing! Her mantra seems to be to bring happiness home. Who could ask for a better goal?! She creates happy art of happy people. I love whimsical art. The best part of researching this blog is spending time with my mother. My mother and I have always been close. She love whimsy and she is my Queen of the Whimsical World! We spent time together choosing the art in this blog. Get ready to smile at Karrie's art. It is HAPPY! Give yourself a happy treat and visit her website at karrieevensonart.com. If you enjoy cruising around Facebook I recommend find Karrie Evenson Art on Facebook and enjoy what you see. Karrie is also on Etsy.com.
For most of us intense joy and happiness is treasured and precious. We have to work to be joyful and happy. It is a daily goal for me to find the joy in moments of my day. Karrie's happy comes from sorrow, stress, worry and sadness for her daughter. I have great admiration for Karrie's determination to find joy in every single day!
Karrie' 2019 show schedule is below. Stop in and spread your happy if you are in her area! I guarantee you a conversation full of smiles.
August 16-18, Festival of the Little Hills, St.Charles, MO.
September 14-15, Art Spectacular at the Carillon Reece, Springfield Illinois.
September 21-22 Cider Days Festival on Walnut Street, Springfield Missouri
September 27-29, Edwardsville Art Festival, Edwardsville Illinois
October 17-20 War Eagle Craft Fair, Rogers, AR. (My only local event)
2020 Show schedule will not start until March❤️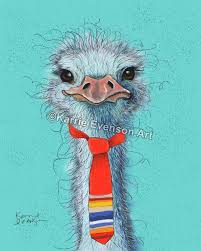 "Oh My Ostrich" is my mother's first (stop and just look!) choice. My mother and I both love the tie on this ostrich. His direct stare is lively and happy. His hair is detailed and mussed as if a little boy lived inside him. There is impishness to his look just for fun. My mother spoke to him because she felt like it. It was a wonderful moment.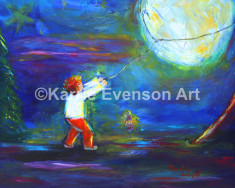 "I'd Give You the Moon" is what we parents want to give to our children. We want the best for them. We want our children to be the best they can be. We want to participate in the childhood of our kids. It keeps us young and in a different world. This painting is that story told in a colorful and happy way. My mother and I took joy in discussing this painting. It is truly whimsical and tells the story of what we want for our children and our grandchildren; told in the "funnest" way!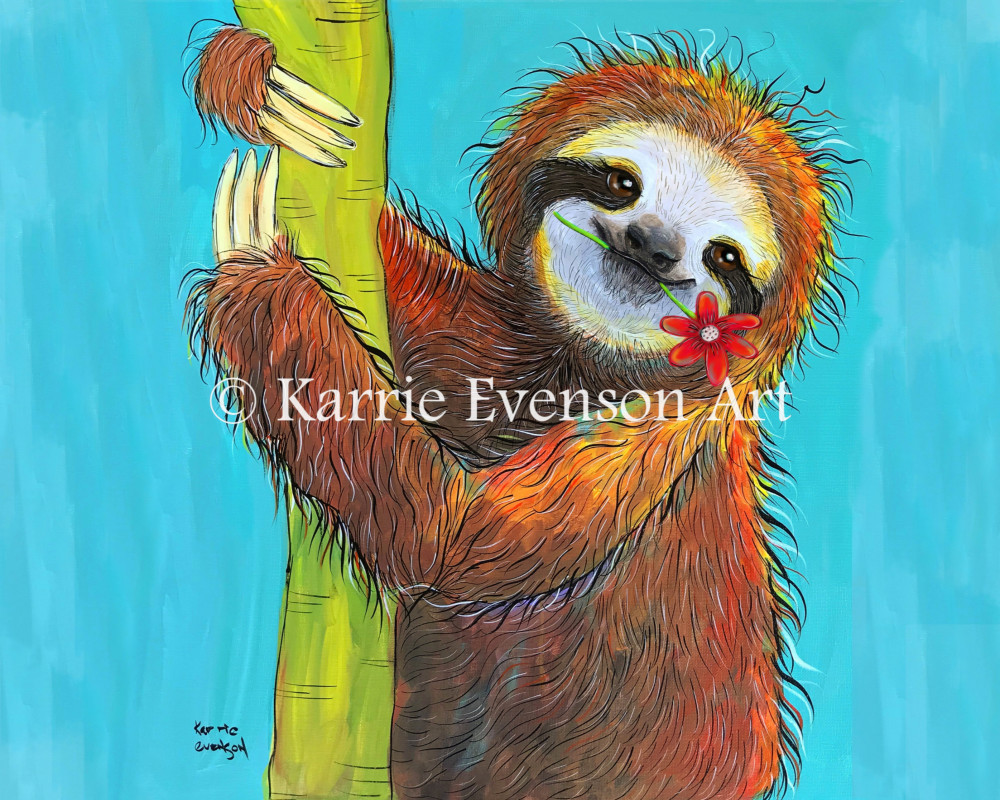 "Silly Sloth" is so dang sweet and cute and cuddly! Those were Mother's observations of this piece. I totally agree with her! "Silly Sloth" is simply happy to hang out, happy to be in the room with you, happy to greet you every morning and happy to say goodnight at bedtime. He creates a happy atmosphere and my mother and I enjoyed discussing his antics of the day!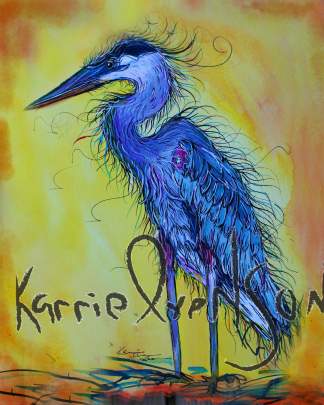 Birds are amazing to me. Blue Herons are graceful, majestic, cautious and commanding all at the same time. My mother and I were driving one day when we saw a Blue Heron fill the windshield. We had to pull over just to watch the view. Mother remembered that day long ago when we did that. The moments watching the Blue Heron fly was grand. The memory we shared was even more grand!.