John Singer Sargent was born on January 12, 1856 and passed on April 14, 1925. He was born in Florence of American parents and his art training was in Paris. He was known for his portraits of the elite people. He drew with a brush which was very different for the time. His landscapes show a deep understanding of impressionism. But it seems John Singer Sargent was ambivalent about any restrictions of formal portrait work in his later years and he spent time creating murals instead.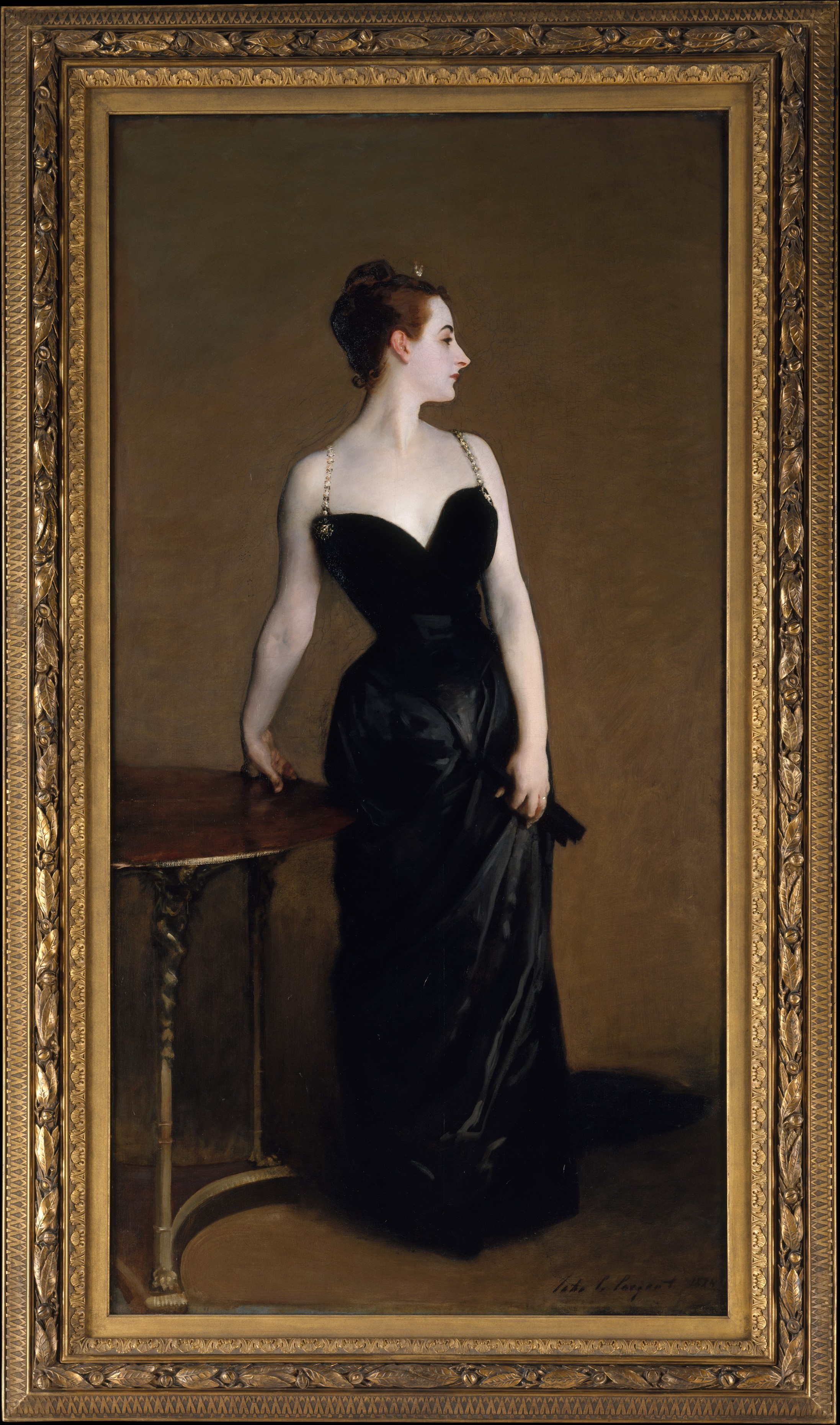 "Portrait of Madam X was painted in 1884. It was Madam Pierre Gatreau who was also born in Europe of American parents. Because of her unusual beauty she was sought after by many artists but she did agree to sit for Sargent in February of 1883. He exhibited the painting in 1884 in Paris. Madam Gatreau was a socialite who exploited her beauty. She had a hard time sitting for a portrait. In the original painting one of the straps on her dress fell off of her shoulder. It scandalized Paris and Sargent was asked to remove the painting from the exhibition, which he refused to do. He did, however rework the strap. He did another rendition of Madam X which is in the Tate Museum. Evidently the strap is unresolved in that painting as well. Madam Gatreau was humiliated by the shocking reaction. Sargent moved permanently to London. I think she is astounding and a truly magnificent piece. Sargent sold it to the Metropolitan Museum of Art. We see Madam standing in a black satin dress showing her magnificent curves. Her skin is luminous against the dark background and the black dress. We see tension in her lovely neck as she balances herself on the table. We see her face in profile half of it hidden from us as a consummate flirt would. I remember where I was the first time I saw a photograph of this. She stopped me in my tracks. I had to stare in total rapture and study her closely.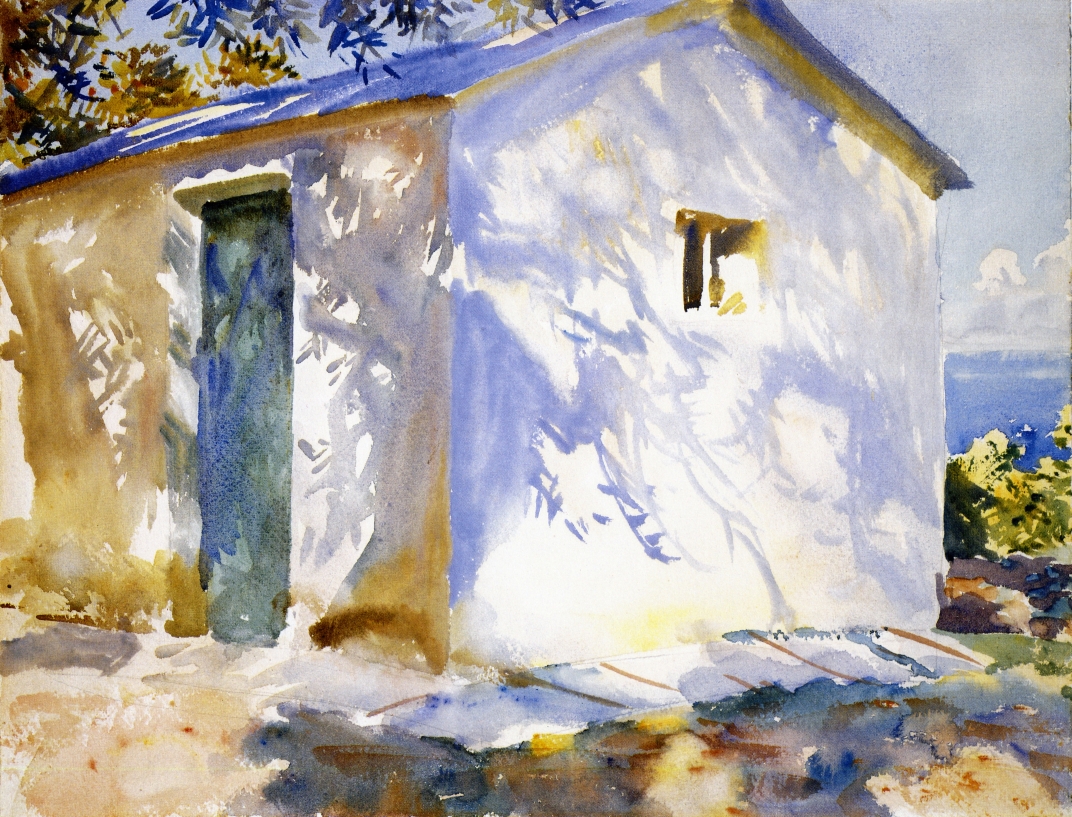 "Corfu, Lights and Shadows" was painted in 1909. It is an exquisite watercolor translucent and opaque over graphite pencil on paper. It has an impressionist style and conveys a perfect serenity. It was purchased by Charles Hayden in 1912. Sargent was fascinated by light and shadows and how he could render it. He thoroughly enjoyed experimenting. His skill in making corrections was astounding. He could correct a watercolor where other artists would start the painting all over again. He followed no rules by listening to his own lessons in watercolor. I am captivated by the shadow of the unseen trees and the way he depicted the walkway by light graphite application. I think it's wonderful.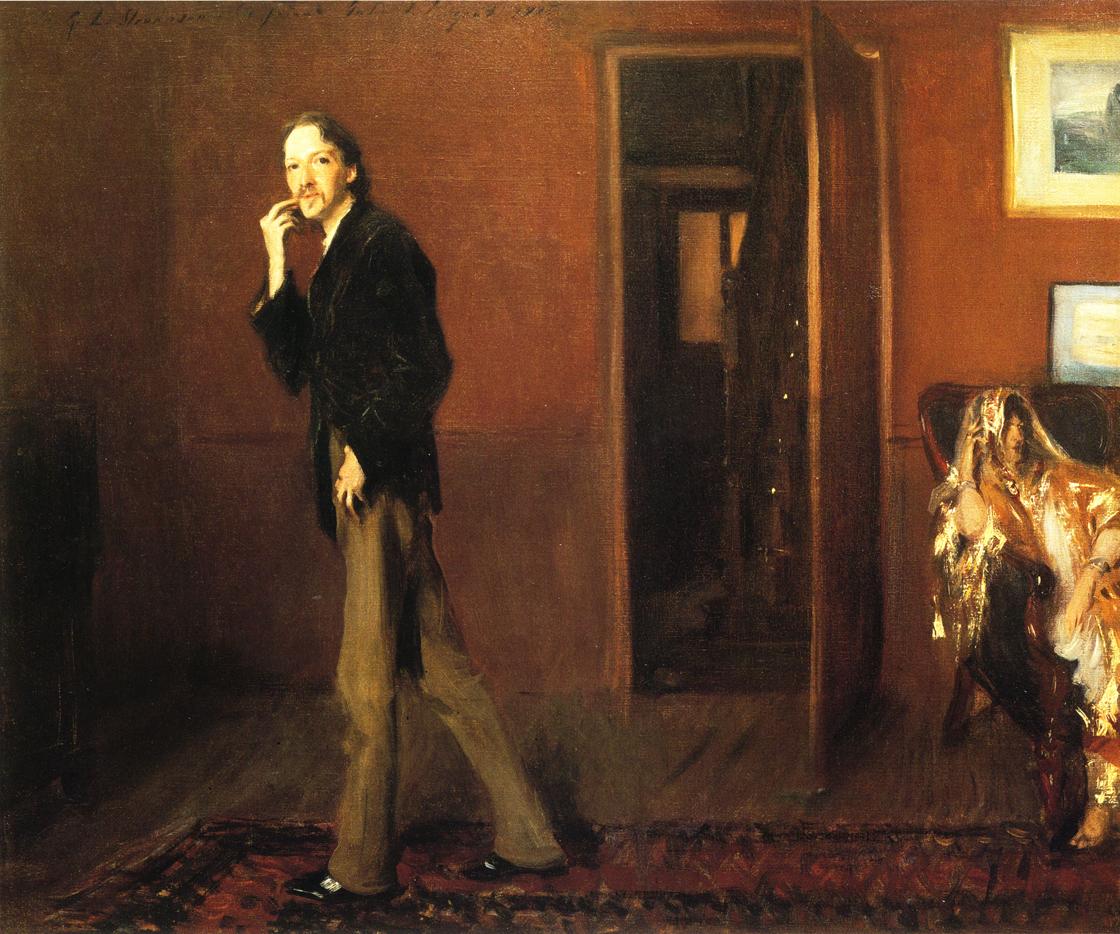 "Robert Louis Stevenson and his Wife" was painted in 1885. The writer and the artist were acquainted since his early years in Paris. We see Stevenson walking and talking as his wife sits passively draped in exotic cloth. Sargent expands the space between them with the open door and creating void space within the closet. Sargent painted Mr. Stevenson 3 times. Stevenson admired the portrait. He commented that it had "that witty touch of Sargent's but of course it looks queer as a whole." It is oil on canvas and it is 20 ¼" x 24 ¼ ". Sargent commented about Stevenson that "He seemed to me the most intense creature I had ever met." Las Vegas casino owner Steve Wynn purchased the painting in to hang in Wynn Las Vegas for the opening in 2005.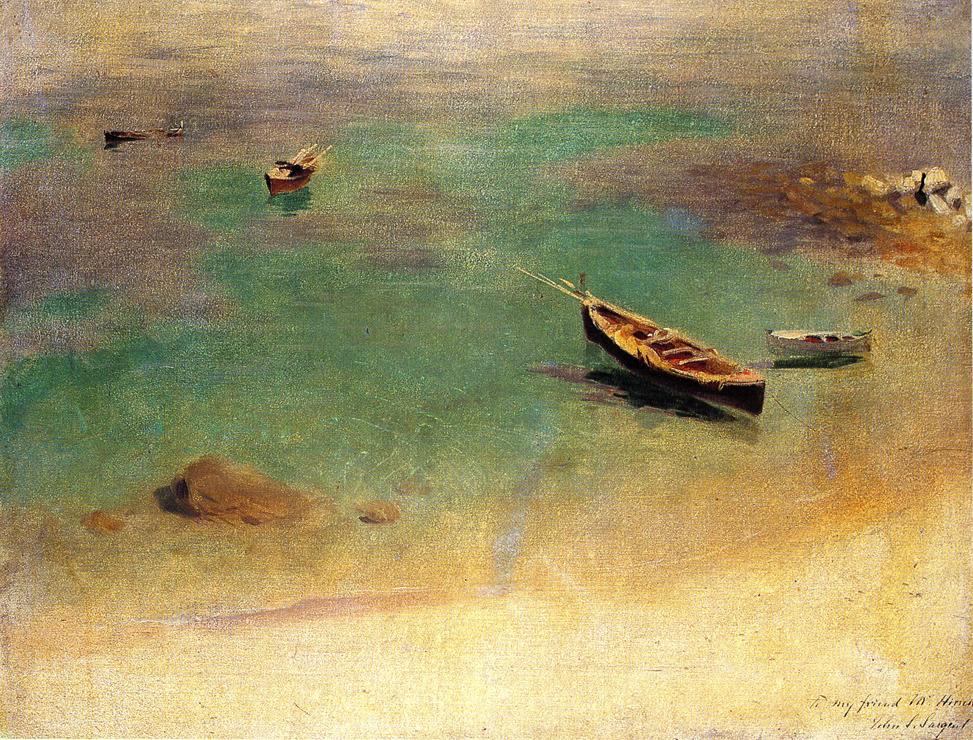 "Boat in the Waters off Capri" was painted in 1885. We look down on a rowboat moored in the crystal-clear waters of a sandy bay. If not for the shadow cast on the sea bed by the boat you would barely know there was water there at all. The style is considered impressionist by most. To me it has a swath of realism and that is exactly why it attracts me.
John Singer Sargent almost chose to stop being a painter at his first exhibit because of the eruption of the scandal the magnificent "Madam X" was unveiled. He was so despondent he stopped exhibiting and he painted portraits of his friends. Good thing he had Robert Louis Stevenson in those days. Sargent did not stop painting and we are the lucky ones. He became the leading portrait painter of his generation. He created 900 oil paintings during his lifetime and 2000 water colors. He also created countless sketches and drawings. I so admire his incredible skill in drawing with a brush. Oil painting and water colors behave completely different. Many artists are better at one than the other. John Singer Sargent was that most incredible artist who mastered both in a graceful and intense way.