Joan Miro was a Spanish artist born in 1893. Miro attended art school in 1907 in Barcelona studying landscape and decorative arts. In 1912 Miro enrolled in an art academy in Barcelona where he learned about art movements and Catalan poetry. Miro's art is like a sandbox for your mind with a charming childlike feel of joy.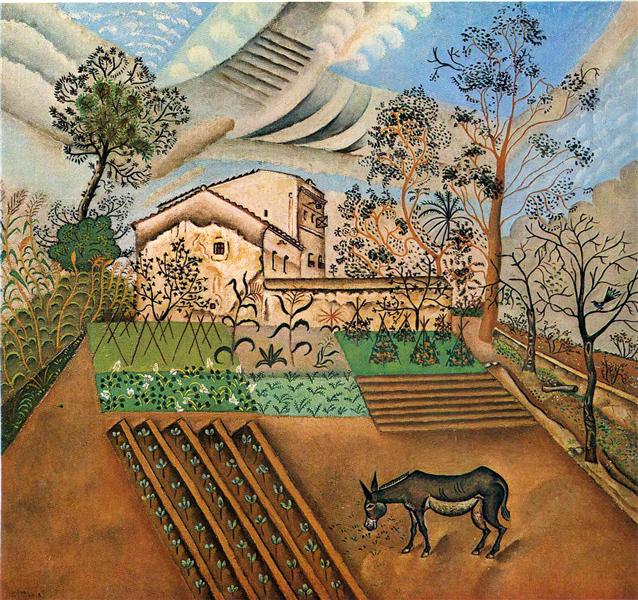 "The Vegetable Garden with the Donkey was painted in 1918 and is oil on canvas. The art is wonderfully surreal but we are very clear on the representation. We delight in the simple and autonomous sharing of space. Miro seems to play with the rhythms of interplay and color.
Miro's "Self Portrait" was painted in 1919, just before Miro met Picasso. Miro gave this painting to Picasso and it remains in Picasso's collection. From the 1870's onward rotund and fleshy Venus figurines were discovered across Europe including the Venus of Willendorf in 1908. Scholars thought they represented the ideal beauty during the Stone Age. The concept has now been discredited. The discoveries fascinated Miro so we see an outline between the hairline on the portrait to the bottom of his cheeks; we see a modern echo of goddess imagery.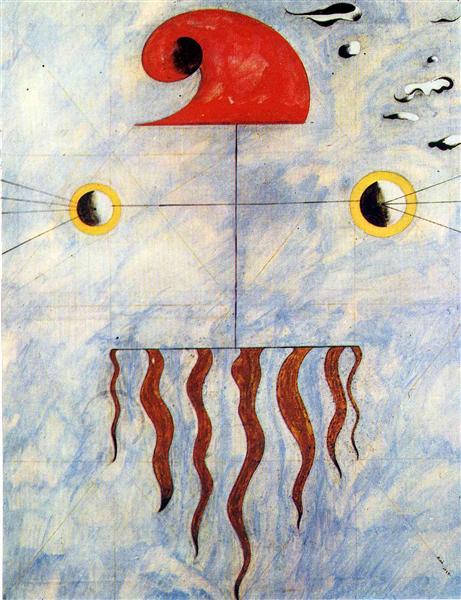 "Head of a Catalan Peasant" was painted in 1925. It was first thought Miro painted it almost in a dream, rather like a hallucination. Miro liked this creative description. However when looked at closely we see the grid of a meticulous piece of work. It was the most important of his works of the decade. The painting began with a white background then thin, transparent layers of blue added to create an airy space. The red Barrentina cap distinguishes the Catalan heritage. It is a delightful and light-hearted image to me depicting a very serious suppression of by the Spanish government of the Catalan language.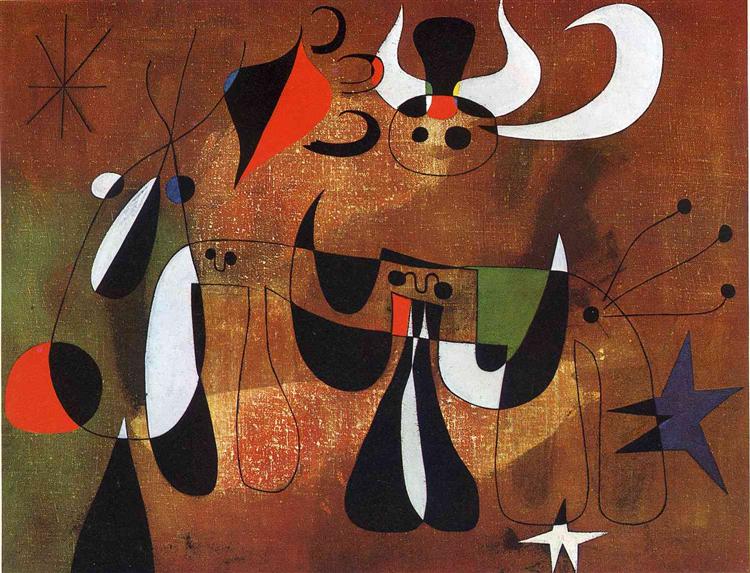 "Characters in the Night" was painted in the 1950's. To me this painting represents the childlike interpretation many children have of dreams of monsters under the bed as we lay in the dark. This piece creates delightful and whimsical characters that don't frighten us. I think it is so charming and brings a lightness to allay our fears.

Oh, look! Here we are at my personal favorite painting by Joan Miro. It is called "Song of the Vowels" and Miro painted it in 1967. Surrealism was a movement between WWI and WWII. It was a way to reunite conscious and unconscious experiences so completely the worlds of dream and fantasy would be joined to the everyday rational world in an absolute reality, a surreality. Poet Andre Breton believed surrealism could be attained by poets and by painters. The movement swept Europe, perhaps a way of escaping the horrors of war. This painting seems to make the viewer feel the vowels amongst the consonants. I love the charm of it and the way colorful shapes seem to swim in the black space behind it. It's almost a different way to feel the vowels and listen to their songs. Vowels are long, short, big and small. They collide with the consonants and change character depending on the staccato of the consonant that precedes it, and follows it. They travel on a breath of a wave to an ear and we make sense out of the chaos in a lovely song of conversation.
I was in Grade 6 when I introduced myself to Joan Miro. I was enthralled by the simplicity of the art and the clarity of his communication. It was refreshingly alive and whimsical enough for a child to understand. At times my stories of his art changed each time I looked at a painting but it was intriguing enough to keep me coming back to them. He passed away of cardiovascular disease on Christmas Day in 1983. Each Christmas I toast his brilliance and the lighthearted lessons his art brought to my life.
I hope you enjoyed reading about the fabulous Joan Miro. If you did enjoy this please consider sharing it with your friends. I am grateful for every share I get!
See you next time!
Christine Adams www.artbycadams.com / artbycadams@gmail.com