James Abbott McNeil Whistler lived from July 11, 1834 to July 17, 1903. He painted during the American Gilded Age. James Whistler was not sentimental or moralistic about art. He created "art for art's sake". In 1842 his father worked on a railroad and James Whistler moved from Springfield Massachusetts to St. Petersburg in Russia and began his art education. Whistler spent part of his education at West Point but racked up infractions and was dismissed by the Superintendent at the time, Col. Robert E. Lee. James Whistler never changed his demeanor. He was brash, contrary and self-promoting. And he was a brilliant artist. His art took him world wide.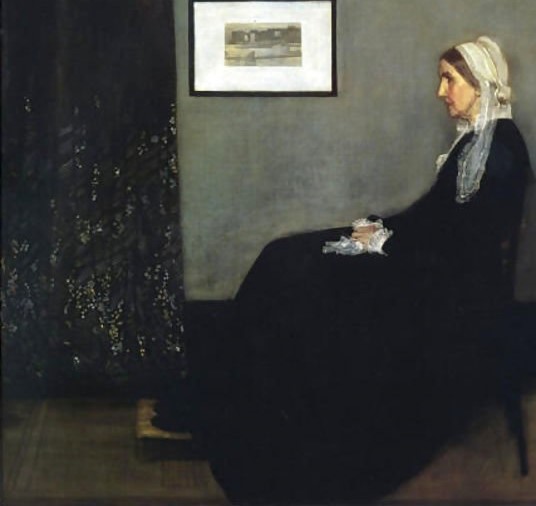 Let's clear up something. The title of this painting isn't Whistler's Mother. It is "Arrangement in Gray and Black No. 1". The title did evolve into Whistlers Mother. Some might say they poked fun at James Whistler by referring to the painting by that name. A great many of Whistlers work used musical terms. This is one of them. This is a deceptively simple design but it is a balancing act of shapes. The rectangle of the curtain, the picture on the wall and the floor stabilize the curve of her face, her dress and the chair. The painting was not received well in England. It was ridiculed and has been since James Whistler created it. The Royal Academy first rejected it, but later they did put it into a show and hung it in a very unfavorable spot. It was purchased by the French government and is now at the Musee d'Orsay in Paris.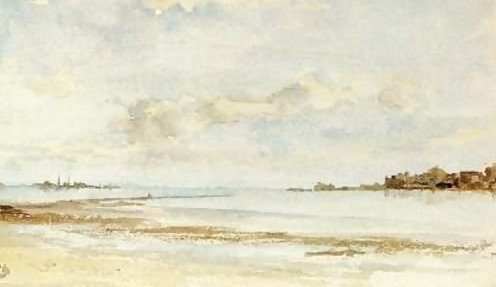 "Note in Blue and Opal" is a water color Whistler painted in 1884. I think it is a most spectacular watercolor. I often wonder how one can be so combative yet paint something so subtly delicate. Whistler had a relationship with print makers who acquired many of his paintings during a time when Whistler was bankrupt. I find this piece refreshing and I can almost feel the cool sand between my toes.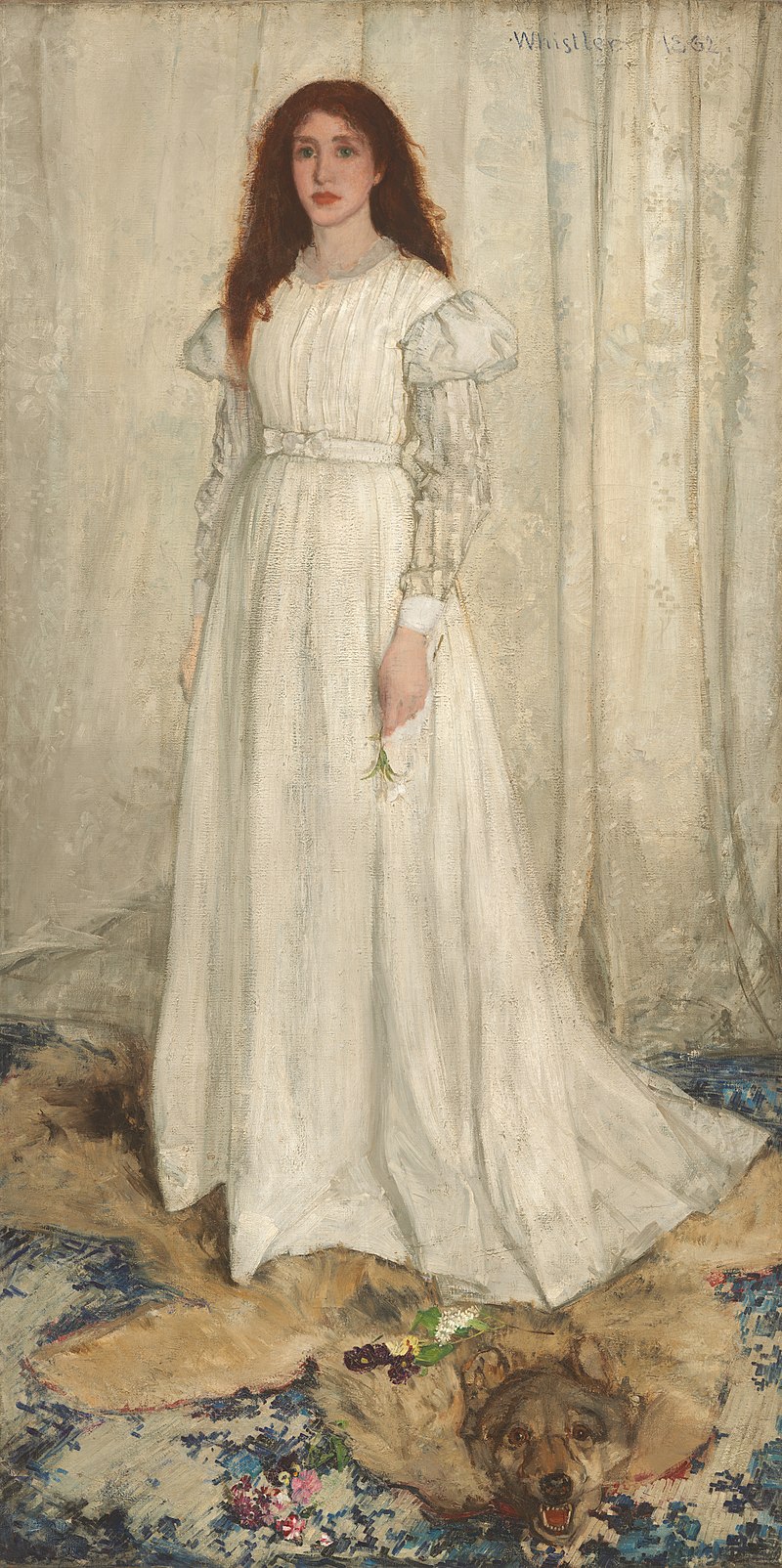 "Symphony in White, No 1" was created in the winter of 1861-62. Whistler created it and then returned to it to make alterations, as we often do because we aren't completely satisfied. This oil on canvas is 7'x3'7" and resides in the National Gallery of Art in Washington DC. We see a beautiful woman in a white dress, standing in front of a white curtain, holding a white lily in her hand and standing on a wolf skin. I once read a novel about an artist who tried to figure out how Whistler achieved a subtle light dancing across the water. I always marveled how he achieved this white on white piece. His technique was to apply paint very thinly and he would achieve a glow with this technique. The first time I saw this painting I was surprised at the combination of this astoundingly striking woman standing on a wolf skin. It seemed incongruous to me and yet it is an image I truly love to study it because I think it is exquisite.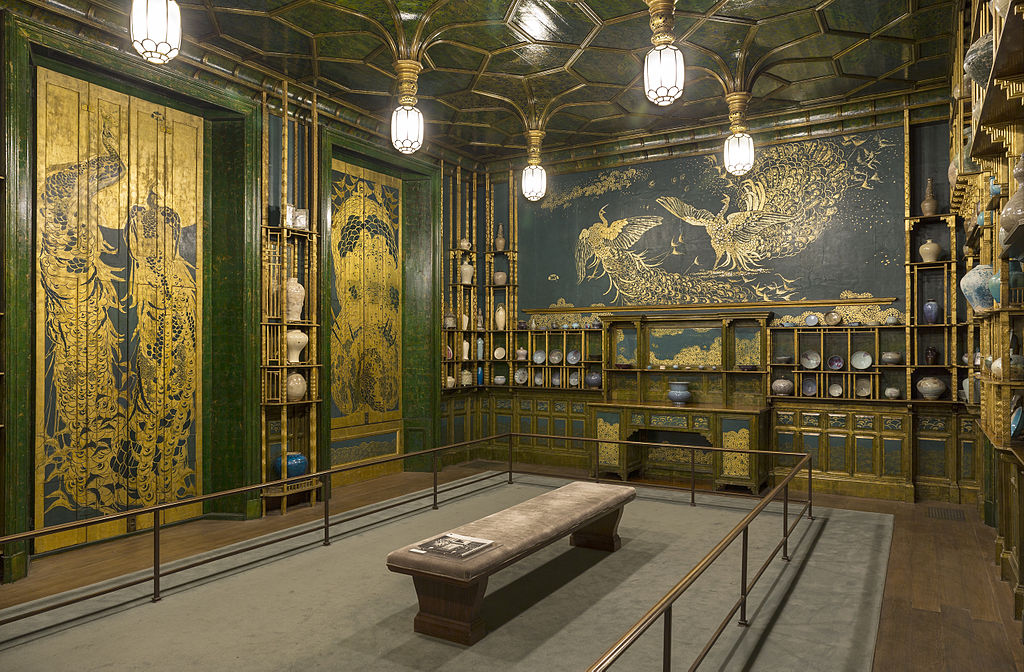 "Harmony in Blue and Gold: The Peacock Room" is James Whistler's masterpiece of interior decorative mural art. It is located in the Freer Gallery of Art in Washington DC.
He painted the room in a rich and unified palette of brilliant blue-greens using his glazing technique and metallic gold leaf. It was painted between 1876-77. It is considered one of the greatest surviving aesthetic interiors and best example of the Anglo-Japanese style. The room was designed originally as a dining room. The owner hired a British architect to design the room but during the project he became ill. Having hired James Whistler to paint the murals and embellish the design Whistler applied his brilliance and had some fun. The owner agreed to some revisions and left Whistler to create the masterpiece. Whistler went wild. "Well, you know, I just painted on, I went on, without design or sketch, it grew as I painted. And toward the end I reached such a point of perfection, putting in every touch with such freedom, that when I came round to the corner where I started, why, I had to paint part of it over again, as the difference would have been too marked. And the harmony in blue and gold developing, you know, I forgot everything in my joy in it." His client was not happy with the price of the unsupervised work but the results are something I would love to see sometime in my life. Imagine sitting on that bench in the middle of this magnificent room and just breathing in the art, simply for the sake of appreciating the art.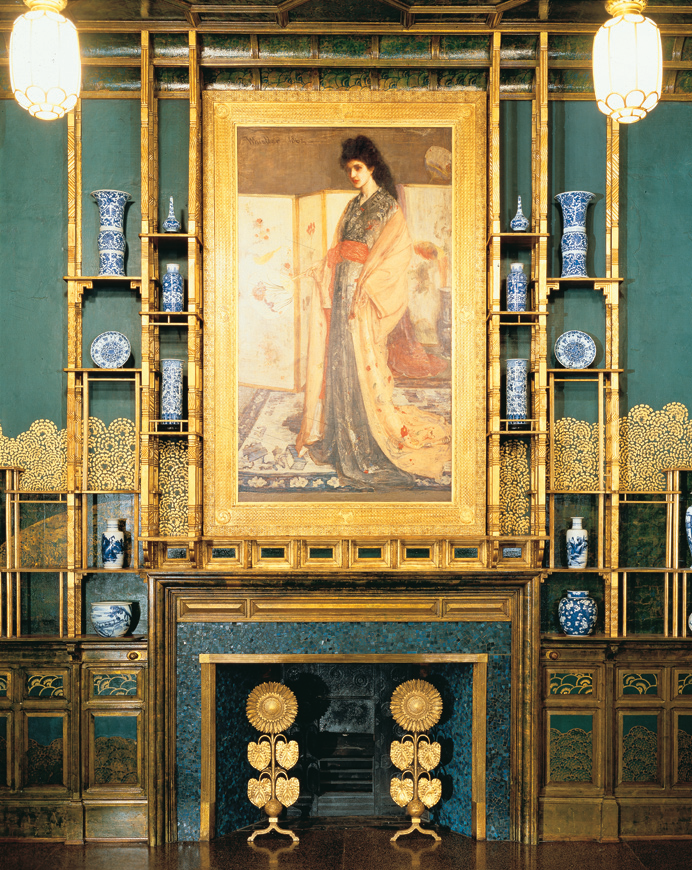 "Rose and Silver: The Princess from the Land of Porcelain"was painted between 1864 and 1865 and hangs in the Peacock Room at the Freer Gallery of Art in Washington DC. This impressionistic oil painting is 79.3"x45.7" and hangs above the fireplace in the Peacock Room. The frame has a similar motif as the painting. A Western woman is depicted wearing traditional Chinese clothing and standing among Asian artifacts and porcelain items. The painting had a series of owners for a few years before Mr. Leyland commissioned the creation of the Peacock Room to show her at her best. After the owner passed away the painting had new owners after the auction by Christie's of London. In 1919 she was purchased by the Freer Art Gallery and returned to the walls created by James Whistler just for her. Even viewing these photos takes my breath away.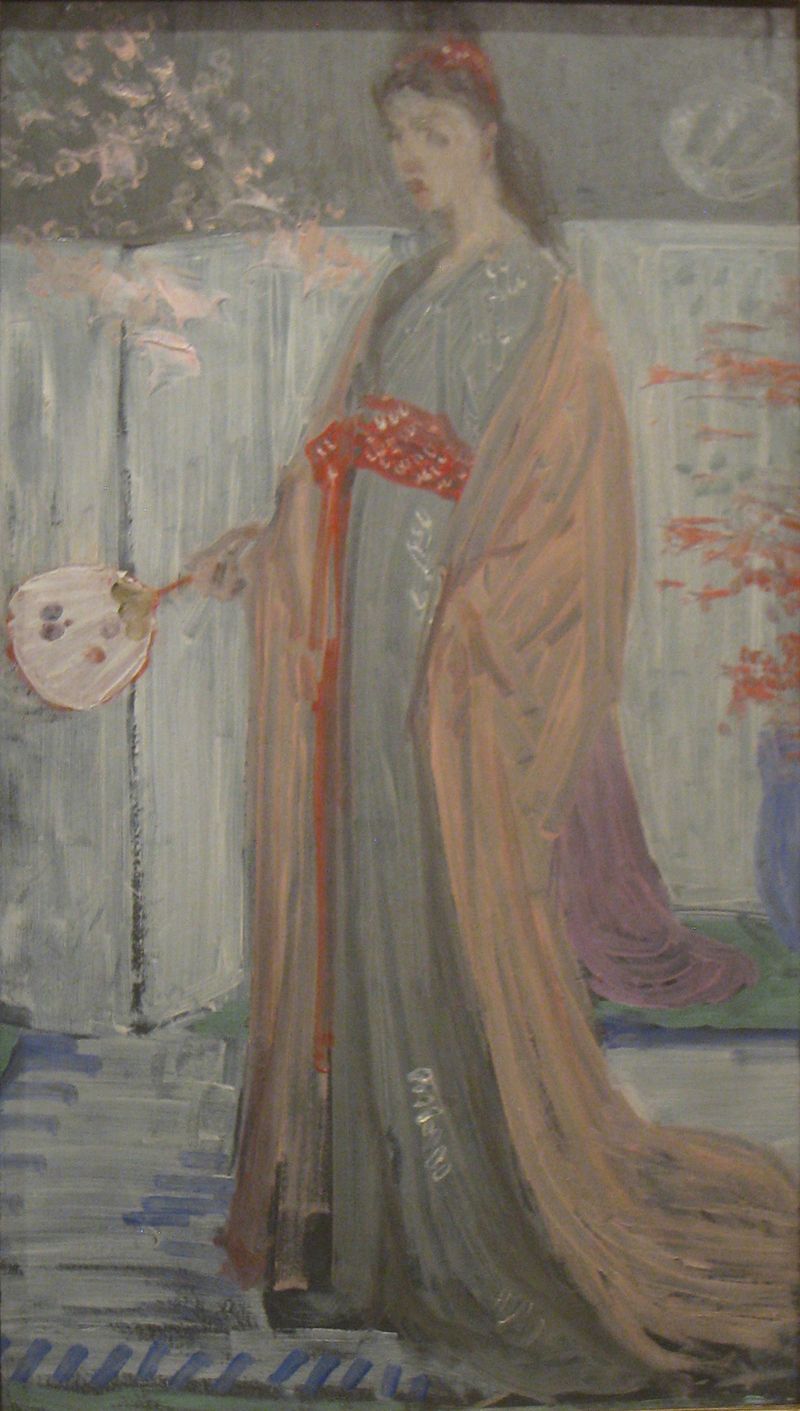 Here is a sketch of "The Princess from the Land of Porcelain". The models father refused to purchase the finished painting so she went to at least 2 salons to be exhibited in Paris. She had a number of custodians as Whistler was in South America at the time. She was returned to Whistler 2 years later. When Mr. Leyland purchased her he was not satisfied with the display created for her in his home. Being a consummate self-promoter James Whistler suggested another motif be created to show the painting off.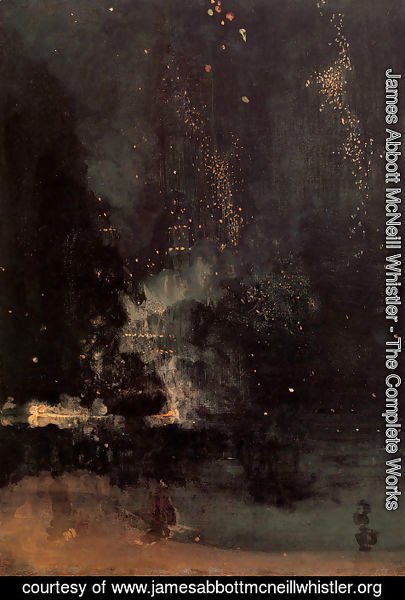 James Whistler had a dry wit. He did promote himself and he worked hard to create his art. He influenced all of those around him. He once sued a critic who accused him of "flinging paint on a canvas" and inflicting it on the public" when Whistler sold "Nocturne in Black and Gold: The Falling Rocket", created in 1874. James Whistler won in court but he suffered major financial setbacks as the award was insulting and did not include his own expenses. He feuded with Oscar Wilde because Wilde publicly stated poetry was a higher form of art. Whistler held people accountable for their words even if it hurt his career. Other artists did not support his effort. He was brash, egotistical and outspoken. James Whistler did better than attract followers. He influenced the whole world of art and his genius permeates modern artistic thought even today. The volume of work and the many techniques he used is astonishing to me.