Henriette Wyeth Hurd was the eldest of 5 children. She is 10 years older than her brother, Andrew Wyeth. She was born in 1907. Henriette contracted polio and lost the use of her right hand, so she learned to paint with her left hand. She studied at the Boston Museum of Art Academy and the Philadelphia Academy of Fine Arts. Henriette married artist Peter Hurd and the couple made their home near Roswell, New Mexico.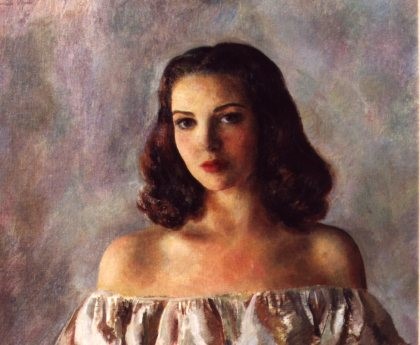 "Portrait of Linda Darnell" was painted in 1949. Andrew Wyeth once said he thought Henriette was the most talented of all the Wyeth children. The first time I saw this piece I could understand why. Soft shadows and soft light make this portrait come alive, almost as if she stepped out of the mirror. Linda Darnell was a film actress living by herself at 15 years old.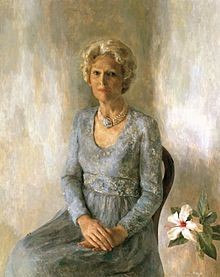 One of the portraits Henriette Wyeth Hurd is known for is the official portrait of Pat Nixon. It hung in the White House in the hallway outside the Diplomatic reception room. Mrs. Nixon insisted her portrait not be hung in the White House until her husband's portrait was completed. Henriette wanted to paint Mr. Nixon's portrait but he was not able to make the time to sit for it. His official portrait was painted by Alexander Clayton. Both portraits were finally hung in the White House to very little fanfare in 1981, 7 years after Richard Nixon's presidency ended. No matter what the politics were of the Nixon Presidency Mrs. Nixon was always quietly elegant. In this painting she is seated in a blue dress, and sitting in a quiet and graceful pose. Her expression seems a little tired and a little sad to me. It might just be my own personal interpretation. Do you agree or do you have another interpretation?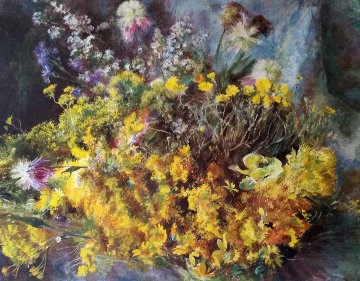 "September Bloom" just makes my day feel like September, my birth month. I love the wild brushstrokes, carefully placed but unorganized as plants are. I also love the colors of early fall.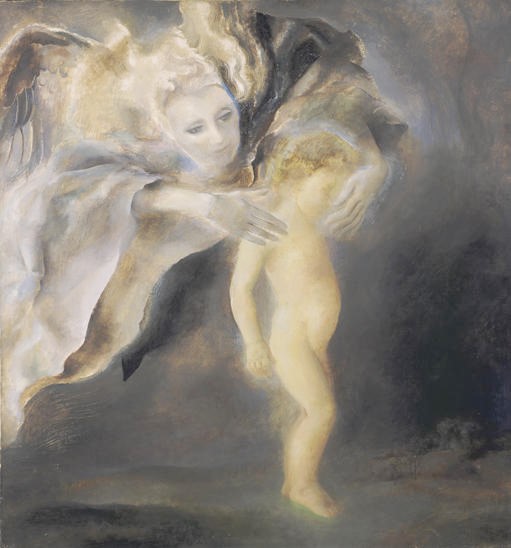 "Death and the Child" is one of the most moving paintings I have ever seen. I cannot imagine losing a child. I see a gentle and soft angel taking this earth angel to the other side. So much sensitivity is required to create a painting like this. I have worked on one for a year now and I don't feel it is right. I went back to this incredible painting by Henriette and am committed to try yet again on my own. I have no doubt every parent who lost a child, no matter the age of the child who is lost, hopes for this dream. The gentle ethereal angel offers loving comfort and safety to this precious child. I know the artist had tears running down her cheeks as this piece progressed.
I do hope you enjoyed this article about an iconic American artist. Henriette Wyeth Hurd has won many accolades for her paintings. Wyeth's work has been exhibited at such notable institution as The Metropolitan Museum of Art in New York, The Carnegie Institute in Pittsburgh, The Art Institute of Chicago and New Mexico's Roswell Museum of Art as well as many other exhibitions around the country. She is definitely a favorite of mine!