Gerhart Richter was born in Dresden on February 9th, 1932. His father was a teacher and his mother was a bookseller who loved to play the piano. The early years of his life were ordered, structured and simple. When World War II arrived life became difficult and uncertain. The family moved to Poland and were shielded somewhat from the war for a little while. But Horst Richter, Gerhart's father was conscripted into the German Army and became a prisoner of war. He was returned to his family in 1946. His family had moved to near the Czech border.
The family was never received well. Teachers prior to the war had to join the Nazi Party. Horst Richter never taught again. The family struggled with personal loss and economic hardship. They were alienated from most others. Gerhart was too young to be in the army but he certainly suffered the consequences.
Within 6 months of completing his studies at the Art Institute in Dresden Gerhart Richter was exhibiting at several galleries and collectors began to show interest. His style is unique and always fresh. I think he is one of the greatest artists of the world.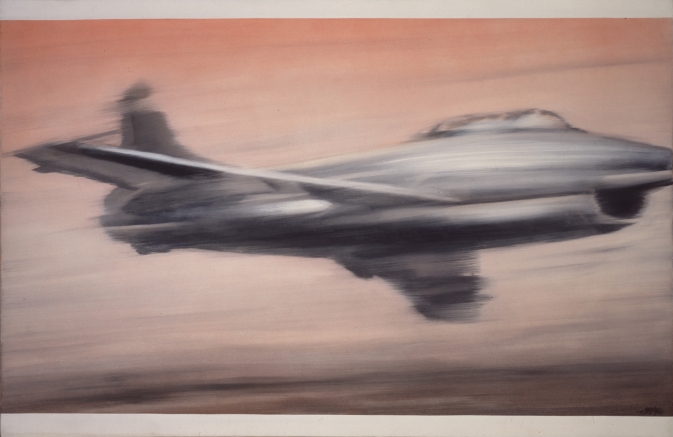 Düsenjäger, Jet Fighter is oil on canvas Richter painted in 1963. I get a sense of wild speed, courage and nerve when I look at this piece. It always astounds me what is asked of our military and they rise as heroes every time. This jet fighter slices through air to carry out a successful mission. The art has guts and the story it tells is crystal clear. We don't know the challenges or the outcome but we do know heroes are here.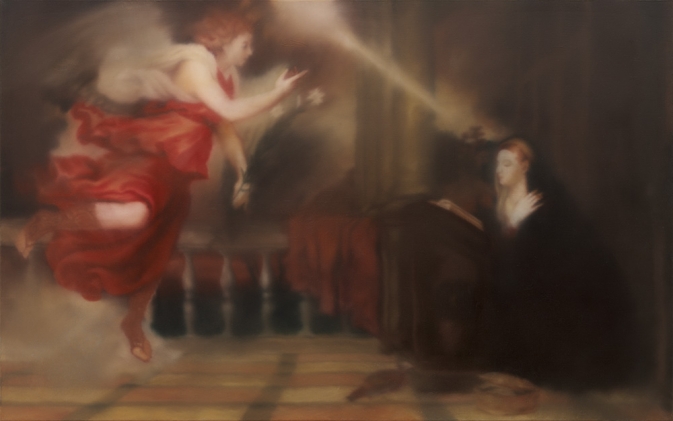 Verkündigung nach Tizian ("Annunciation, after Titian") was painted in 1973 and is oil on canvas. It is currently at the Tate Museum in London. Some believe in modern times it is challenging to create art as the masters who came before us did not have the plethora of options we have today. And we so appreciate the masters whom we studied. In this painting we see Gabriel singing to Mary but all is blurred. The further back you go the more blurry the painting is. Does that make the painting meaningless? Richter seems to make Titian in 1973 to show you can't make Titian in 1973. The question seems to me to be do the constant mechanical reproductions we see cause originality to be lost?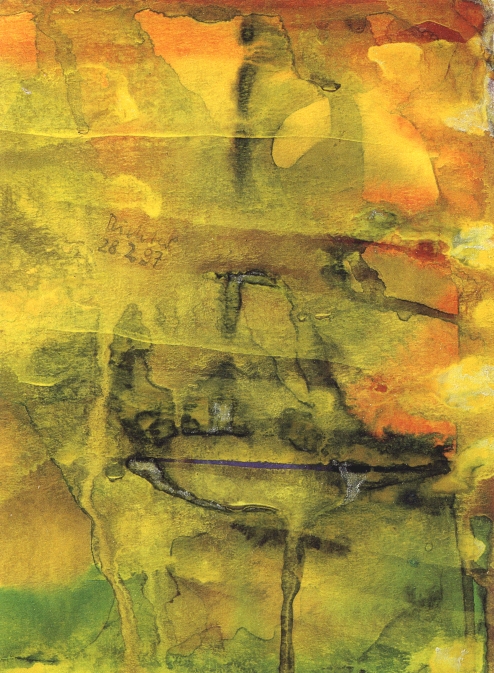 "Bali Yellow" was painted in 1997. It is a watercolor on paper. This abstract is what first attracted me and sent me in a deep dive to learn what I could about this artist. I love this painting. I think abstract is extraordinary. I try to create an abstract I like but it feels like riding a bucking horse to me. Gerhart Richter did this in a water color medium! I think it's gorgeous. I think it moves, it winks and it flirts with the viewer. Parts of it capture your eye again and again. To me it sparkles!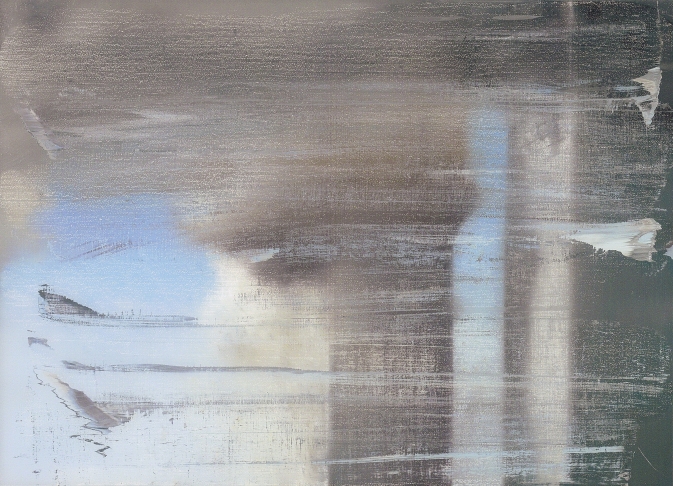 "September" is oil on canvas and was painted in 2005. It resides in the Museum of Modern Art. Very few artists would dare to take on the subject of that awful September day for fear of being banal or over dramatic. Instead Gerhard Richter chose to make the piece the size of a normal television screen which is how most of us saw the horror of September 11. We see the towers almost as if on a frozen surface of ice, grayed down yet iconic, honoring all who perished on that day. It is a sobering piece of art. I often go back to it. I will never forget. The magic of the painting to me isn't the actual memory. The magic is an artist honoring our loss is such a prolific way. I learned when Richter first created it he wiped off the burning of the buildings. It was too garish. He grayed it and produced a way for us to view the carnage in a painting that is nearly obliterated. I think it is moving, graceful and impactful, in a gentle way.
I think Gerhard Richter is Germany's best kept secret. He is a prolific and inventive artist, certainly known worldwide. He thinks through his paintings and he goes to a place where he presents his art in a unique way. His work is controversial and important in a world of constant visual entertainment. Yet his work is always relevant. Down to my most basic core, that special place deep inside, I love the art. I return to his art. I don't have to look for any huge symbolism or controversy. I only have to look, breathe and enjoy.
To keep you up to date on my da Vinci mystery, I have quite a few trails to follow. The answers might not ever be revealed and I knew that going into it. It does intrigue me and so is something I will return to over and over. I don't believe this is a da Vinci piece. I believe the work was created by a student of da Vinci. Leonardo passed away in 1519. That means 500 years of art to research! It might seem daunting to some. But I love art and I love this art mystery. I am excited to go into the labyrinth of this project that I have before me! I think the largest question that I can never know is who in my family lovingly framed this piece!
See you next time!
Christine Adams
Artbycadams.com