Edward Mitchell Bannister was born in St. Andrew, New Brunswick, Canada in 1828. He was a black man who to relocated to New England in the 1840's. He was known as a Tonalist painter. Tonalism at its core is creation of visible air to enhance atmosphere to represent man's relationship to nature. Edward Bannister created perfect places, at a perfect moment in time in my opinion. Edward Bannister's artistic skill extended far beyond landscapes.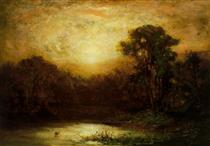 "Sunset" was created in 1880. I see expression of unity over diversity, tranquility over activity and spiritual over physical in this painting. It gives me a calm sense of joy to see it. Edward Bannister won a bronze medal for a painting in 1876 at the Philadelphia Centennial. Once it was discovered he was a black man consideration was given to withdrawing the award. His fellow artists in the exhibition fought for Edward Bannister to receive that medal. The painting he exhibited to win the medal disappeared at the turn of the century and has never resurfaced.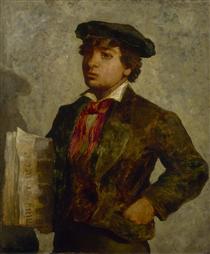 Bannister produced "The Newspaper Boy" in 1869. His range of styles is astounding and poignant. In 1863 at 35 years old William Wells Brown wrote "Mr. Bannister possesses genius…and he is daily gaining admirers of his talent and taste…It is indeed commendable in Mr. Bannister that he has thus far overcome the many obstacles thrown in his way by his color and made himself an honor to his race". Heroes don't know they are heroes when they face adversity. They move through events of the day and become admired. Edward Bannister forged his path with support from the active and prolific community he chose to live in.
Bannister was greatly influenced by the Barbizon School of painters who were part of an art movement toward Realism in art. The Barbizon School was active from 1830 through 1870.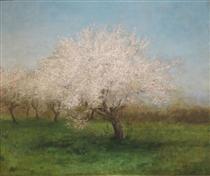 "Apple Trees in a Meadow" was painted in 1890. This painting is a reflection of Bannister's ability to create a reflection of his reverent relationship with nature. It is among my favorite paintings. I can almost smell the apple blossoms. I can feel the breeze and the whisper of lushness. I completely appreciate perfect tranquility every time I see it. Edward Mitchell Bannister made his living with his art. He and his group of fellow artists formed the Providence Art Club in order to build clientele.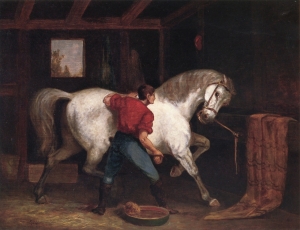 "Governor Sprague's White Horse" was painted in 1869. This painting is owned by the Rhode Island Historical Society. We see a spirited horse not liking the feel of a brush on his underbelly by a groom tasked with calming the white horse's tenseness. Bannister made his living with his art. The horse was shot out from under Sprague during the first battle at Bull Run.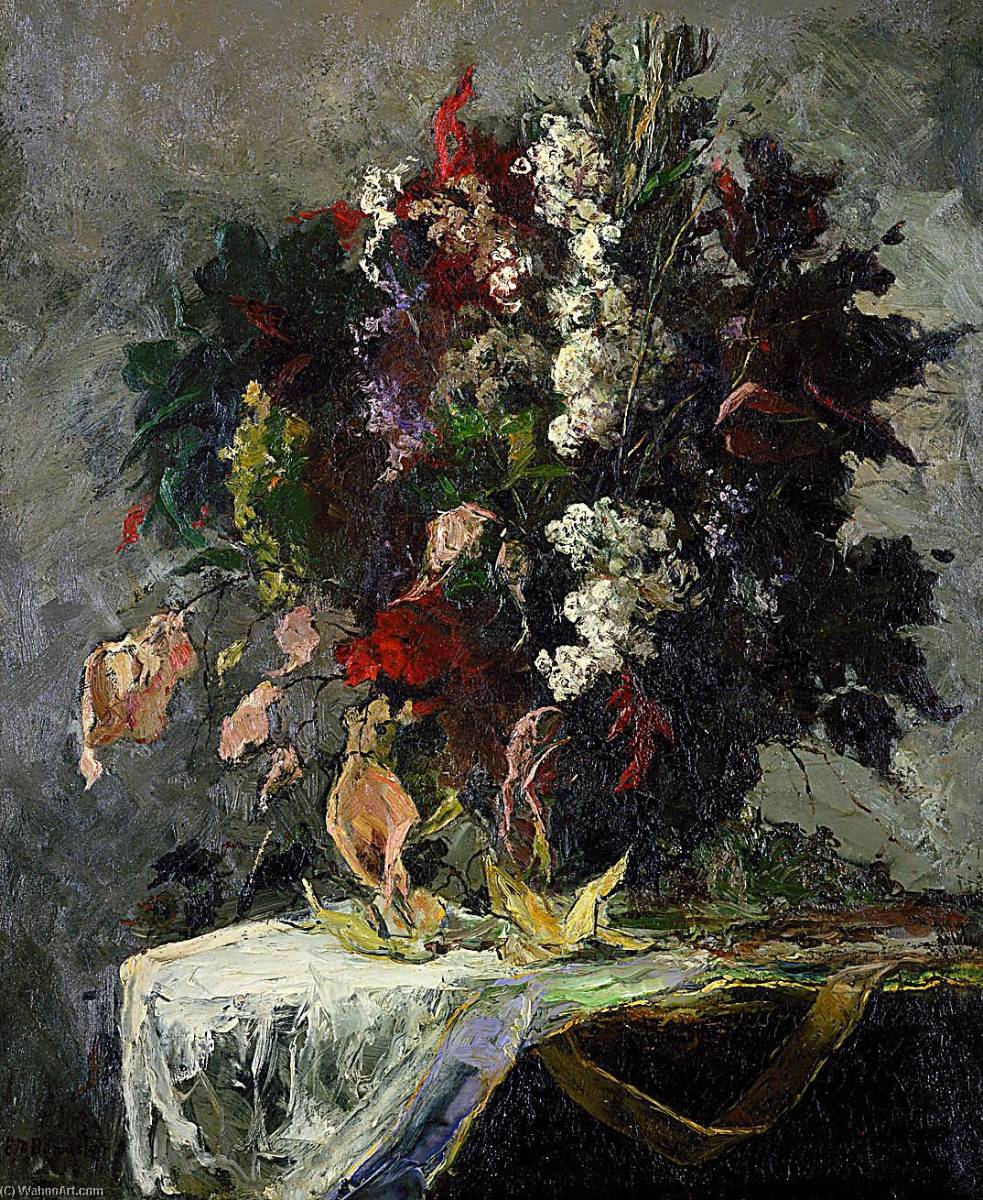 This painting is an untitled floral still life that now resides in the Smithsonian American Art Museum. The date of the painting is not confirmed. I think it is a remarkably beautiful still life by a master painter. Bannister worked hard to create a market and thrived as a black artist in the USA in the late 1800's. He was on the Board of Directors of the Rhode Island School of Design when it was in infancy. It took him years of dogged determination to become a working artist and make a living from his art. He developed close relationships with his fellow artists.
Edward Mitchell Bannister is an icon to me. I appreciate his achievements as a black man in post-Civil War America but I celebrate his success as an artist due to his exceptional talent and insight. His best support was from his mother and his wife. In the face of rejection due only to racism his spiritual philosophy and individually expressive style represented harmony and liberty on a more universal plain. Bannister might have been almost forgotten except for the efforts of determined and extraordinary people at the Kenkeleba Gallery www.kenkeleba.org on the lower Eastside of New York. If you are ever in New York it is enriching to visit this nonprofit gallery located at 214 East 2nd Street. New York. After Bannister passed away in 1902 there were no showings of his work until The Kenkeleba Gallery put on a museum quality exhibit of his work in 1992. To be reintroduced 90 years after his death confirms the scope of his influence.
I hope you enjoyed this newsletter. If you did like what you read I hope you will share it with your friends! I love referrals!
See you next time!
Christine Adams / www.artbycadams.com / artbycadams@gmail.com