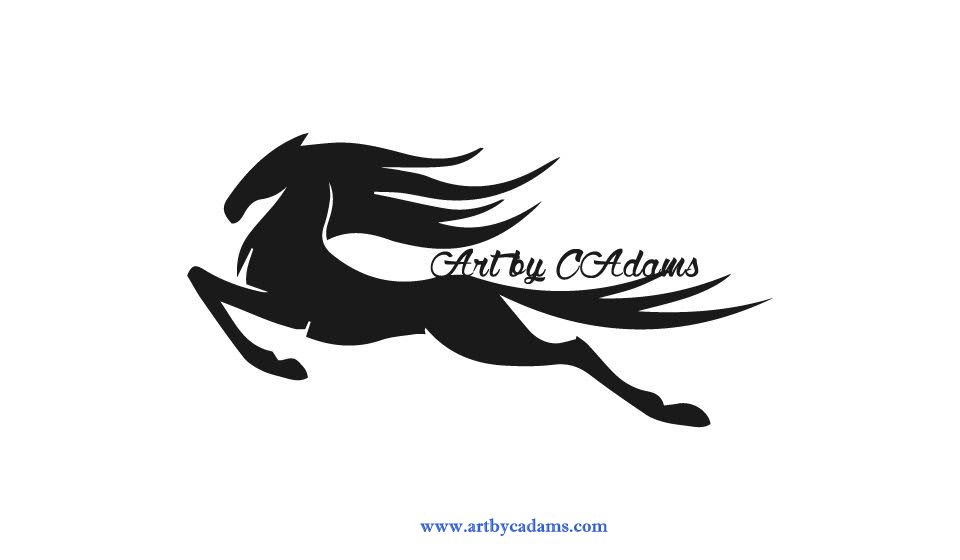 Did you know the Fresno Art Museum has a painting by Diego Rivera? I visit it at least twice every year. It's worth the trip every time. It delights me, like visiting a wonderful best friend. Diego Rivera lived from 1886 – 1957. He was a prominent painter from Mexico. I think he is a cornerstone of Mexican artists. I remember seeing one of his original paintings being valued on the Antiques Roadshow. I held my breath because it was clearly recognizable as a painting by this artist. The price doubled in the same year. Because Mexico decrees his art as a national treasure Diego's art is more difficult to purchase.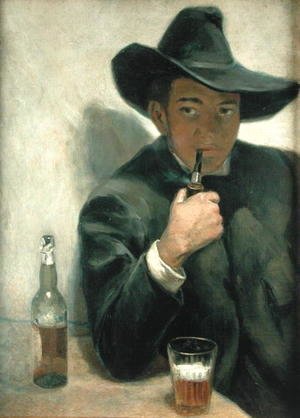 This self-portrait was painted in 1916. Diego Rivera was a thoughtful person who cared about politics. He was also said to be a womanizer. I see both when I look at this painting. His parents were well off and Diego had a twin brother, Carlos, who died before his 3rd birthday. Diego River was sponsored to study art in Europe by the Governor of the State of Veracruz. He watched the beginning of cubism, and he shifted toward Post impressionism with his art using simple forms and swatches of vivid colors. He traveled through Italy in 1920 and studied the Renaissance frescoes. It seems clear to me that is a tour that changed his life. When he returned to Mexico he participated in the Mexican mural program and he produced outstanding murals around the world.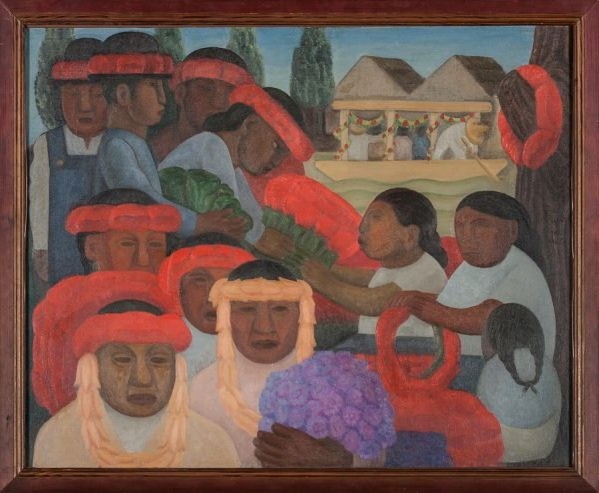 "El Dia de Las Flores, Xochimileo" was painted in 1926. It depicts a group of peasants in Xochimileo, Mexico and is in the permanent collection at the Fresno Art Museum. It was gifted to the museum in 1976. Diego Rivera's paintings tell us a story. I love how everyday life is portrayed by this artist. He presented panoramic portrayals of Mexican life beginning with the Mayan heritage right up to post revolution in Mexico.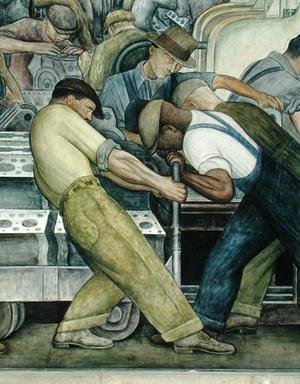 The Detroit Industry Murals are a series of 27 panels of frescoes depicting Ford Motor Company and the technology of the era. They surround Rivera Court at the Detroit Institute of the Arts and were painted in 1932-1933. In April of 2014 they were given a National Landmark Status.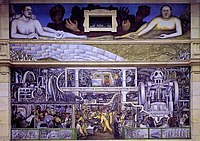 Detroit Industry Mural South Wall by Diego Rivera. The art is spectacular and moving. The art represents so much more than Ford Motor Company and its innovative technology at that time. Improvements were made to medicine, and that technology is represented in the murals. Vaccines were being created at that time. In Rivera's style of using allegories we see the Magi's administering a vaccine to the Christ Child. But Rivera also depicts poison gas being made for warfare in the art. The main theme is man's relationship to machinery.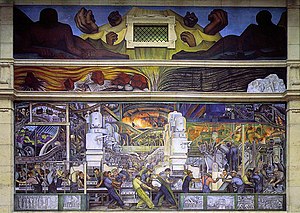 Detroit Industry Mural North Wall by Diego Rivera. The work schedule was exhausting and the art was completed during the Depression. The Director of the Detroit Art Institute, Wilhelm Valentiner commissioned the work. Valentiner was a renowned art historian and art critic. His writings about Flemish and Dutch art are enlightening. From 1924-1945 Valentiner was first an advisor and then Director of the Detroit Museum of Art.

Many found the work offensive because Diego River was a Communist. He was outspoken against the brutal regime of Porfirio Diaz. The Mexican Revolution began in 1910 and ended in 1920. Many Detroit citizens wanted the frescoes destroyed because of Rivera's commitment to Communism. Given Diego's outspoken nature I imagine he inflamed the public somewhat. Also, our country was in the midst of the Depression. An expenditure of this size was resented. Destroying the frescoes was never a serious consideration of the Detroit Museum of Art. This steadfast belief in the art was shared by Edsel Ford. I think that Ford used the controversy to bring attention to the art. Rather than destroy the frescoes a disclaimer sign was erected. It reads:
"Rivera's politics and his publicity seeking are detestable. But let's get the record straight on what he did here. He came from Mexico to Detroit, thought our mass production industries and our technology wonderful and very exciting, painted them as one of the great achievements of the twentieth century. This came after the debunking twenties when our artists and writers found nothing worthwhile in America and worst of all in America was the Middle West. Rivera saw and painted the significance of Detroit as a world city. If we are proud of this city's achievements, we should be proud of these paintings and not lose our heads over what Rivera is doing in Mexico today".
If you ever find yourself in Detroit I highly recommend visiting the Detroit Museum of Art and enjoy this spectacular work. It is truly a monumental achievement created by one of the most amazing artists who shared it with us.
I hope you enjoyed reading about the fabulous Diego Rivera. If you did enjoy it please consider sharing it with your friends. I am grateful for every share I get!
See you next time!
Christine Adams www.artbycadams.com