www.artbycadams.com presents the Art of Charles Russell
Charles Russell was born in 1864 and passed away in 1926. He was known as the "cowboy artist." My wonderful sister lives in Great Falls, Montana where the C.M. Museum Complex is located. I have had the pleasure of visiting it a few times! The art is fresh as the collections often go on tour so you get to see different exhibits by this incredible cowboy. There are major art collections throughout the USA of his iconic work. His paintings are lively, and they give us a look at how it was in the West. Charles Russell worked as a cowboy, and in 1888 he lived with the Blood Indians, part of the Blackfeet Nation. His paintings are poignant and honest with wonderful expression.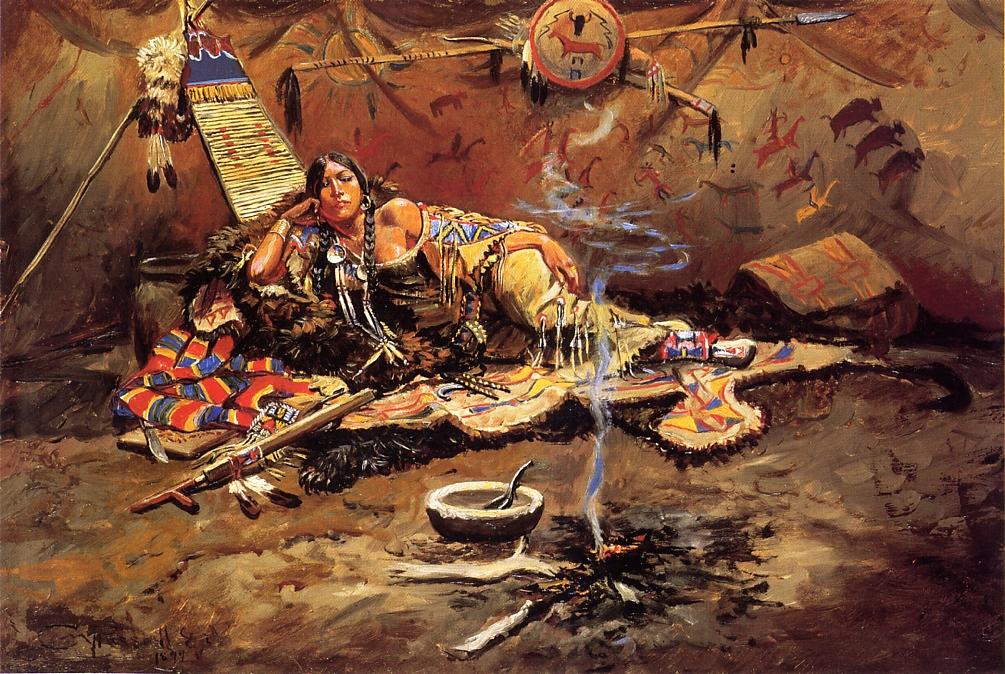 "Waiting and Mad" was painted in 1899. We see sultry disgust on her face. The fire is out, bowl empty. The look on her face is disappointment, fury and boredom. I wonder how many times this has happened and I believe many of us have done the waiting often enough! This painting resides at the Indianapolis Museum of Art. What a treat it would be to see it.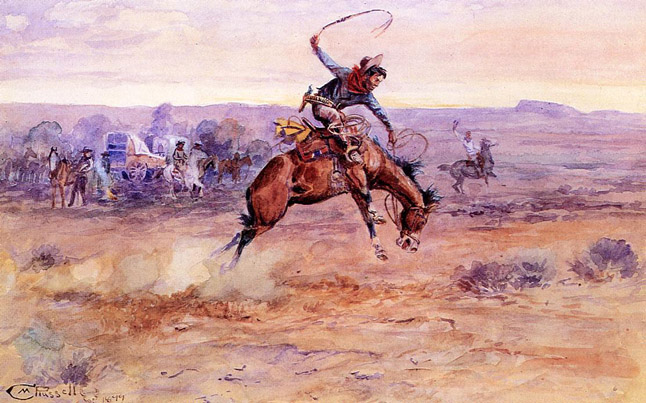 "Bucking Bronco" was painted in 1899. The atmospheric chaos is depicted with cowboys being cowboys, creating dust as the bronco is giving his everything to get the man off. Charles Russell gave his horses maximum expression. I have always loved that part of this important artist. He did not shy away from using vibrant and intense colors.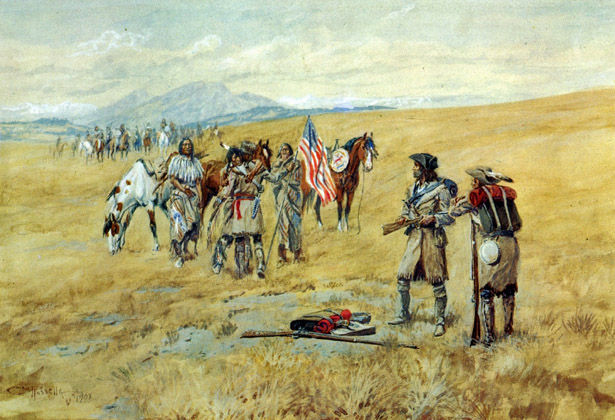 "Captain Lewis Meeting Shoshones" was painted in 1902. In August of 1805 Lewis and Clark needed horses for the epic trek across the Rocky Mountains headed West. This depiction of the milestone meeting of Captain Lewis meeting the Shoshones is delightfully hopeful. The Lewis and Clark expedition was exhausting and daunting. The meeting had a successful outcome for all. Charles Russell masterfully commits to a mood, gentle yet flowing. He captured this moment in time.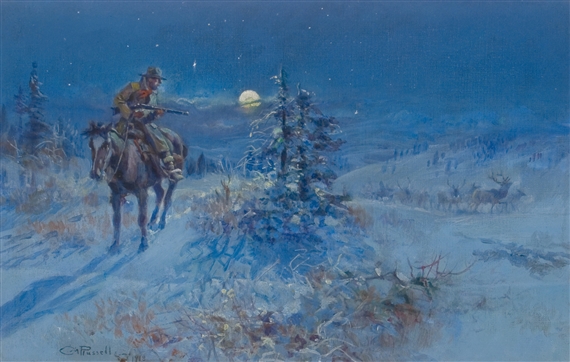 "Joshing Moon" was painted in 1918. Christmas for a cowboy can be sweet but lonely. There are cattle to look after. This cowboy finds his spirit of Christmas and enjoys it with his horse. It is poignant and nostalgic. To see this cowboy out in the cold appreciate the beauty of his landscape inspires gratitude for me. "Spending so many hours in the saddle gives a man plenty of time to think. That's why so many cowboys fancy themselves philosophers."– Charles Marion Russell.
Charles Russell influenced the way we see western life. He used materials at hand to create his art. He also used many different mediums including bronze. His water color paintings are truly exquisite, and fun to study. Charles Russell made active art full of detail with a sense of danger.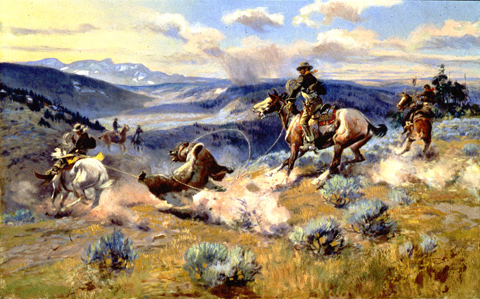 "Loops and Swift Horses Are Surer than Lead" was painted in 1916. The painting resides at the Amon Carter Museum in Fort Worth, Texas. To me there are not many creatures more savage than a hungry grizzly. In this painting we see cowboys and their horses contain this massive and canny bear with lassos. To me it is one of the most iconic images of the old West. Toughness was and is a requirement in this wild environment. We see the tension in the rope and the partnerships between horses and cowboys. We also see the strategy between these brave cowboys.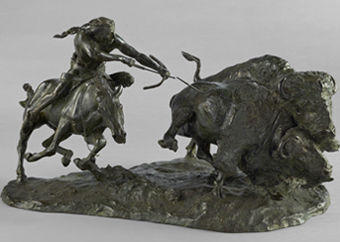 "Buffalo Hunt" is a bronze by Charles Russell cast in 1905. We see the tough life of a hunter gathering meat. Buffalo were a source of food and warmth for Native Americans. The piece is so active and expressive. We see the partnership between horse and rider. We see the determination of the prey to escape the attack. The savagery does not escape the viewer. It stops us in our tracks.
Charles Russell lived the Western life as a cowboy. He presents it to us in his art. It's a history of incredible risk, adventure, to seek a better life. To me Charles Russell never lets us forget just how savagely beautiful it is in rugged, wild country carving out a place for oneself. We see those breathtaking moments, some full of wild and some finding the romance in that tough world.
I hope you enjoyed this newsletter. If you did like what you read I hope you will share it with your friends! I love referrals!
I wish you all Joy this Holiday Season.
See you next time!
Christine Adams / www.artbycadams.com / artbycadams@gmail.com