Amedeo Clemente Modigliani was a sculptor and painter who was born in Italy and who worked mainly in France. He was born in 1884 and passed away in 1920. He lived a tragically short life. He focused on sculpture from 1909 to 1914. He is known for his modern style of nudes with elongated faces, necks and bodies. The style was not received well during Modigliani's life.

"Head" is a sculpture made of limestone created in 1911 or 1912. It is one of several radically simple and elongated faces with stylized features. His inspiration was the art of Cambodia, Egypt, and the Ivory Coast. It is currently in the Tate Collection. Modigliani's elongated style was not appreciated until after his death. I love his style personally. I think it is so brilliant and unique, stylistically recognizable. Front view on the left is wonderfully elegant. The side gives us a glimpse into the details of the piece.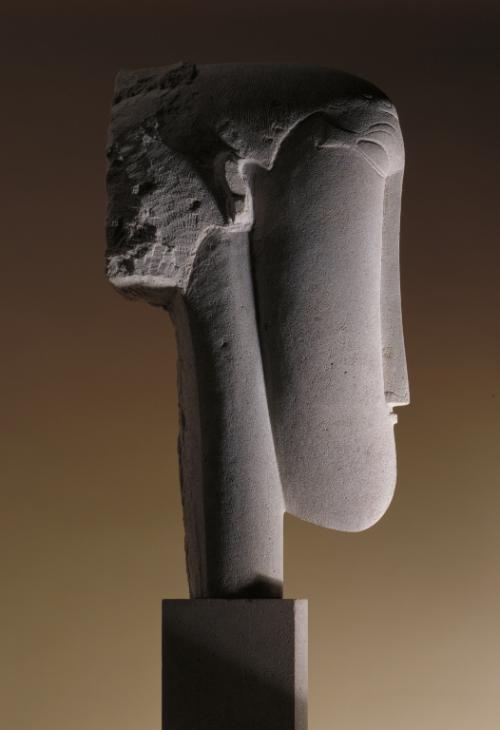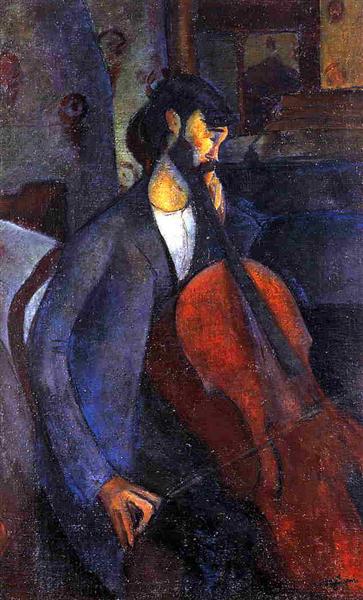 "The Cellist" was painted in 1909 and is oil on canvas. It is in a private collection. We see the cellist engulfed in the music he makes with his cello. We can feel his body move with the music and appreciate the moment lost in his art. Modigliani was a master at making us feel his paintings. Modigliani showed great promise when he moved to Rome to study art but was forced to withdraw due to the onset of tuberculosis. In 1908 he moved to Paris and lived in a commune for penniless artists. At first he dressed without ostentation but soon changed his dress to workman clothing. Even with his wardrobe changes he maintained the look of a dapper artist. Within a year he transformed his persona from a dapper intellectual artist to a prince of vagabonds.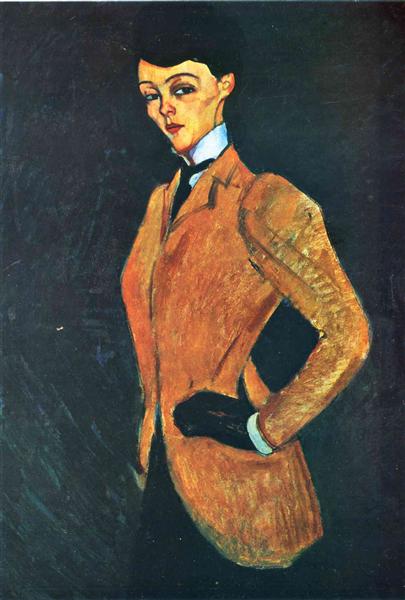 "Amazon" was painted in 1909 and is oil on canvas. This portrait shows a woman highly stylized and afraid of nothing. She almost steps out of the canvas right with her direct stare and uncompromising posture. While in Paris Modigliani had tuberculosis which was a killer to those in France starting in 1900. His persona changed to heavy drinking and use of drugs. It is speculated he began the journey in those times to mask his isolating disease. He was a man who loved people around him. His studio reflected his new personality in disarray. He actually destroyed many previous works of art as he felt they were too bourgeois for his style. Whatever the motivation was he would not let his highly communicable disease isolate him.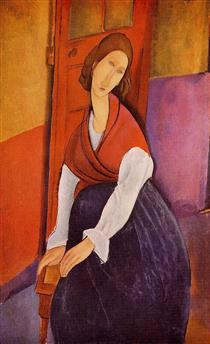 The subject of this painting was Modiglani's longtime love and partner Jeanne Hebuterne. The title is "Portrait of Jeanne Hebuterne with Red Shawl" and it was painted in 1917. Jeanne renounced her family and her Roman Catholic background to be with Modigliani. The couple soon had a daughter. After 2 years together Modigliani died of tuberbulosis. He suffered from the disease for most of his life. Jeanne was grief-stricken and threw herself out of a window and fell to her death from the fifth floor window. In this painting we see her long, thin frame and her head cocked in a shy flirtation to the side. The simple beauty of it allows us to see Jeanne through Modigliani's eyes.
Jeanne was a budding artist in her own right. She studied art and she painted. But she is most famous because she was the lover of Modigliani, and she committed suicide 2 days after he passed away. There are so few paintings of hers it is difficult to establish a value when one does come to the market. Because of her death the world did not see her reach her full potential. To me that is tragic.
This oil painting is titled Jeanne Hebuterne Autoportrait (Self-Portrait), It is estimated Jeanne painted it circa 1917. To me this painting displays a remarkable self-assuredness. Jeanne appears in a kimono, suggesting a sultry state of undress. It must have been shocking at the time. I can only imagine the intense artistic conversations between the couple in their daily lives of love and painting. This piece came up for auction at Christie's and is now in a private collection somewhere in the world.
Amedeo Clemente Modigliani has always been a favorite of mine. The pure elegance of his figures are expressive and emotive. As viewers the expressiveness of his paintings have always been communicated to us as if we knew the feelings of the person in the portrait. Jeanne Hebuterne is known because she committed suicide 2 days after her lovers death. She was 22 years old at the time she died. She was pregnant and their child died with her. Tragedy makes great lore. But it always makes me sad to think the world will never know her as an artist but as a tragic figure in history.