Artbycadams.com presents The Art of Mary Cassatt
Mary Stevenson Cassatt was born in 1844 and passed away in 1926. She was an American painter and printmaker. She lived much of her adult life in France. She first befriended Edgar Degas and later exhibited among the impressionists. She often chose subjects of the private life of women with their children. Her sumptuous paintings depict the deepest of bonds between mothers and their children. She was among very few American artists active in the nineteenth-century French avant-garde.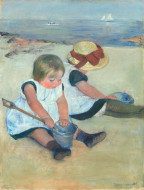 "Children Playing on the Beach" was painted in 1884. It resides in the National Gallery of Art, Washington, D.C. By the time she created this painting Cassatt was becoming known for her work. By limiting her subject matter somewhat she could experiment and try new things with color and composition. It was refreshing to see children in a tender and unsentimental way after so many posed children in pretentious poses. This charming painting depicts children in a delicate tenderness. These two children in close proximity yet playing separately feels like they are sisters and it feels very comfortable, innocent. The colors are soft and serene, the little girls quietly engaged in the sand.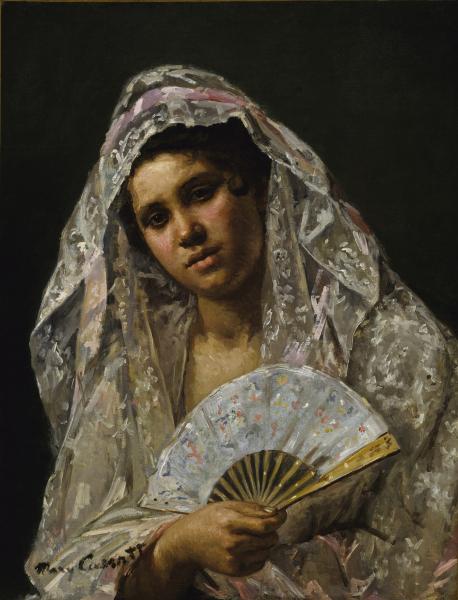 "Spanish Dancer Wearing a Lace Mantilla" was painted in 1873. It now resides at National Museum of American Art, Smithsonian Institution, Washington, D.C. Cassatt's father disapproved of her chosen craft of painting so he did pay for her upkeep, but not her art materials. She traveled to Spain to paint a series of Spanish women depicting the beautiful, elegant dress. She included this painting in an exhibit in 1874 where Edgar Degas commented "It is true. There is someone who feels as I do." The two would become close friends.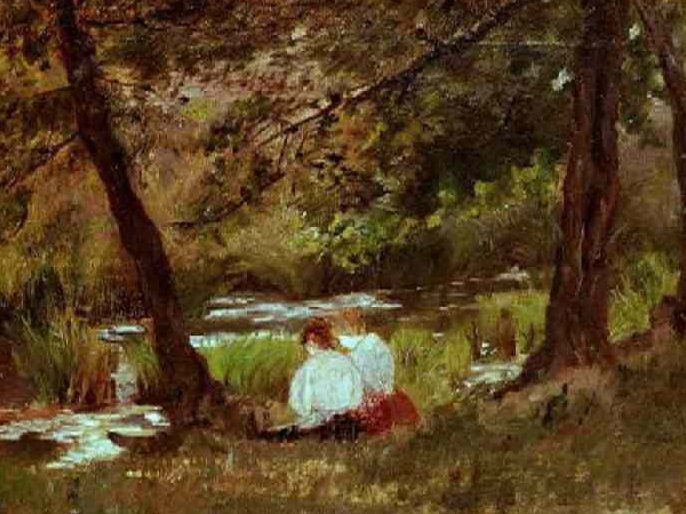 "Two Women Seated by a Woodland Stream" was painted in 1869 and resides in a private collection. Mary Cassatt did exhibit her work in France. She painted ordinary people enjoying relaxed and informal activities. It was not easy for an American woman artist to be welcome to exhibits. While many artists worked all year to exhibit work Mary exhibited fewer works usually chosen by her teachers. I love the peace and camaraderie of this painting. The cool serenity draws me into it.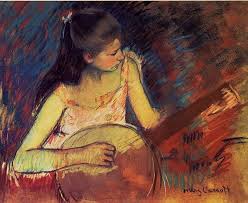 "Girl with a Banjo" was created in 1894 and resides in a private collection. It is pastel on paper. Cassatt was a master at impressionism. The intensity of this young lady playing her banjo is palpable in the colors and the sureness of the brushstrokes. Cassatt created depth and feeling in her work.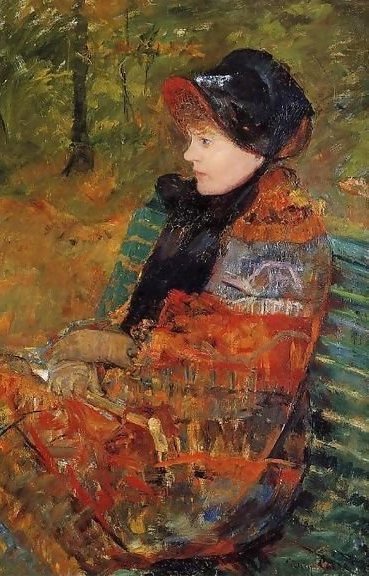 "Portrait of Lydia Cassatt" After Cassatt's parents and sister Lydia joined Cassatt in Paris in 1877; Degas, Cassatt, and Lydia were often seen at the Louvre studying artworks together. Lydia passed away in 1882. Lydia often was Mary's model. Mary mourned her sister and indeed was unable to paint for a time. Mary's paintings of Lydia reside in museums and private collections around the world. Lydia has a lasting beauty. In this painting we are treated to autumn colors and we see Lydia in deep thought, a quiet moment. But we feel the autumn chill in the air and the rustle of a breeze across leaves.
I read an article by an art critic recently indicating Mary Cassatt was a "spoiled rich hippy girl who went to Paris on an adventure". Mary Cassatt attended the Pennsylvania Academy of the Fine Arts in Philadelphia. There wasn't a diploma issued at the time. In the 1800's women in art were not taken seriously. Mary's parents did not approve of her desire to build an art career for herself. In 1866 Mary moved to Paris and found art teachers who agreed to take her as a student. Even in Paris women were not considered serious artists but Mary persisted. Mary returned to the USA for a short time and returned to Paris in 1871 taking commissions. She met Edgar Degas who invited Mary to show her art with the Impressionists. Her father agreed to finance her basic needs but he told her he would not pay for art supplies or studio space. Art sales had to support those expenses. In the mid 1800's moving to a new continent determined to achieve her dream doesn't sound like a "spoiled rich hippy girl" to me. She sounds like a warrior woman.
If you like what you read please consider sharing it with your friends! Did you know we rely on our friends to spread the word about us? Every time you share I get 14-19 hits on my website. That is huge to any small business. It doesn't take long, honest. And I will be very grateful if you talk to your friends about my art. Thank you!
See you next time!
Christine Adams / artbycadams@gmail.com / www.artbycadams.com