www.artbycadams.com presents My View Has Changed!
I live just outside of town surrounded by farming. It's dusty, and it's very hot in the summer, it's quiet and has its own speed. But not last week! We did know what was about to happen. We just didn't know how delightful it would be to watch it happen! The earth trembled under my feet.
Floyd Johnston Construction, Inc. was founded in 1969 by Floyd and Evelyn Johnston. They are located in Clovis, California. In January of 2013 the Johnston family lost Floyd in a plane crash. I have never met Evelyn Johnston but I imagine her strong, determined and resolute. She carried on as one does, with her children and the people who worked for her. I do celebrate the warriors in our society and Evelyn Johnston is a Warrior Woman.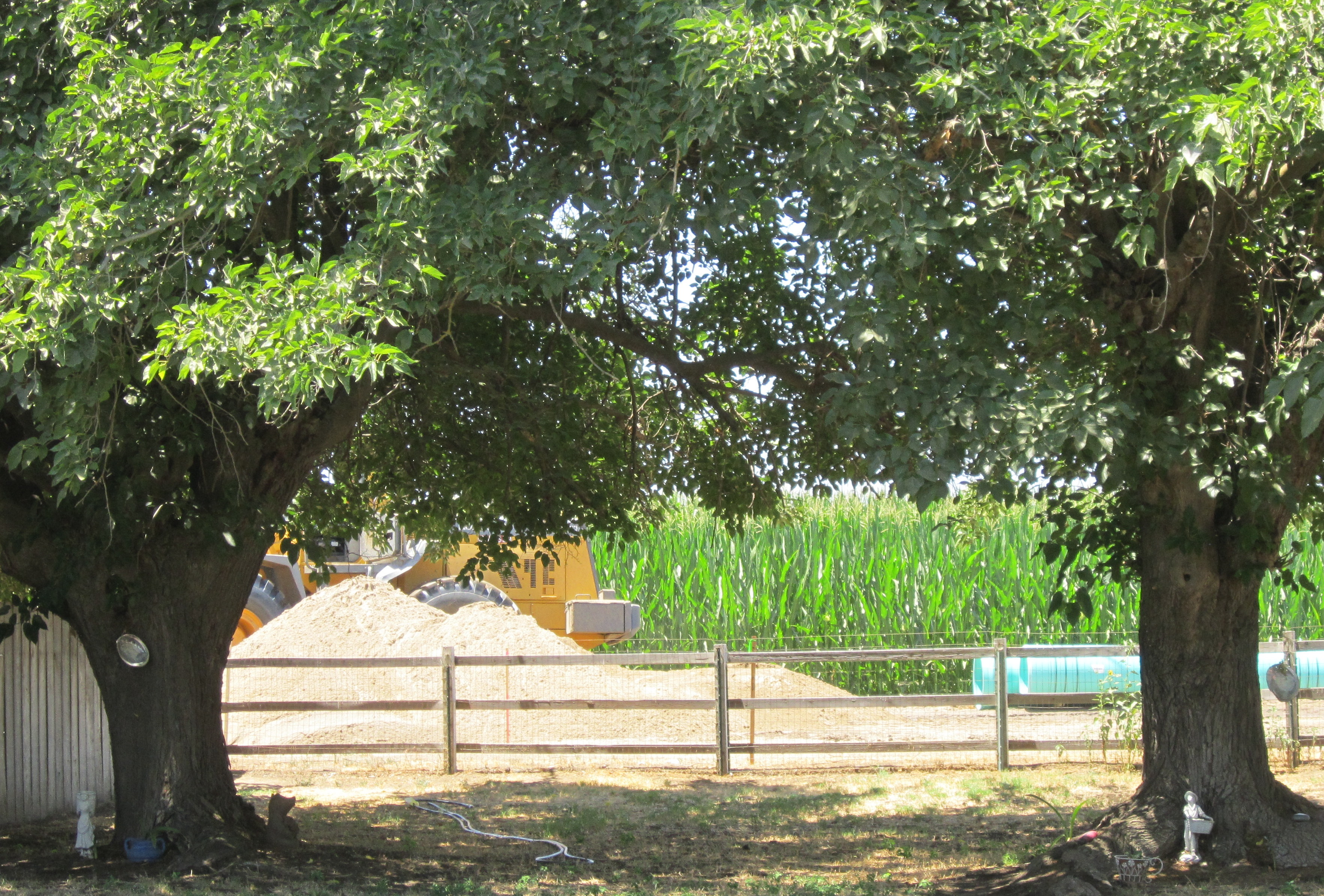 I like my view. I love these mulberry trees and the shade they offer. It made it so delightful to be able to sit outside 20' from where the action was. There is a wonderful breeze across the ground here on hot days!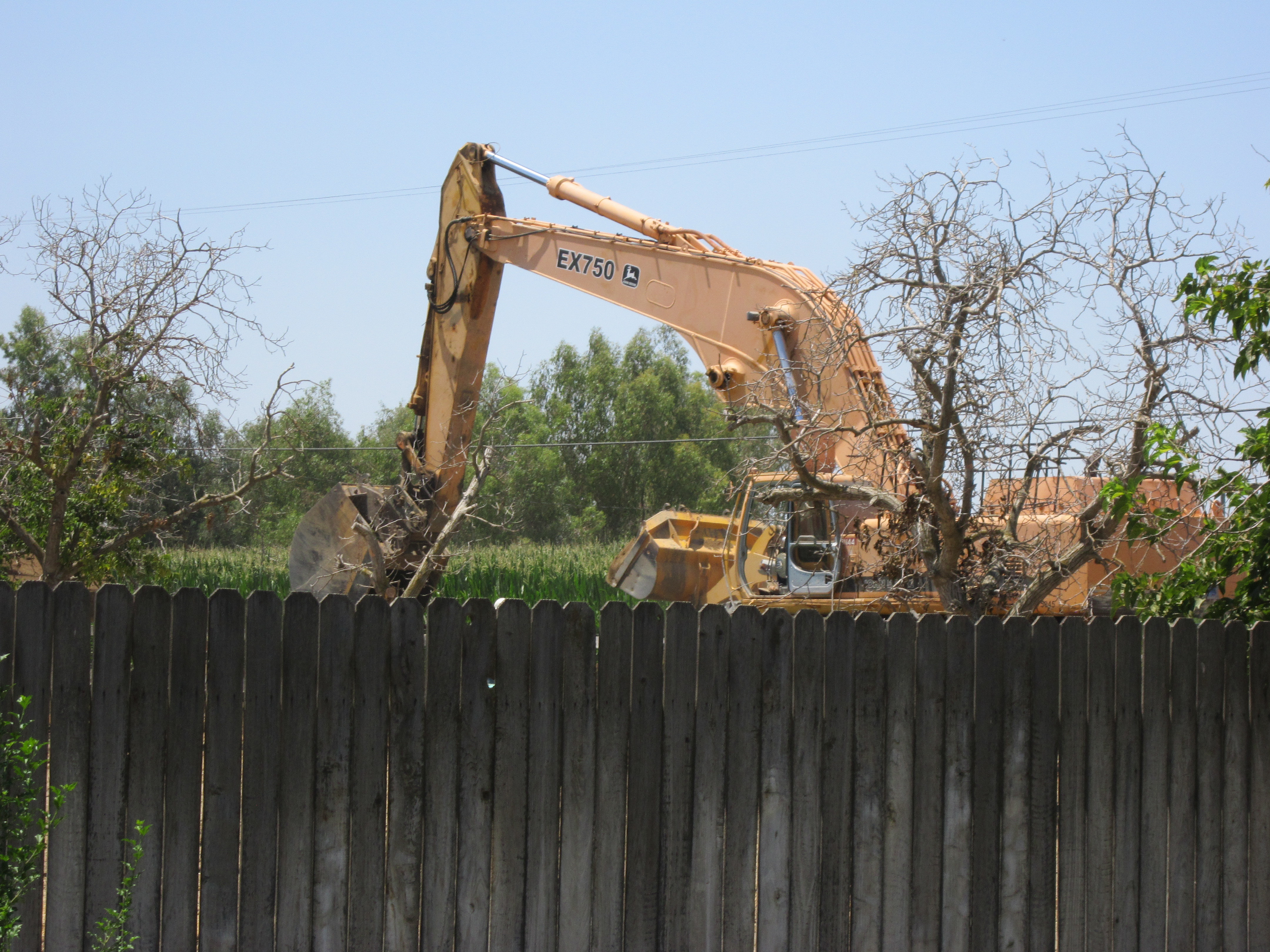 They looked like Transformers making their way up the street. This was my first time being up close and personal with equipment that weighs over 160,000 pounds. This is over our fence as they worked ain front our neighbor's house. We are getting sewer pipes installed. The trench is 16' in front of our house. The pipe is 27'.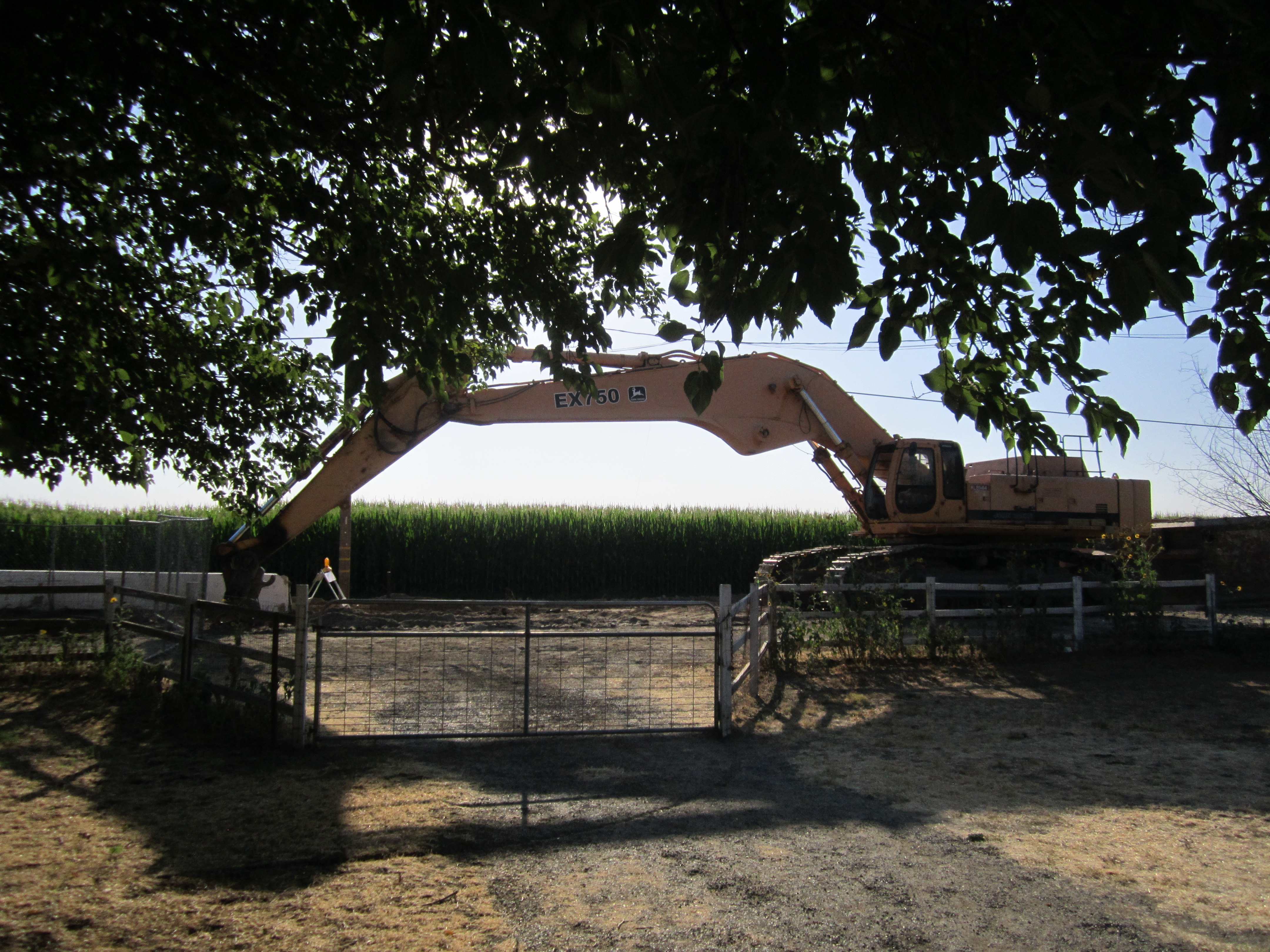 This is a John Deere EX750. It weighs over 170,000 lbs. In this photo it is on the other side of our gate. It is a monster, multitasking machine! I have never seen equipment that large. You know how people who are great at something make it look easy? The people who worked this project made it look like a dance of the tonnage! I watched the sunset and thought about my Dad, who was a heavy equipment operator back in his day.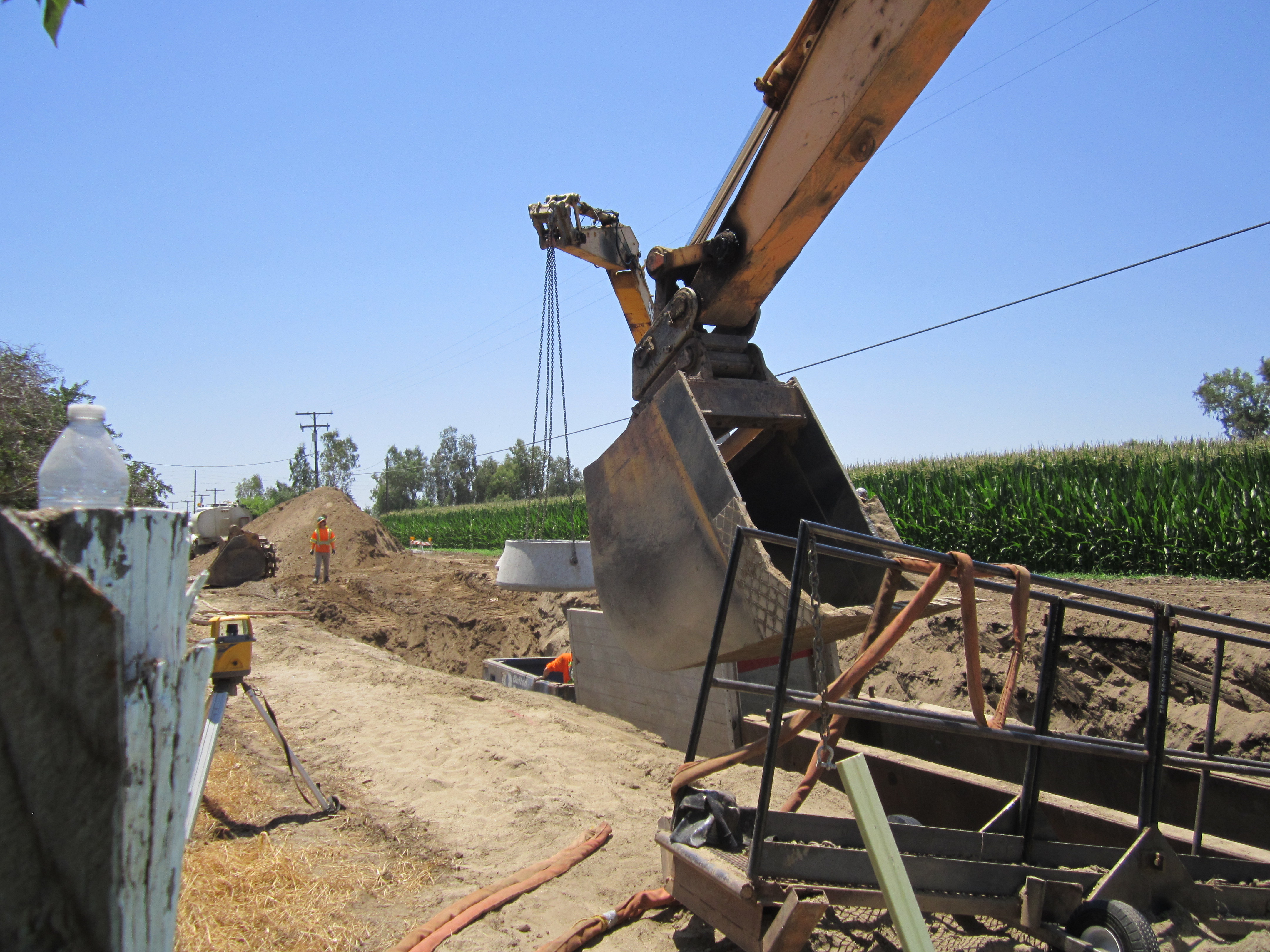 This was the tiniest of adjustments. This was my moment of recognition of the magic touch of the operator! Light touches with that bucket put the ladder exactly where it needed to be, aligned. I marveled the operator of this massive machine could have diapered a baby with his soft touch! 170,000 pounds! Who would have thought you could light touch it like this!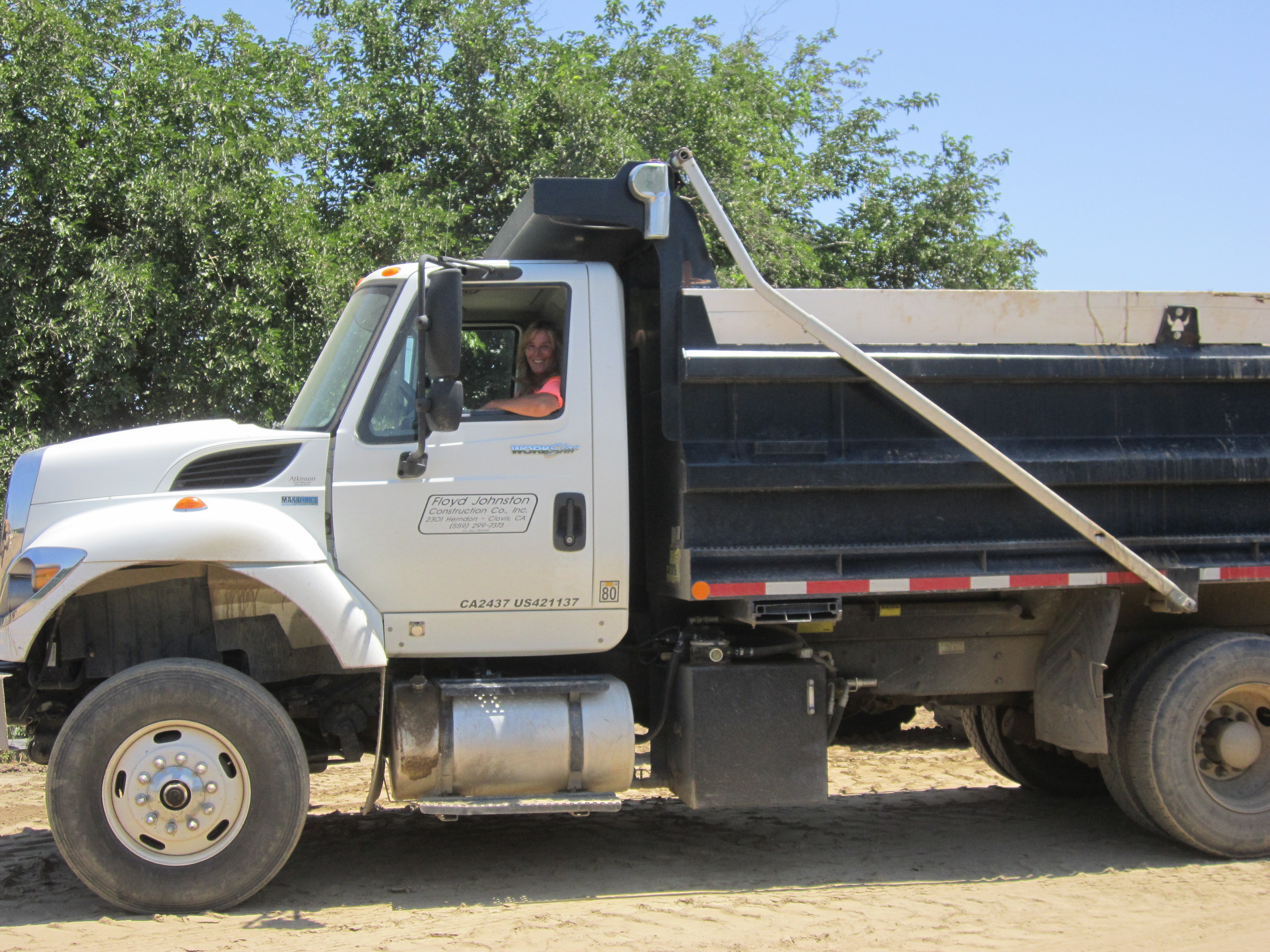 Girl Power Rocks! This wonderful woman is in her dump truck working the dirt. They pull it out of the ground, add water, toss it around a few times to loosen it for new compaction and then backfill the trench. The process looks like giants dancing. These people have a great time doing their jobs. This woman has worked with Floyd Johnston Construction Co. Inc. Clovis, California for 13 years. She does everything with enthusiasm and smiles. She ROCKS!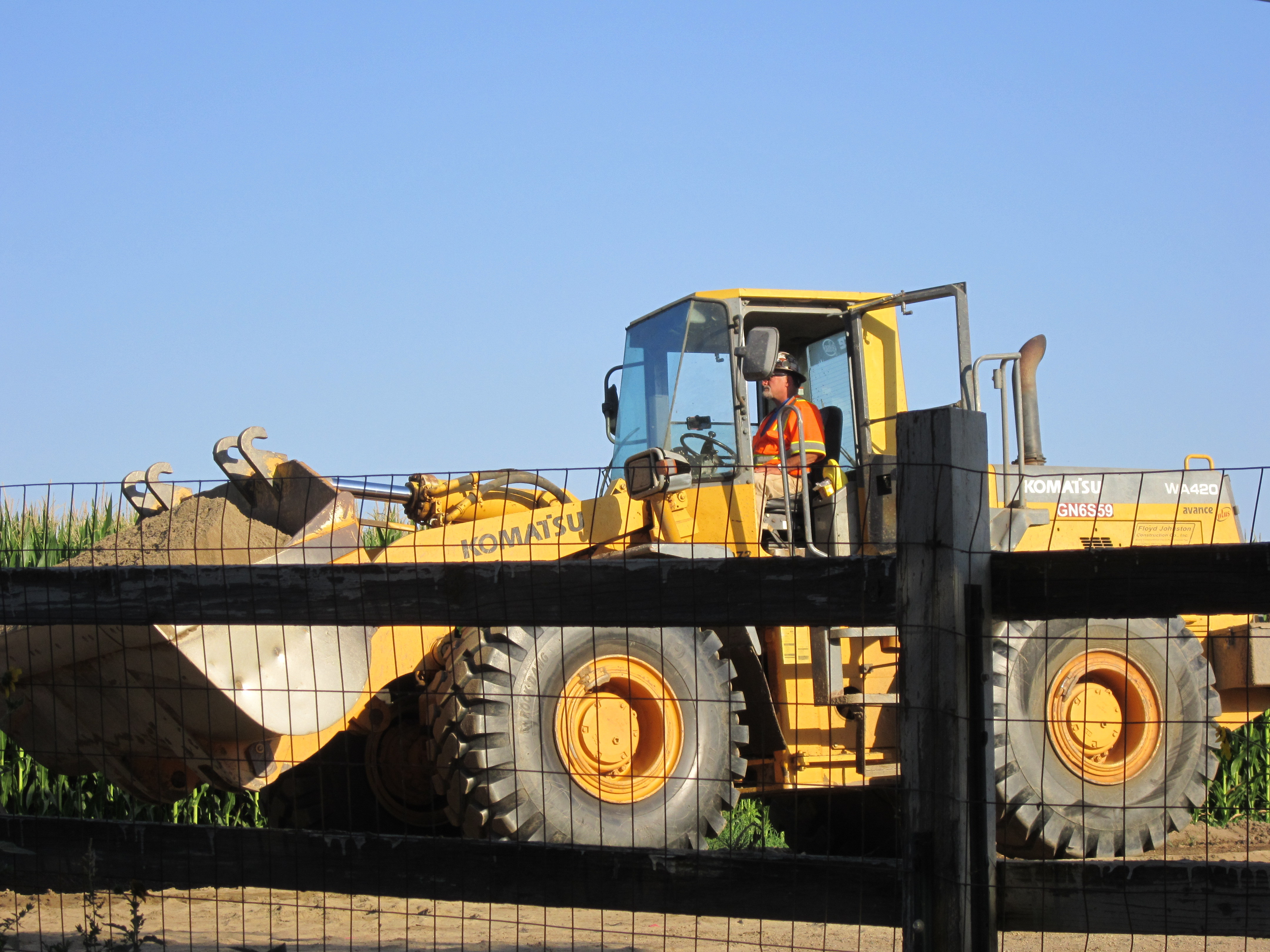 It really wasn't as loud as I thought it would be. It is clear most of these folks worked together for a very long time. Their focus is extraordinary. They are exactly where they need to be when they need to be there. And everyone is aware of where they are. It is a tight team working here. There are many tasks going on at the same time. There are people in that trench guiding, grading, adjusting and connecting pipes. They work inside a shield to protect them from accidents.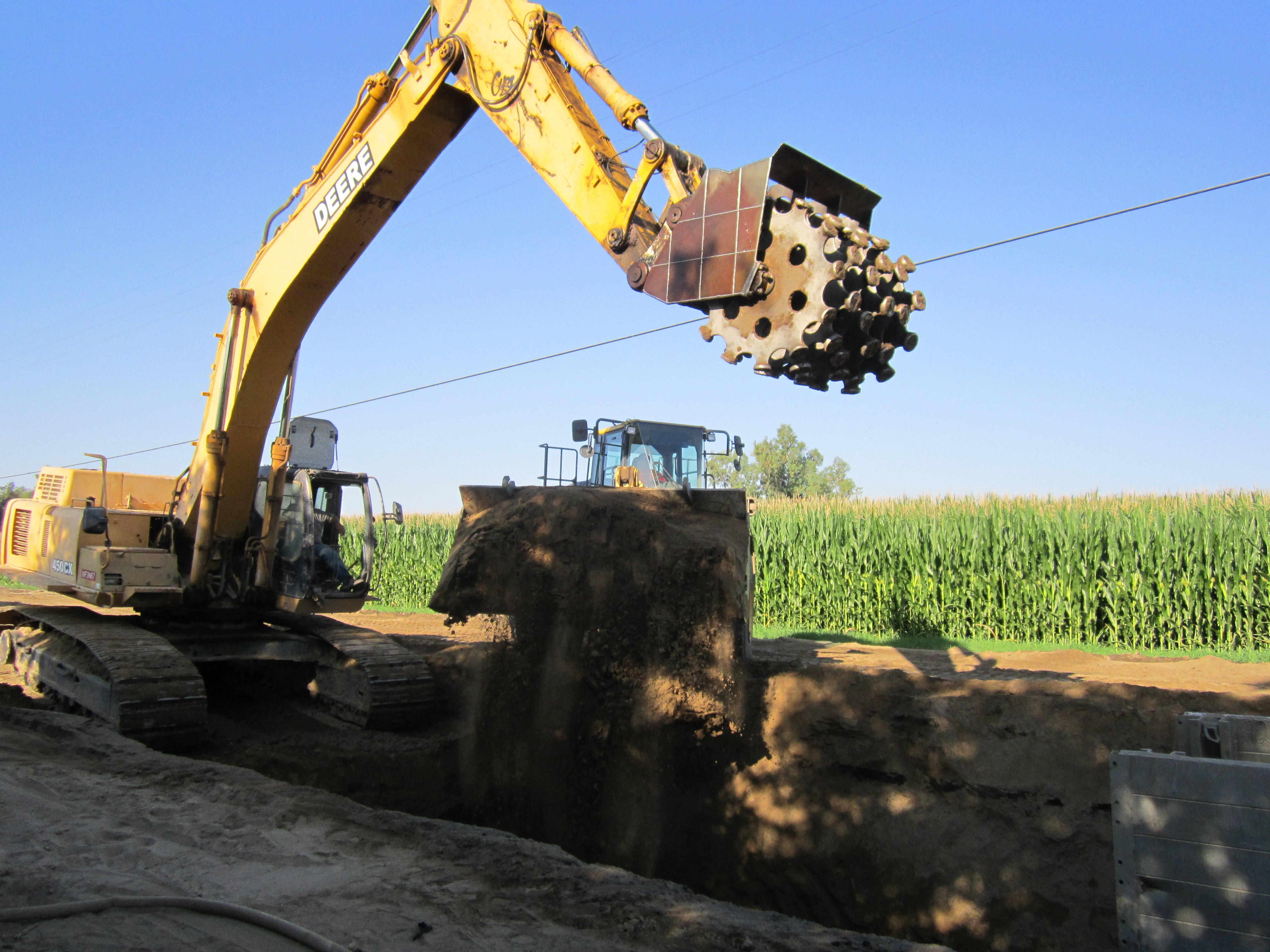 The John Deere 450 weighs around 90,000 lbs. It compacts dirt in this photo. The Komatsu WA470 hustles all over the place. I saw the dance! The arm on the 450 goes up, in a nanosecond the Komatsu dumps a load of dirt and the 450 goes back to compaction. The Komatsu is an amazingly nimble 52,000 lb. machine. It matriculates to increase range and the rear wheels have a 30 degree turn radius. It truly was like a dance for this team. The operators make it look graceful. Looking at their faces it's about focus.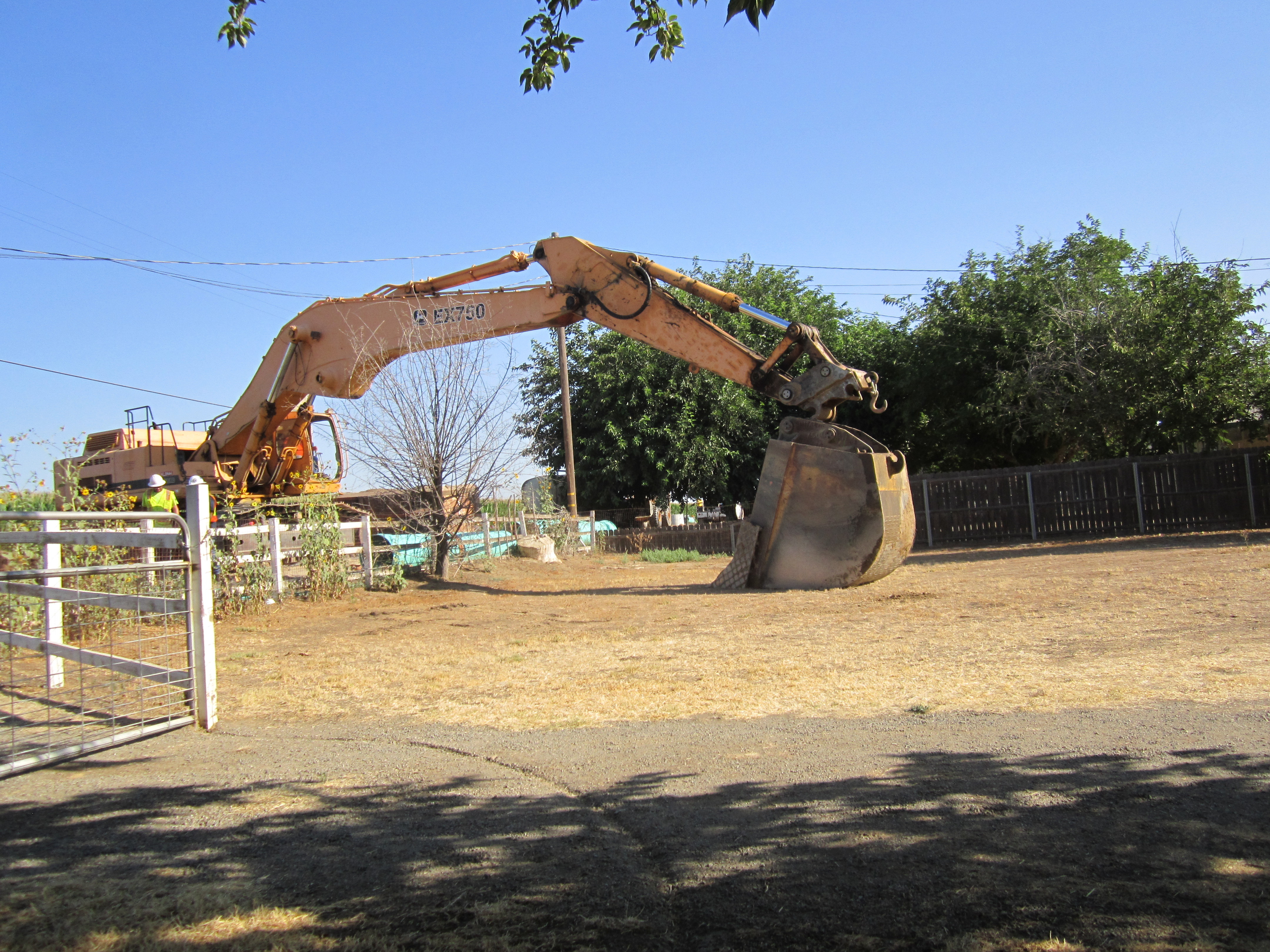 The bucket is 1 cubic yard. The 750 lifted it over the fence and gently put it down in my yard. I was amped. I did stay out of the way but I let the delight of watching this team work change the way I will remember 2020!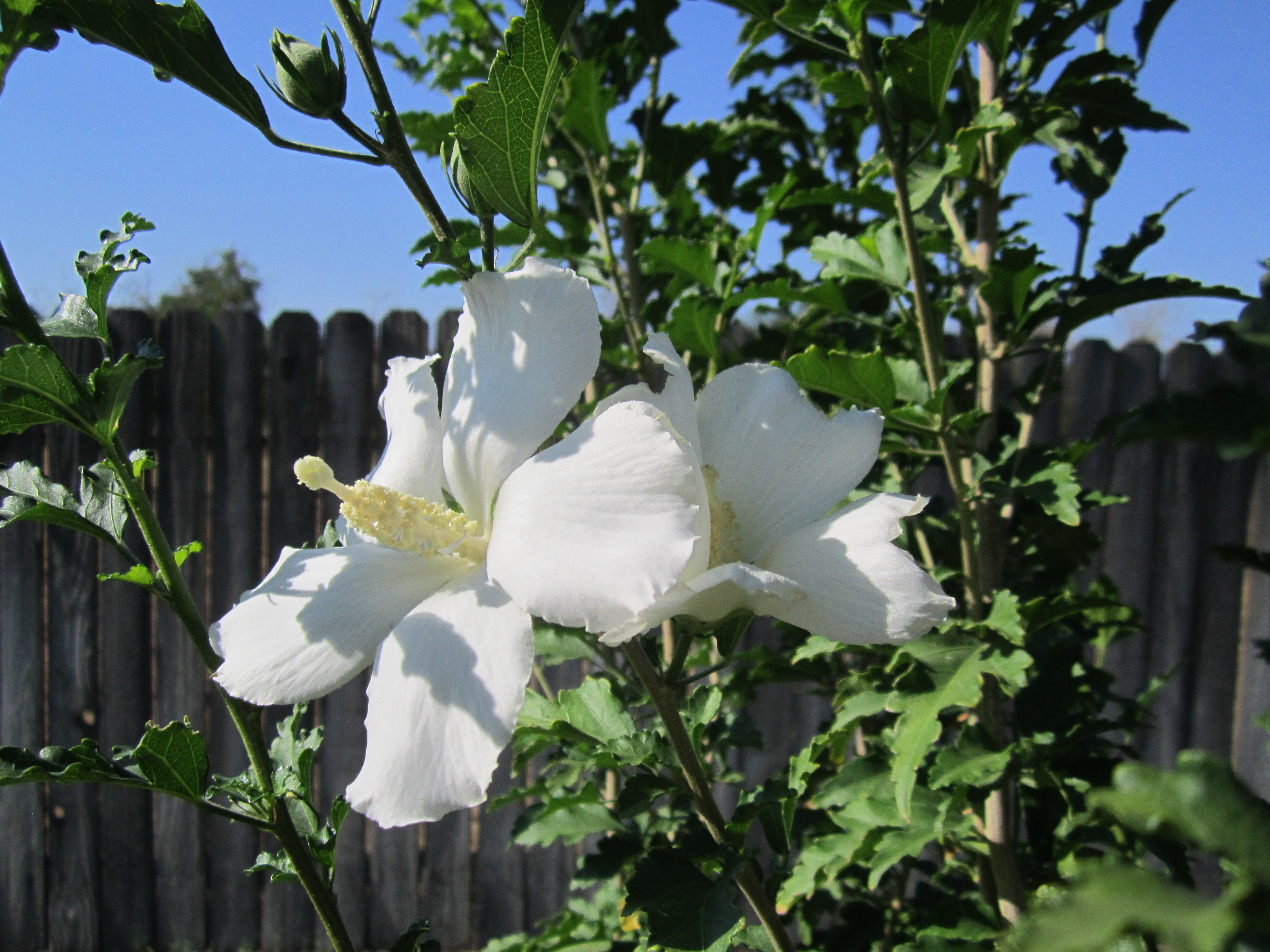 The ground really did tremble. My Rose of Sharon loved the whole lotta shakin going on! 2 blossoms on the same branch never happened before! And every day she has new blossoms. I think she is delighted too!
I was excited when these folks came down our street. It was just the best to watch such a tight team work together. The focus is palpable early on. This is the memory I choose to focus on for 2020. It was something special to me. My father was a heavy equipment operator. I watched him work. I appreciated his knowledge and dexterity. The equipment is so much different now, and certainly this equipment is much bigger than what Dad operated. My own fascination was just as strong now as it was years ago when I watched Dad.
I want the folks at Floyd Johnston Construction to know how much I appreciated their work. It was the highlight of my year to watch you work!
I hope you enjoyed this newsletter. If you did like what you read I hope you will share it with your friends! I love referrals!
See you next time!
Christine Adams / www.artbycadams.com / artbycadams@gmail.com