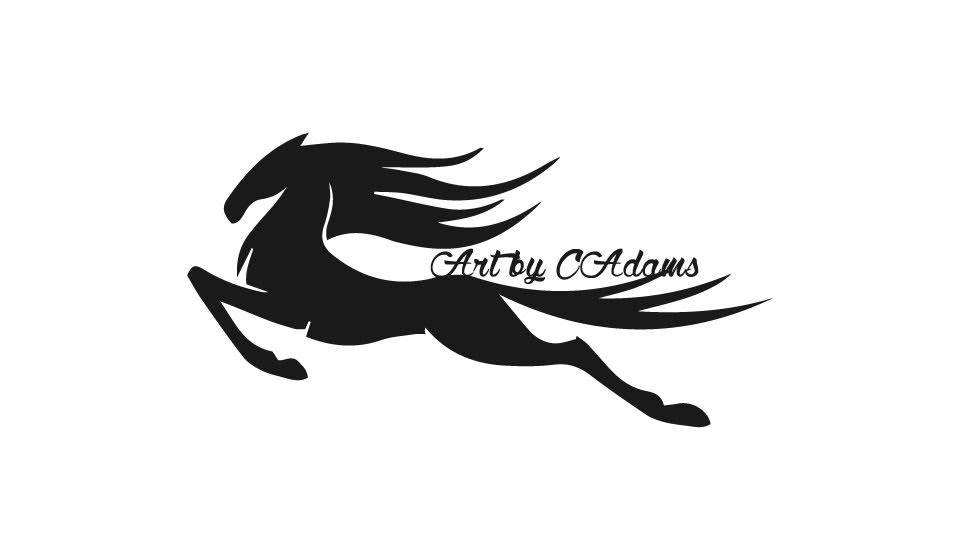 During this pandemic I decided to learn more Vincent Van Gogh. Many artists change and enhance styles, try new things. In February of 1888 Vincent went to Arles. It was a quiet place, where farming and space to provided quiet inspiration to a brilliant artist who wanted to become better. The time he spent in Arles was a prolific period. In less than 444 days van Gogh made about 100 drawings and produced more than 200 paintings. Yet, he still found time and energy to write more than 200 letters. While he painted quickly, mindful of the pace farmers would need to work in the hot sun, he spent time thinking about his paintings long before he put brush to canvas.
I saw a movie called At Eternity's Gate recently. I loved it and highly recommend it to you. The film was made in 2018 and it covers the period Vincent worked and lived in Arles. Vincent was on fire as an artist at that time. He was being appreciated because he produced powerful paintings. In my opinion what he produced during this period is astounding. Willem Dafoe plays Van Gogh and is superb. Vincent honed his painting and sketching skills during this time, doggedly, in spite of heavy criticism. While many truly admired his artistic brilliance his brother, Theo did not waver in his support of Vincent.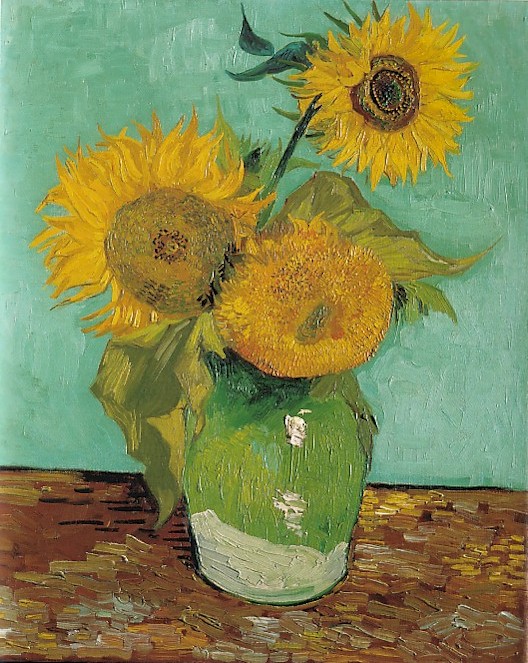 Vincent planned a dozen sunflower works to be hung in the Yellow House in Arles which he and Paul Gauguin would use for a studio. Without question, the most valuable resource with regards to insights into the development and execution of Van Gogh's works are his letters to his brother, Theo, and others. In his typically detailed and precise manner, Van Gogh describes the origin of the first three works in this series: I have 3 canvases on the go, 1) 3 large flowers in a green vase, light background 3 flowers, one flower that's gone to seed and lost its petals and a bud on a royal blue background (no. 3) twelve flowers and buds in a yellow vase. So the last one is light on light, and will be the best, I hope." A few days later Vincent writes "I'm now on the fourth painting of sunflowers. This fourth one is a bouquet of 14 flowers and is on a yellow background.
3 Sunflowers in a Vase was painted in August of 1888. It currently is in a private collection.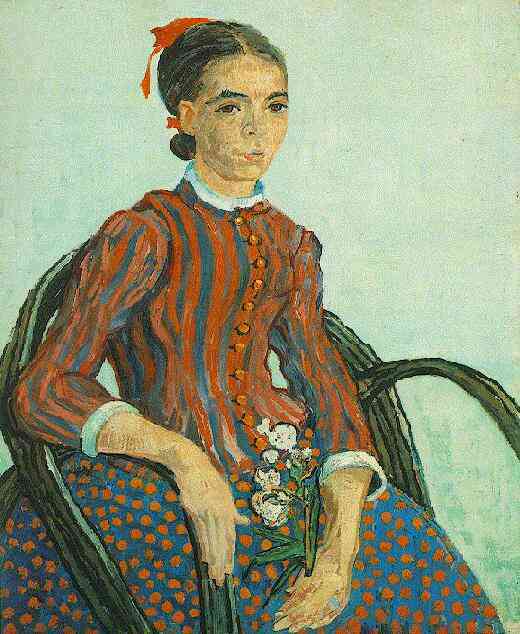 "la Mouseme, Sitting" was painted in 1888 and resides at the Washington National Gallery. During his time in Arles Van Gogh was at the height of his career but he was troubled in his mind, appreciating the quiet rhythm of life in Arles. Van Gogh's use of color is intended to be symbolic in this painting. The audience is drawn in by his use of contrasting patterns and colors that bring in an energy and intensity to the work. Complementary shades of blue and orange, a stylistic deviation from colors of Impressionist paintings that he acquired during his exploration in Paris, stand out against the spring-like pale green in the background. La Mousmé's outfit is a blend of modern and traditional. The bright colors of skirt and jacket are of the southern region of Arles. Regarding van Gogh's painting of her features, his greatest attention is focused on the girls face, giving her the coloring of a girl from Arles, but with a Japanese influence. The young lady's posture mimics that of the oleander. The flowering oleander, like the girl, is in the blossoming stage of life.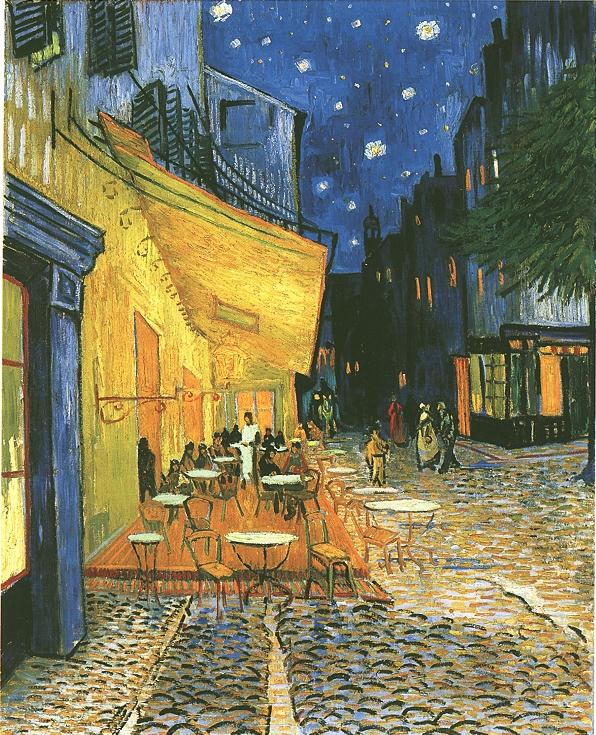 Vincent Van Gogh's The Cafe Terrace stands as one of the painter's most remarkable works. It is also, without question, one of the most famous produced in Van Gogh's brief but prolific career. Vincent was enthusiastic about The Cafe Terrace and wrote to his sister Wil:
In point of fact I was interrupted these days by my toiling on a new picture representing the outside of a night cafe. On the terrace there are tiny figures of people drinking. An enormous yellow lantern sheds its light on the terrace, the house and the sidewalk, and even causes certain brightness on the pavement of the street, which takes a pinkish violet tone. The gable-topped fronts of the houses in a street stretching away under a blue sky spangled with stars are dark blue or violet and there is a green tree. Here you have a night picture without any black in it, done with nothing but beautiful blue and violet and green, and in these surroundings the lighted square acquires a pale sulphur and greenish citron-yellow colour. It amuses me enormously to paint the night right on the spot. They used to draw and paint the picture in the daytime after the rough sketch. But I find satisfaction in painting things immediately.
More than one hundred years after Vincent painted it, the Cafe Terrace is still in Arles serving drinks to its thirsty patrons. It's now called the Cafe Van Gogh, appropriately enough, and has been remodeled to appear as it did more than a century ago--yellow-lit awning and all.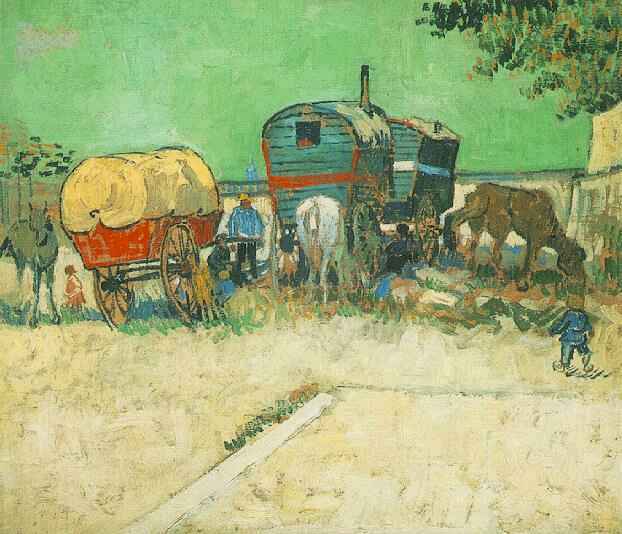 "Encampment of Gypsies with Caravans" was painted in Aug. 1888. It now resides at the Musee d'Orsay in Paris. On 20 February 1888, Vincent van Gogh arrived in Arles. Before that, he had lived in Paris for two years, where he had developed a thoroughly modern style of painting.
During the more than fourteen months which he spent in Arles, he created a multitude of paintings and drawings, many of which are nowadays seen as highlights of late 19th century art.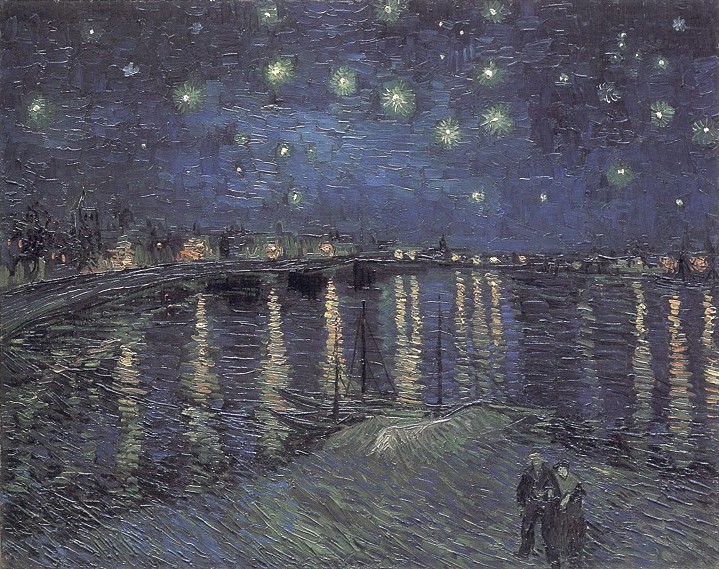 "Starry Night Over the Rhone" was painted in September, 1888. It now resides in the Musee d'Orsay in Paris. Vincent is deservedly famous for the starry night series of 4 paintings and in his letters to Theo, his brother Vincent was quite happy with this one. Vincent tried to convey ambiance in these paintings including the smells in the air, the peaceful movement of water with the dances of light across the canvas.
I wish you all a calm and pleasant stretch of time at home! I hope you and yours stay safe throughout this fight with Covid 19. If you like what you read please consider sharing it with your friends. I love referrals! See you next time!
Christine Adams
artbycadams.com / artbycadams@gmail.com