Georgia O'Keeffe is one of the most significant artists of the twentieth century. She is known internationally for her boldly innovative art. Her calm and distinct flowers, dramatic cityscapes, glowing landscapes and images of skeletons against the stark desert sky are iconic and elegant contributions to American Modernism. I go to her art for calm and serene moments.
She was born on November 15, 1887 and grew up on a farm in Wisconsin. She studied at the Art Institute of Chicago and the Art Students League in New York where she learned techniques of traditional realist painting. In 1912 she met Arthur Wesley Dow and her art direction changed dramatically to pure abstraction. She is one of the first American artists to study and produce purely abstract works of art.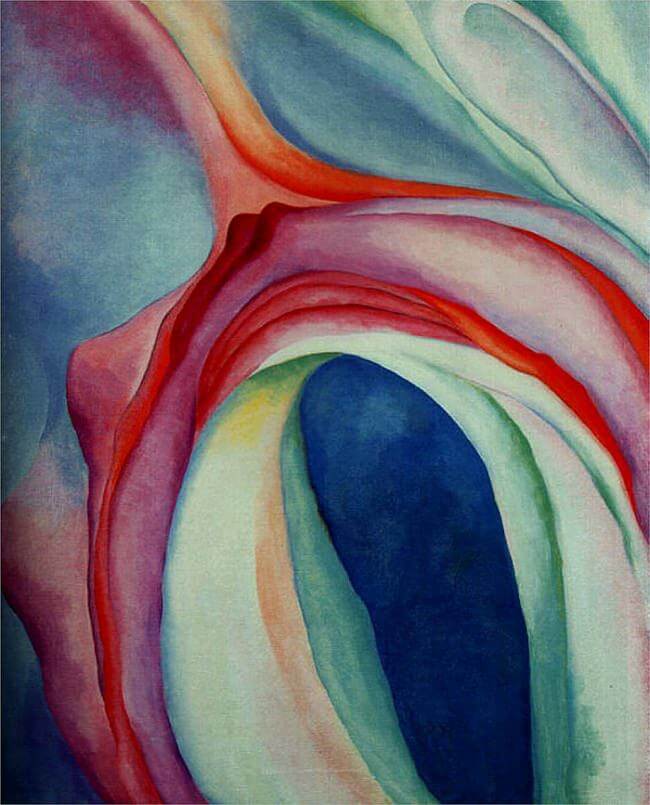 "Music Pink and Blue No. 2" was painted in 1918. "I found that I could say things with color and shapes that I couldn't say any other way; things that I had no words for." Georgia wrote. Music, like painting, does not need words in order to feel and understand. In this piece, to me, O'Keeffe turns music into a visual form that changes form and makes us feel. The Feminist Movement of the 1970's attempted to use Georgia's floral paintings as an expression of "feminine iconography" but she refused to collaborate with the movement. Georgia's point of view was that biologically the centers of flowers are androgynous, not feminine though Sigmund Freud wrote they were the artists' expression of desire. Georgia O'Keeffe felt her flowers were tributes to sensual forces and the ecstasy of nature itself.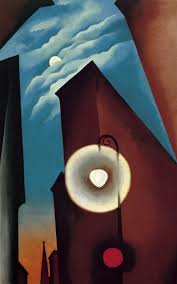 New York Street with Moon is oil on canvas and was painted in 1925. We see the round white disk of the moon slip sensuously in and out of the passing clouds. The sky is still blue, but the buildings are shadows, silhouettes against the sky. The street light seems an unearthly presence, its aura almost like a halo. The red sky of dusk at the base of the painting sets off the spire of a church steeple to create a surrealistic effect. Georgia commented at the time she showed this painting, "One can't paint New York as it is, but rather how it is felt." At the time this was painted the artist lived on the 30th floor. We do get a sense of the airless oppression of the skyscrapers from Georgia, who was raised on a farm. Still, there is a calm joyousness, of New York in this, her first painting of the city.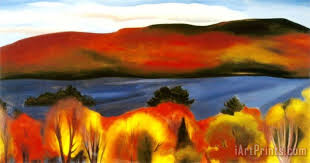 "Lake George Autumn" was painted in 1927. Georgia lived at this lake from 1918 to 1934. In this painting of this Lake O'Keeffe departs from the more familiar landscape composition by removing the shoreline, eliminating extraneous detail. It brings the landscape to its most elemental form. Georgia pushed the boundaries between descriptive and abstract ever further.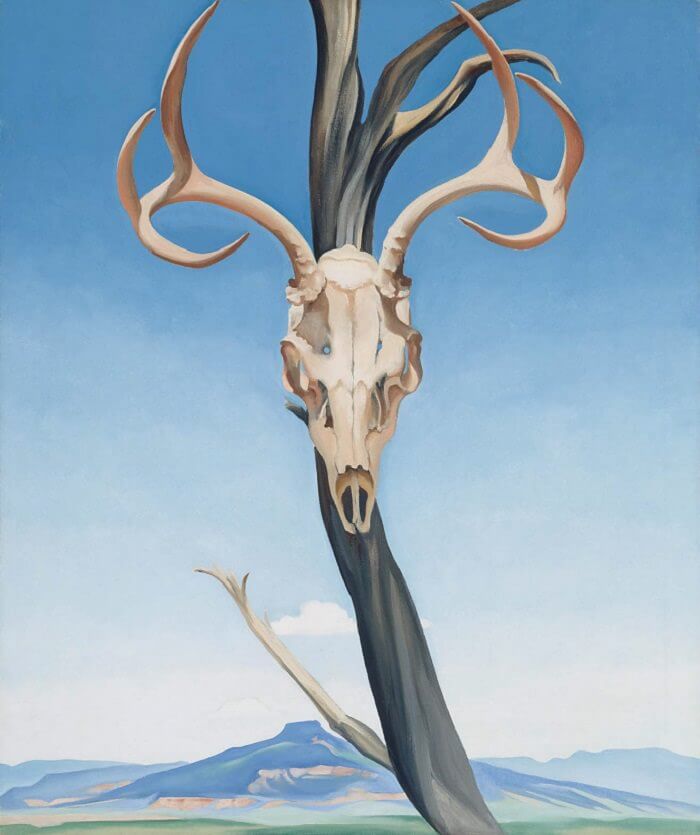 "Deer's Skull with Pedernal" was painted in 1936. At first this painting appears a faithful depiction of recognizable elements presented in a realistic way. Second look, stepping back from it the underlying surrealism emerges. The skull hangs on a weathered tree. Then we see O'Keeffe painted the sky showing through the eyeholes. The top offshoots of the tree echo the forms made by the antlers in front of them. The small branch at the base of the tree curves at the top to harmonize with the shape of the Pedernal. Even the dramatic special arrangement of the composition provokes a sense of unreality by collapsing foreground and distance. This painting has always been a masterpiece to me.

"Blue Morning Glories" was painted in 1938. The image is astoundingly simple. We don't see full florals, we see cropped images and we see the flower close up. Does this technique encourage us to view the contours and the shapes? Does it allow the colors to guide our eye? "When you take a flower in your hand and really look at it, it's your world for the moment. I want to give that world to someone else."-Georgia O'Keeffe. I find the image astoundingly simple and peaceful. To me it is calming. This has always been a favorite of mine. It is intriguing and captivating all at once.
There were periods in her life when she stopped painting. By the end of 1908, Georgia left pursuing a career of an artist as she thought she could never distinguish herself as an artist with what she was learning. After four years she attended a class where she was introduced to the innovative ideas of influential arts educator Arthur Wesley Dow. This inspired her to paint again. She later took classes from Wesley Dow while attending the Teachers College of Columbia University. Dow had a great influence on her and changed the way she thought about the process of creating art.
Toward the end of her life her eyesight began to fail. She stopped painting unless she had assistance but she participated in a movie about her life. Juan Hamilton taught her to work with clay, and with his assistance she still produced art, watercolors and she worked in charcoal. I think this determination to pursue art in whatever form she makes her one of the most iconic women in art. It's that tenacity and willingness to create art for art's sake makes me admire her even more.
I hope you enjoyed reading about Georgia O'Keeffe as much as I enjoyed writing about her. If you did I hope you will consider sharing this with your friends. I love your referrals and I appreciate each and every one. And have yourself a wonderful 2020!!
Christine Adams
Artbycadams.com / artbycadams@gmail.com