Artbycadams.com presents Vincent Van Gogh, the rest of the story
From May, 1899 to May 1890 Vincent Van Gogh resided in an asylum at St. Remy. Vincent had issues, as many of us do. His issues got the best of him often. Was he bi-polar, schizophrenic? I sometimes think he was mostly creating. Often when I paint I am unaware of anything else but the art in front of me. Most of the time I am in the place I want to be for that particular piece, whether it be joy, thoughtfulness or whatever I am trying so hard to capture. I often go to Van Gogh paintings to see how it speaks to me. Did I capture the smell of freshly mown grass, or recently watered orchards, or blossoms on the trees as Vincent Van Gogh would? Van Gogh produced over 2000 pieces of work during his years as a painter. 900 paintings and an estimated 1100 drawings, and that is only what can be confirmed. I choose to believe Van Gogh was a genius and a deep thinking man alone in his own head. Art is something we do by ourselves. We isolate ourselves so that we can focus on the art. In this stretch of time there is nothing else. These paintings were created by Vincent Van Gogh during the year he spent at the asylum in Saint Remy de Provence. We only hope people appreciate them.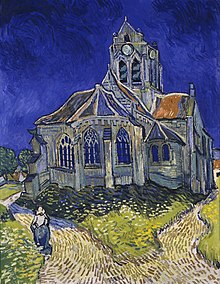 The Church at Auvers is an oil painting Vincent created in June of 1890. It now hangs in the Musee d'Orsay in Paris.
In a letter to his sister Wilhelmina in June of 1890 Vincent wrote "I have a larger picture of the village church - an effect in which the building appears to be violet-hued against a sky of simple deep blue colour, pure cobalt; the stained-glass windows appear as ultramarine blotches, the roof is violet and partly orange. In the foreground some green plants in bloom, and sand with the pink flow of sunshine in it. And once again it is nearly the same thing as the studies I did in Nuenen of the old tower and the cemetery, only it is probably that now the colour is more expressive, more sumptuous."
The front of the church is swathed in shadow. I can feel and sense the cool dampness with the sparkles of green plants glistening in the sunlight. Our eyes drink in this exquisite painting and revel in the moment depicted.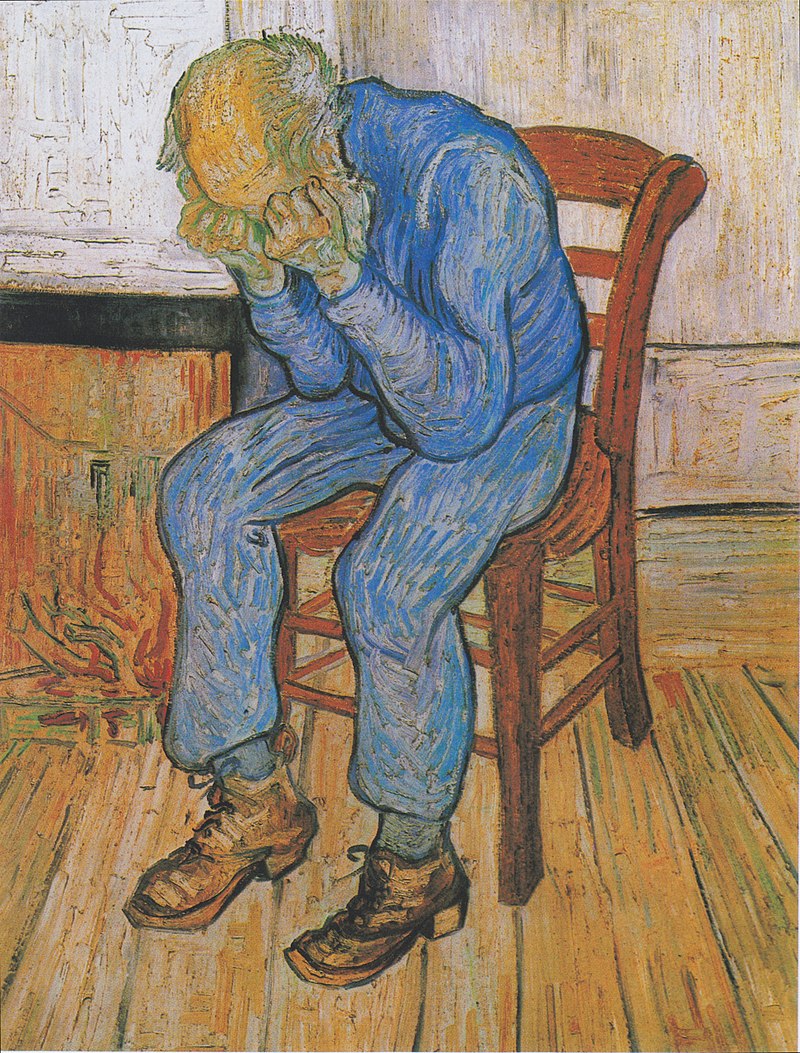 Sorrowing Old Man is an oil painting Vincent created in 1890 while in Saint-Remy de Provence. The painting is based on an early lithograph and was completed in early May. Vincent was convalescing from a severe relapse in his health approximately two months before his death from a gunshot wound to his chest. I see clearly the sad and devastating depression in this figure. Yet we see color and masterful composition so we can feel the despondency of this sorrowful man and the personal hell he lives in.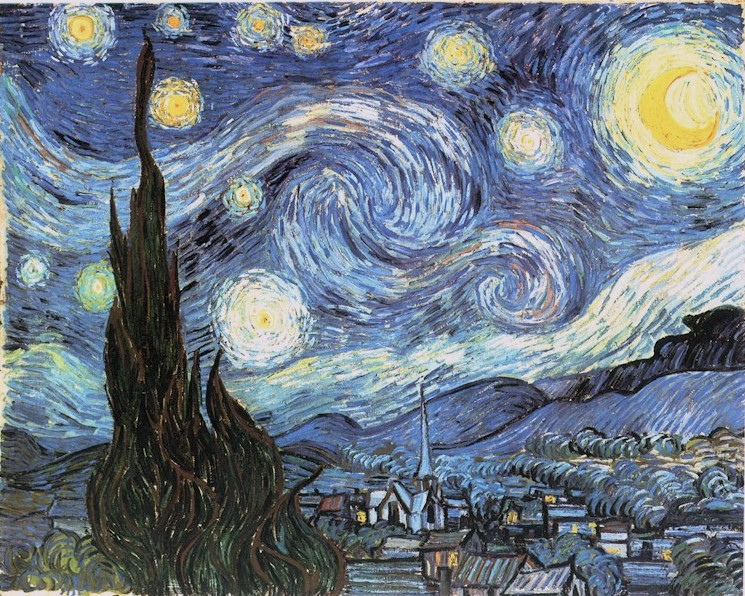 "Starry Night" was painted in June of 1889 and now resides at the Museum of Modern Art in New York. We see bristling energy in this sky. Our eye travels around the entire painting, lingering in the stars, tasting the air. This is one of the most recognizable pieces in the world. Vincent uses contours to takes viewers on an adventure. Colors are vibrant and elegant.
'Look, I have had another dream' he said, 'I thought I saw the sun, the moon and eleven stars, bowing to me.'
Van Gogh painted Great Peacock Moth in 1890 during his time at the asylum in Saint-Remi de Provence. He sketched it first in 1899 and used his sketch later to finish the painting. In a letter to his friend Van Gogh used the miracle of transformation from caterpillar to butterfly to consider what possibilities may be available to the universe.
"Since nothing confutes the assumption that lines and forms and colours exist on innumerable other planets and suns as well, we are at liberty to feel fairly serene about the possibilities of painting in a better and different existence, altered by a phenomenon that is perhaps no more ingenious and no more surprising than the transformation of a caterpillar into a butterfly or of a grub into a maybug.
The existence of a painter-butterfly would be played out on the countless celestial bodies which, after death, should be no more inaccessible to us than the black dots on maps that symbolize towns and villages are in our earthly lives."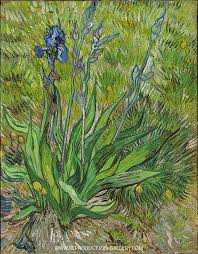 Iris is oil on paper on canvas painted by Vincent while recuperating at Saint Remys. It is in the permanent collection at the National Gallery of Canada in Ottawa, Ontario. I am one lucky admirer and have seen this painting often. I used to visit the National Gallery and always made sure this painting was displayed before I went. It is one of my very favorites. I find it is charming, simple and quite beautiful. I can feel the wind whisper when I look at it, see the delicate petals of the iris flutter lazily. It was painted in 1889 in the garden at Saint Remy. Van Gogh went to nature to soothe his raging soul. He once said he would rather study a blade of grass than think of anything else. I admire that skill.
I love the art of Van Gogh. I think he was brilliant and I admire he pursued his art. His brother, Theo supported Vincent in his art and provided financial support throughout Vincent's adult life. His brother Theo said to Vincent "You are not a good painter. You are a great painter." Theo was right.
I'm giving another plug for the movie "At Eternity's Gate". It's about the last years of Vincent Van Gogh. Willem Dafoe plays Van Gogh with passion. I only knew he died by his own hand. In 2011 a different opinion was offered that Van Gogh was hit by a stray bullet fired by a teenager. The stray bullet theory was portrayed in At Eternity's Gate. This theory was ridiculed but also it now swirls around art historians and is the reason I continued to research Vincent Van Gogh. It's a wonderful movie and I highly recommend it.
I hope you like what you read! If you do like what you read please please share it with your friends. I love referrals! See you next time!
Christine Adams
artbycadams.com / artbycadams@gmail.com