This story is going a little bit sideways now, Friends. My heart raced. I held my breath as I stared in disbelief. I found a piece of art in critical shape in a dusty garage. It had old glass on it, the kind that is very thin and delicate has a wavy move to it. The glass is also highly reflective so obtaining a clear photograph was challenging. I was unsure of what I found. I had to keep looking at it. I could not jinx anything but I saw what I thought I saw. I just don't know exactly what it is. I have to tell you the beginning of the story. It is a Da Vinci mystery.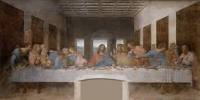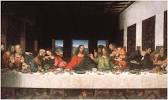 "The Last Supper" measures 15'1" x 29'2" and resides by the refectory of the Convent of Santa Maria delle Grazie in Milan, Italy. It is the most recognizable art piece in the world and is also the most reproduced painting in the world. At the time Leonardo created it frescos were made by mixing paint with wet plaster and applying it to the wall. Da Vinci had no experience with frescos but decided to try a new method using egg tempura applied directly on dry plaster. It has not stood up well at all. Aside from the method he used it has been vandalized, bombed and defaced. It has been restored many times so it is unlikely much, if any of Leonardo's original work remains. Leonardo was careful in the perspective of his faces. It is said he fussed over them and he created many drawings to find what he was happy with and then applied what he learned in The Last Supper. The two images above are both of The Last Supper. The one on the left is after an earlier restoration and the one on the right after the latest restoration.
Leonardo Da Vinci was a studio boy in the workshop of Verrocchio at 14 years old. Leonardo was an illegitimate child and did not have a formal education. Yet still he was brilliant. In his time popular artists had apprentices who completed much of the popular artist's paintings and that is exactly what Leonardo did. And now we turn to my little mystery.
My hope was to learn more about this piece so that I could tell you what I found. It is a print, matted and framed more than 100 years ago and saved all these years by my family. It was not professionally framed but it was carefully mounted and framed. When I found it there was dust all over it so I lovingly took it apart and cleaned it up. I do regret not taking before and after photos! I needed to see what, if anything was on the back of the print. I needed to know how it was matted and framed because there was no question it is Leonardo Da Vinci sitting in the middle of a group of men, with a small dog at his feet. Leonardo doesn't wear any clothing in this print and it looks very much like a judgement day.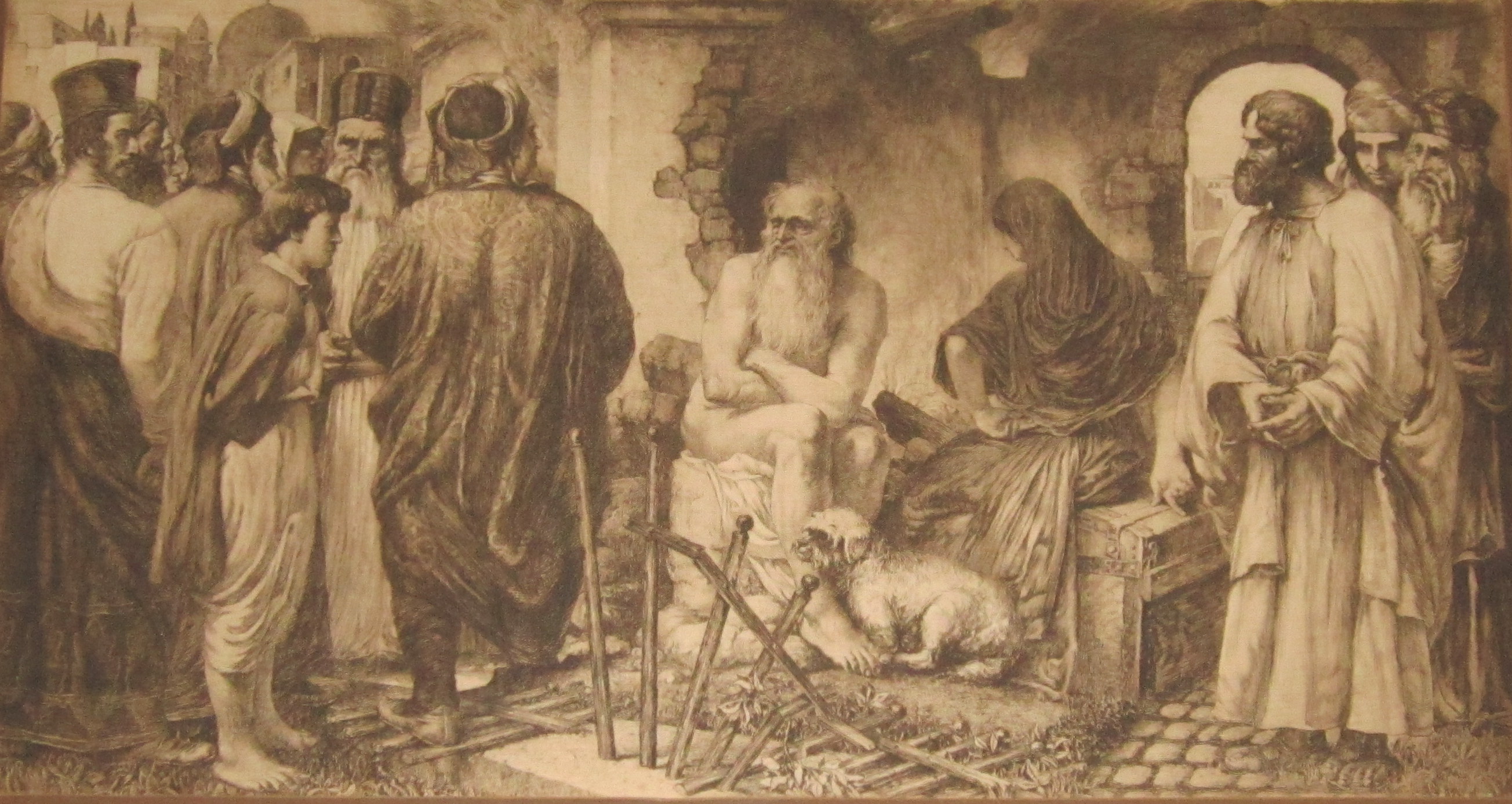 Before I began to work at cleaning this print I considered the subject. We see da Vinci sitting without clothing watching a group of men. Leonardo has a tired expression on his face. The groups surrounding him seem to have questions and discussion amongst themselves. The woman beside him is seated on a trunk with a small dog at Leonardo's feet. Suddenly I recalled I studied different noses so closely I sometimes could not hear the dialogue that might have passed me by because of the intensity of my observation. This piece reminds me of being an intent observer. How does a shadow affect a specific nose and how can I paint that?
Off I go on a quest to learn about this print. It's very elegant in the details and expression. But, I also know that many artists have produced art depicting Da Vinci to do artistic exercises as he taught. I am not able to find a signature of any kind. I also know that Da Vinci produced drawings, engravings, simple sketches before he embarked on a painting to make sure he had perspective and expressions correct in his paintings. Many of the original paintings he produced are lost to the world now. His art was bombed during war, vandalized and destroyed over the centuries.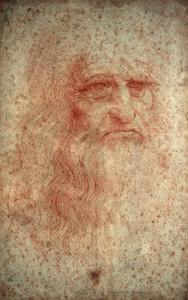 "The Portrait of a Man in Red Chalk" is thought to be created by da Vinci in 1510. It is widely believed to be a self-portrait. Not everyone universally accepts it as a self-portrait of Leonardo da Vinci. It is thought that da Vinci drew this at about the age of 60. The portrait has been extensively reproduced and has become an iconic representation of Leonardo as a "Renaissance Man". Despite this, some historians and scholars disagree as to the true identity of the sitter.
My question was could my piece be practice for a painting by da Vinci or by one of his students? Through the centuries many artists have tried to emulate and learn from Da Vinci's work. I looked at The Last Supper to see if I found any similarities to the figures in my precious find. I did not. I looked at the unfinished "Adoration of the Magi" and again struck out recognizing any of the figures or expressions.
"The Adoration of the Magi" is an early painting by Leonardo Da Vinci, painted in 1481 and is oil on wood. It was a commission given by the Augustinian monks of San Donato in Florence but it was unfinished. Leonardo moved to Milan the following year. It resides in the Uffizi Gallery in Florence, where it has been since 1670. Because it was unfinished many artists have completed their own version of this. I do not believe the print I have relates to this piece at all because in my print Leonardo is much older than he would have been when he worked on this painting. But there is always the possibility my print is by one of his students, or an artist who admired his art and who worked on perspectives and expressions as diligently as Leonardo did.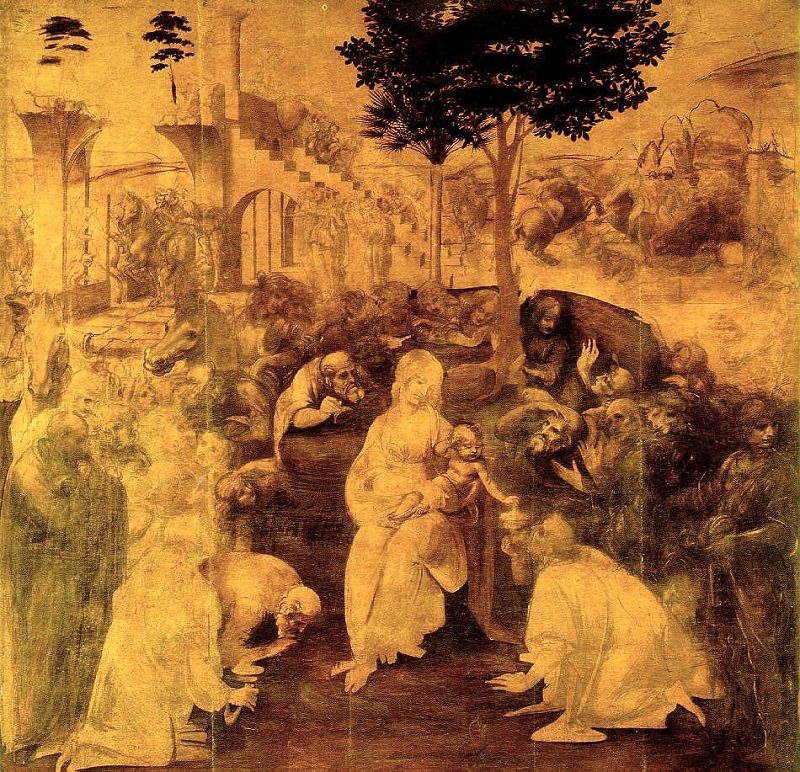 And so it is clear I have more research to do on this mystery. My adored piece does not relate to The Last Supper nor Adoration of the Magi. I have no answer yet and I might not ever find out everything I want to know. I do know someone from my family found, framed and treasured this piece more than 100 years ago. I can date the time this was done from the frame, the glass and the way it was mounted. I can also assure you this piece will stay with me. It is beautiful to me and no matter who did the original art, or who mounted and framed it, I love it because it exists.
See you next time!
Christine Adams
Artbycadams.com