Elizabeth Robbins was raised in the Wasatch Mountains of Utah. When I first asked Elizabeth if I could profile her I already knew she is an outstanding artist. I knew I would be privileged to let my eyes dance over her work. What I did not know was how incredible a person Elizabeth is. Elizabeth developed a love for flowers from her grandmothers. She raises the flowers she paints. Elizabeth offers courses on painting, she does workshops, she has DVD's and tutorials about creating art. She has won numerous awards for the work she produced. She has made her life about art in such a beautiful way and she works hard to keep it that way. I'm very proud of all she has accomplished, and I am lucky to be able to present the art of Elizabeth Robbins to you.
Elizabeth is represented by several galleries. bellamusegallery.com/, www.cdagalleries.com/, dickidolgallery.com/, www.highlandsartgallery.com/, illumegalleryoffineart.com/, www.montgomeryleefineart.com/, http://wilcoxgallery.com/, https://www.wildhorsegallery.com/, https://settlerswest.com/. Elizabeth's website is elizabethrobbinsart.com/. Find Elizabeth Robbins Art on Facebook and ElizabethRobbinsArt on Instagram and let her art take you to your special place.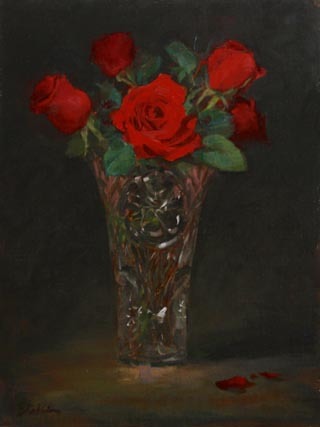 This painting titled "Crystal Rose" is elegantly serene. It is soothing to look at. The flowers are lovingly raised by Elizabeth. She passes the serenity to us. The vase is reflective and the roses are glorious! I love Elizabeth's gentle guidance around this painting. This painting would bring quiet beauty to any room it lives in.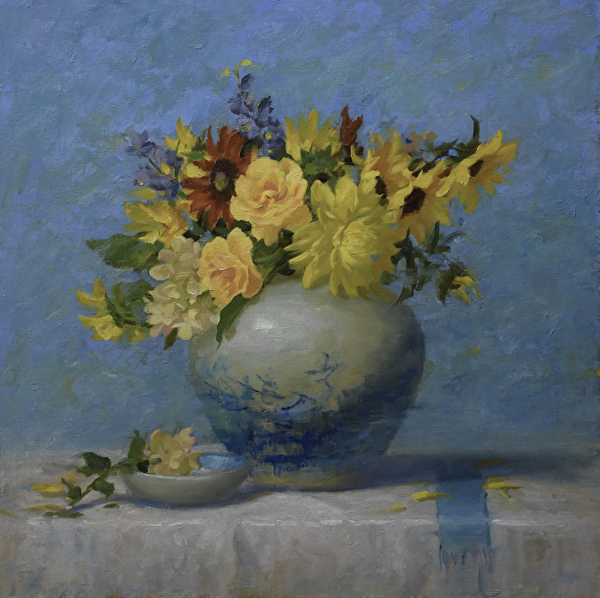 One of my very favorite color combinations is blue and yellow. I love the poetry Elizabeth created in this painting. She entices our eyes to travel all over it expertly. Let yourself see the composition and the colors of this happy painting titled "Sing The Blues".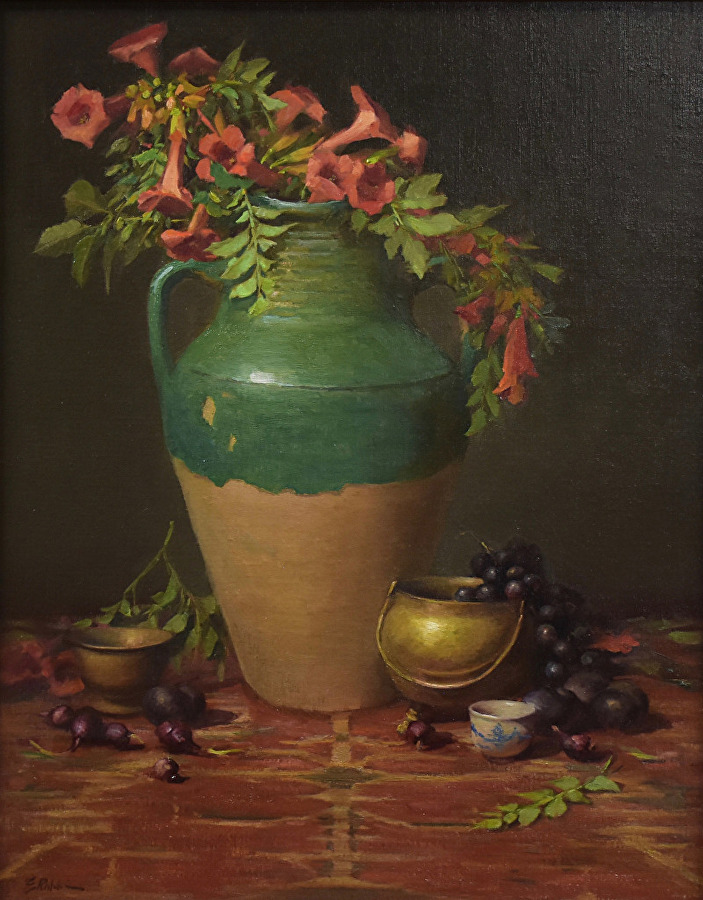 "Trumpet Vine in Olive Jar" gave me such a delightful memory. My Gramie had a trumpet vine on the corner of her porch. She had vases along the fence rail, and she filled them with flowers from her trumpet vine. When my brother and I were young we cut off a bit of it, well, a LOT of the flowers on a big branch. My Gramie politely thanked us for pruning her trumpet vine so well. We left a hole as big as Texas in that plant. She didn't let it die. This painting is a treat to see. This piece made me think of my Gramie and my brother and the memory makes me happy.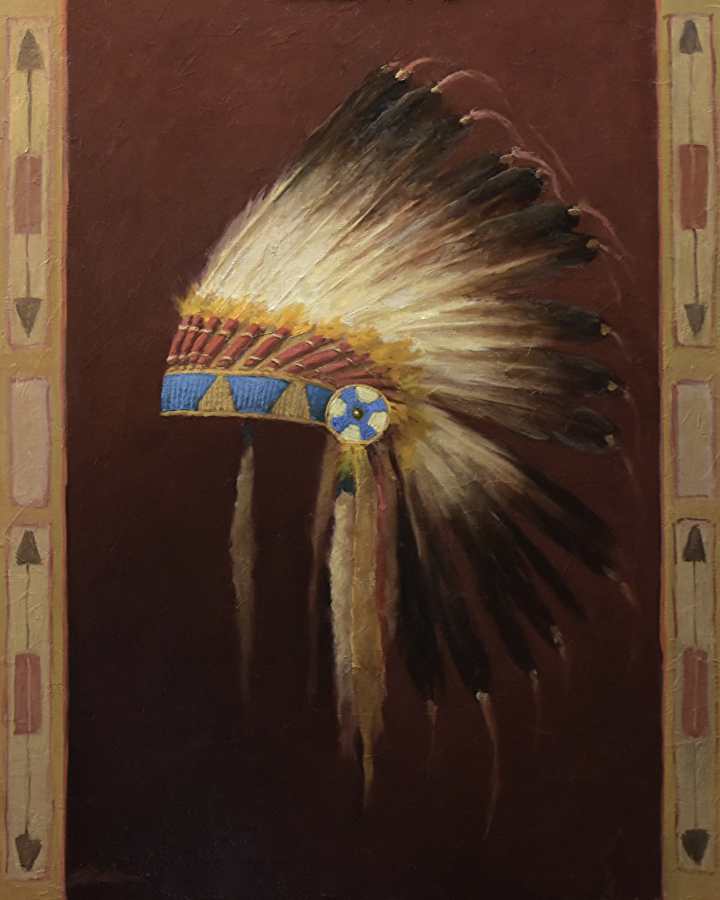 Western art has always been a favorite of mine. "Not Forgotten" is oil on linen. I think this piece is quietly spectacular. I wonder who wore this headdress, where it traveled and what stories it could tell. I can only imagine. This painting inspires me to imagine the story.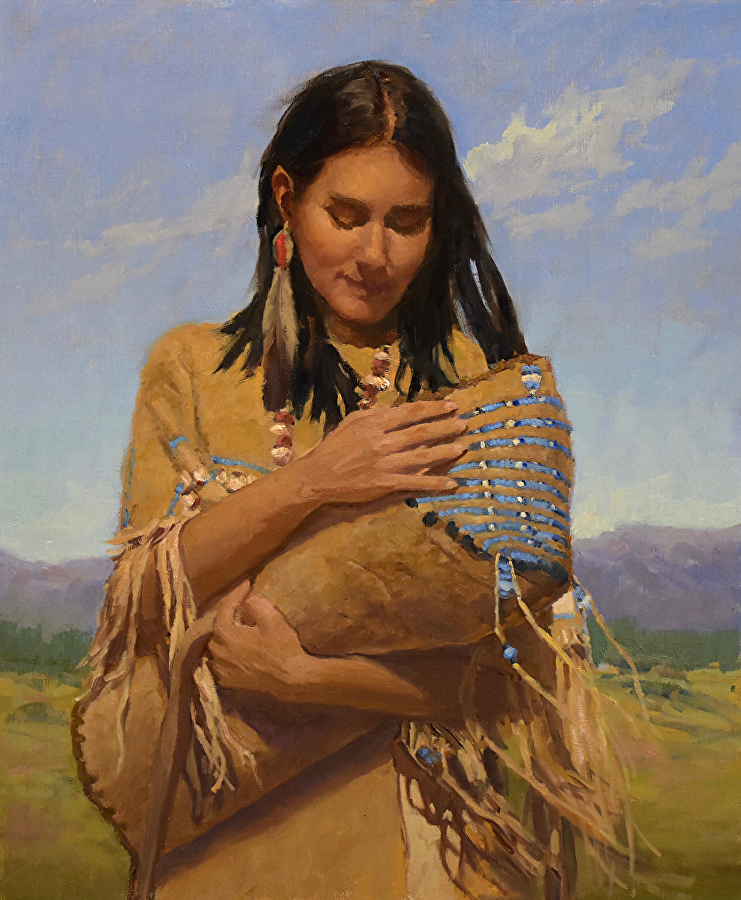 "Stands With Pride" is a moving portrait of mother and child. This woman is so proud of her child, lovingly tender in her environment. The gentle expression of Mother reveals her soul and her determination to teach the lessons all children must learn. Her hands are gentle holding her small one, precious, perfect and protected.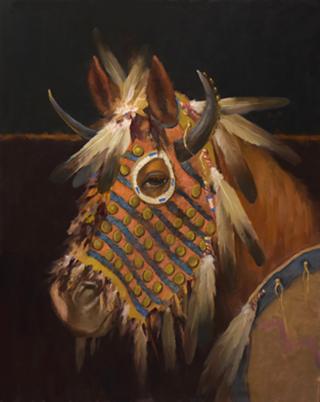 "Ready for Battle" is a war pony waiting to do his job. His eye is patient and he is relaxed but very alert. We see his tension in the ears, the slightly flared nostril and the way his head sits; alert and ready to do what he is asked to do. I think this is an amazing painting.
"I perhaps became an artist because of flowers". Claude Monet. This is a quote on Elizabeth's website, and I think it is her motto that has carried her so far in her artistic career. Her flowers are exquisite and so lovingly painted. They take my breath away. I love flowers and I love art, and while I knew Elizabeth painted flowers I did not imagine she paints the flowers she grows herself. That is a delightful window into Elizabeth's soul. Her florals reach out and you realize you are holding your breath as you see her work. I find her compositions are charming. Each one is like being inside your favorite poem. Elizabeth uses light and shadows with a definite and confident touch.
For me, the biggest thing Elizabeth Robbin's art does is make me feel. I do stand back and see the whole, but I also study the parts that make the whole painting sing to me. I love the way tells her stories in her paintings. My friend asked me how I choose the paintings I discuss. For me there is a song the art helps me create in my head. It is the joy in the song I listen to. The art of Elizabeth Robbins creates a symphony for me.